Six months ago, we acquired the most popular Google Analytics plugin for WordPress from team Yoast and renamed it to MonsterInsights.
Our goal: Make analytics easy by showing you the stats that matter.
After months of hard work, I'm excited to share with you that MonsterInsights 6.0 is almost ready. In this blog post, I will give you a sneak peek of what's coming soon.
I also want to invite you to join our beta program to get early access (more on this later).
Let's take a look at what's coming next.
MonsterInsights 6.0 – Sneak Peek
To say that MonsterInsights 6.0 is just another update would be a huge understatement.
We completely rewrote the old plugin and revamped the entire user-interface.
This had to be done to make room for all the new features that we wanted to add. But more importantly, this had to be done to keep up with all the new changes and features that Google has added to their API.
In the process, we fixed several hundred bugs that exist in the old plugin while making significant performance improvements overall.
However as a user, the most noticeable change you will see is new features and a much improved user interface.
New Authentication Workflow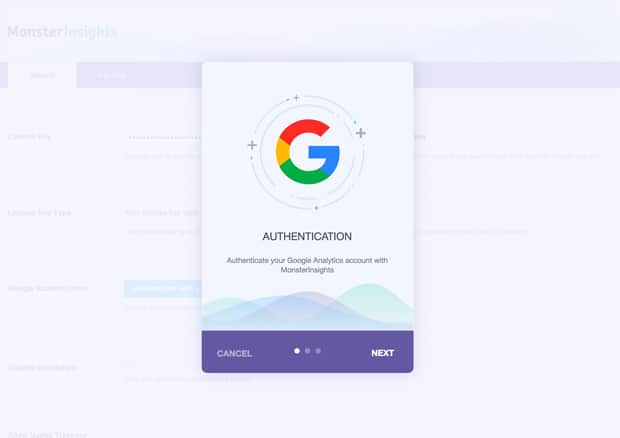 The first step in the setup is authentication. Without this, the plugin doesn't work.
We noticed a lot of users had a hard time getting started. So we simplified the process and made it easy to follow with onscreen instructions.
All Tracking Configurations in One Place
We wanted to make it easy for you to manage all your tracking configurations from a single screen.
That's why they are now all under a Tracking tab.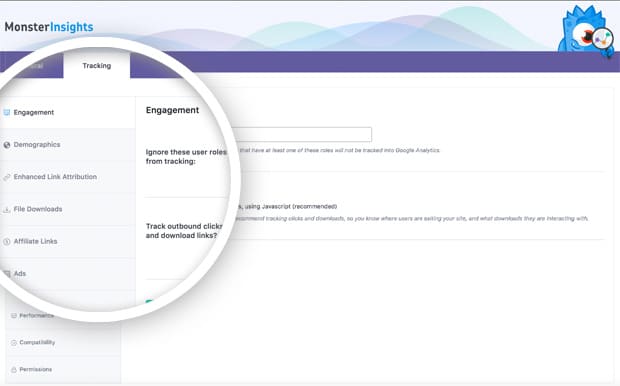 You can easily enable or disable individual tracking settings.
New and Improved Events Tracking
Previously event tracking was done using PHP. That method had a lot of limitations. To keep backward compatibility, we made significant improvements to the PHP event tracking.
However going forward, we recommend users to use the new JS based event tracking. This ensures that MonsterInsights track all outbound links in a page, not just in the content areas which is all what the PHP version does.
This will make sure that you can track your outbound links in the sidebar widgets, menus, and basically any other location on your page.
These improvements will be tremendously helpful for affiliate link tracking, file tracking, and all other events tracking.
Addons
As planned, we're adding several new addons to MonsterInsights and making huge improvements to the existing ones.
Our popular eCommerce addon now comes with a UI to help you properly configure it.
To keep the codebase lean, we converted Custom Dimensions into an addon.
We also split out the Ad tracking feature into a separate addon. Currently it only supports Adsense, but our plan is to add support for other poplar ad platforms and WordPress ad plugins.
MonsterInsights is used on a lot of larger sites. To help them stay within Google's processing limits, we created a new Performance addon that helps with sampling rates.
New Reports Page
We improved the reporting API and the user interface.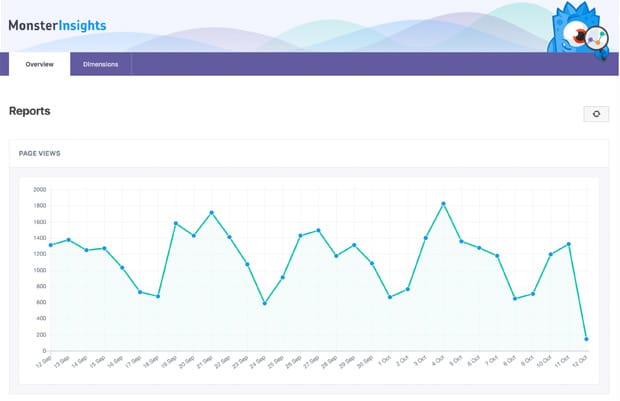 In the initial version, you will see the general reporting and custom dimensions reporting. However in the future versions, we will be adding custom reporting options for specific site types, so you can easily see the stats that matter.
When is the launch date?
Although we haven't set an exact date yet, we're planning the full release in November (before Black Friday).
If you have any questions, please feel free to get in touch using our contact form.
Thanks again for all your support. We are excited to bringing all these amazing features and more new ones very soon.
Syed and the MonsterInsights Team