After months of careful design, development, and rounds of public betas, I'm extremely proud to announce that MonsterInsights 6.0 is here!
Over the last 9 months, we did a complete revamp of the MonsterInsights Google Analytics plugin which is the most downloaded and the most actively used Google Analytics plugin for WordPress.
To say that it was a challenging task would be an understatement.
But we couldn't have done it without the support of our amazing users who answered our call in October and helped us through the beta testing phase. Thank you so very much, I really mean it.
You might have found my choice of title a bit interesting, but MonsterInsights 6.0 is really "A New Way Forward".
With a complete rewrite of the plugin code, a brand new UX, a fresh new website design, and a much improved pricing model, today marks the first big step towards our larger goal: Help small business owners make data-driven decisions.
Let's take a look at all what's new in MonsterInsights 6.0.
New Design + Improved User Experience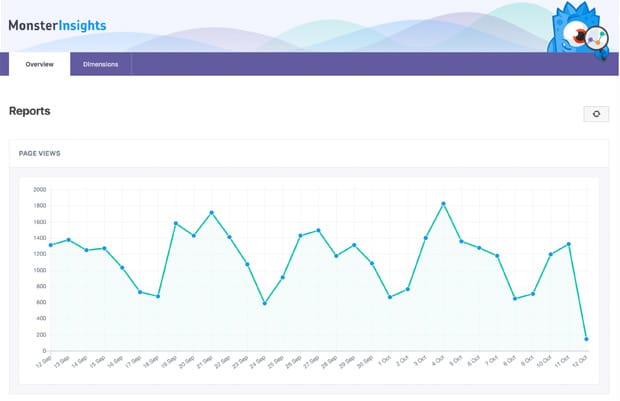 When we acquired the plugin 9 months ago from Yoast, we had a single focus: make Google Analytics for WordPress easy and straightforward for the average website owner, but at the same time make it robust and powerful for savvy marketers.
This all starts with the Google authentication process which is often the biggest hold up for beginners. The new design goes past the pain points and make the process of integrating Google Analytics with your WordPress site a completely smooth experience.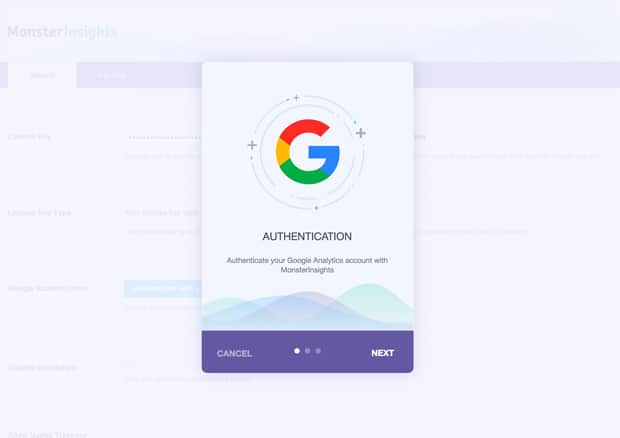 After the authentication, you can easily fine-tune your tracking options and unlock the full power of Google Analytics for your business.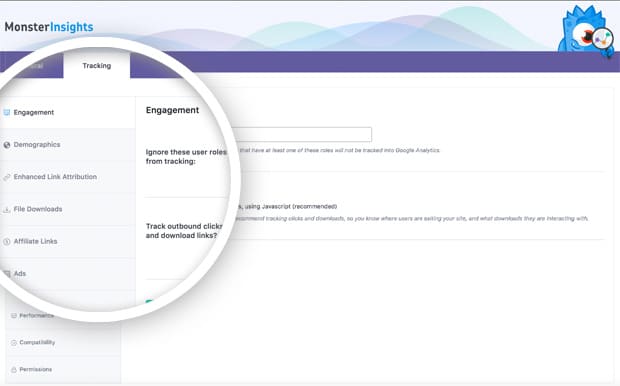 New Features & Addons
With great design also comes great flexibility to add new features. Today, we're introducing 3 new addons for MonsterInsights 6.0.
MonsterInsights Ads Tracking
The ads addon allows you to connect your Google Adsense account with Google Analytics for improved tracking. Down the road, we will be adding support for other ad networks.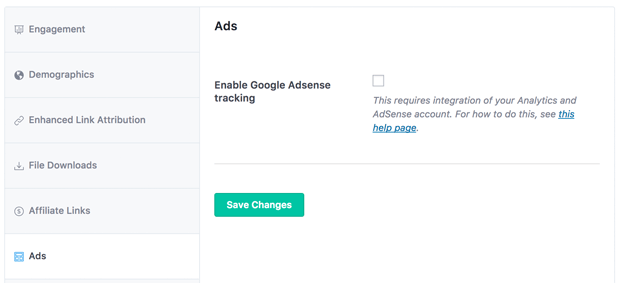 Custom Dimensions Addon
This powerful addon allows you to track custom dimensions on your website. For example:
You can add author tracking to see which author's posts generate the most traffic.
You can add Post Type tracking to see which one of your WordPress post types perform better.
You can add Category tracking to see which sections of your sites are the most popular.
along with 5 other dimensions.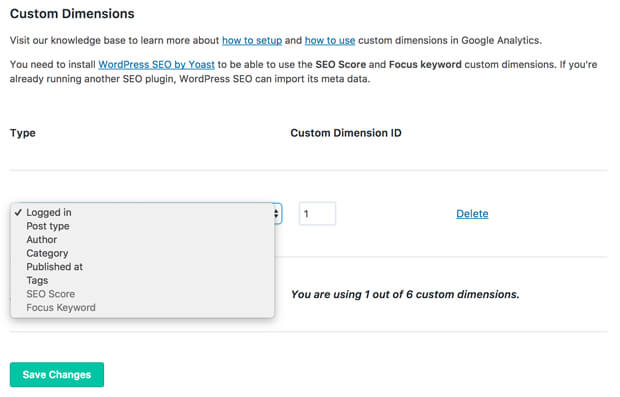 MonsterInsights Performance Addon
Our performance addon adds the ability to do site speed and sample rate adjustments for Google Analytics, with the goal in the future of being able to provide complete site load analysis.
Improved Events Tracking
Previously the event tracking was limited because it was done using PHP. We made significant improvements to the PHP event tracking for the sake of backward compatibility.
On top of that, we also introduced a new JS based event tracking feature which is what we recommend everyone to switch to.
This will allow us to track all outbound links on a page, not just the ones placed in content areas. In other words, you can track links from sidebar widgets, menus, and basically any location on the page.
These improvements will be tremendously helpful for affiliate link tracking, file tracking, and all other events tracking.
MonsterInsights Ecommerce Addon
We updated the existing Ecommerce addon and added a new user interface, so you can easily enable / disable Ecommerce tracking for your WooCommerce stores and Easy Digital Downloads store.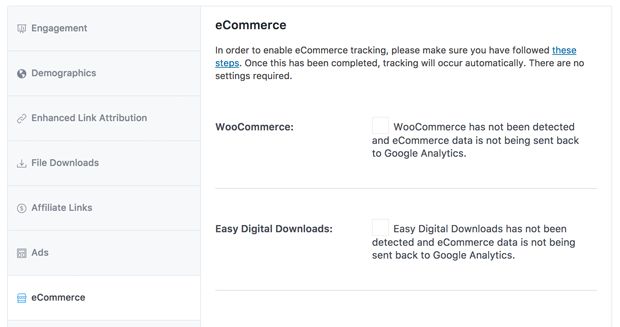 We also laid down the foundation that will help us in providing both broader (more Ecommerce integrations) and deeper (enhanced eCommerce & reporting) integrations down the road.
Important: Ecommerce Addon now requires you to have a Pro license for MonsterInsights.
To make all these changes, we had to make Ecommerce a Pro level addon which means that you MUST have the license for our Pro plugin to continue using the Ecommerce features.
The good news is that if you purchased the Ecommerce addon in the last 12 months, your account will automatically be upgraded to our Pro plan (at no additional cost to you).
More on pricing in the section below.
New Pricing
When we acquired the plugin from Yoast, we weren't huge fans of the original pricing model. But to keep things simple, we kept it as-is while putting 100% of our focus on revamping the plugin.
Our goal with MonsterInsights is to make analytics easy by showing you the stats that matter. We couldn't do this without adding new features and addons.
Now with an improved plugin, we needed a better pricing modal that's fair for small business owners.
The problem with the previous pricing model was that it was too expensive because it nickle-and-dimed you for everything.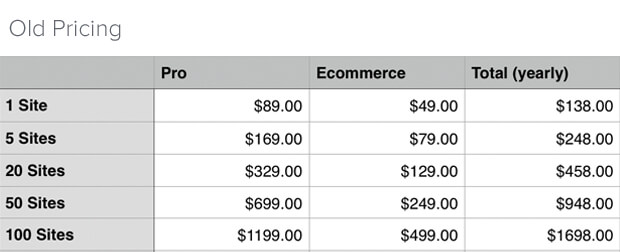 You had to purchase the premium plugin and each addon separately. With our current plan of adding at least 10 new addons this year, you can probably imagine that this pricing simply wouldn't work.
As a company, our mission at Awesome Motive is to build products that level the playing field for small businesses and help them grow and compete with the big guys.
In line with that goal, we're significantly reducing the price of MonsterInsights to make it more fair. This will allow more small business owners to take advantage of our powerful features to grow their business.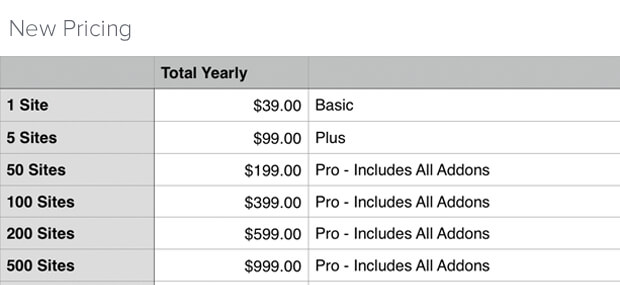 Free Version
MonsterInsights started out as a free plugin and much of it's success is due to that. We will continue to maintain and improve our free plugin which has been downloaded over 12 million times.
All Inclusive Pro Version
Similar to our other products, we'll have 3 plans that are easy to understand without the nickle-and-diming.
Basic Plan ($39 / yr) will get you support and updates for 1 site. We are working on several premium tools that will be included as part of this plan as well in the coming months.
Plus Plan ($99 / yr) will get you support and updates for 5 sites. On top of everything from Basic, you will get access to our Ads tracking and Performance tracking addons. As we add more publisher focused addons, they will be included with this plan.
Pro Plan ($199 / yr) will get you support and updates for 50 sites. On top of everything from Basic and Plus, you will get access to all of our premium addons including Ecommerce, Custom Dimensions, and everything else that we build in the future. As with all our products, the Pro plan will be the best value you'll get.
With the old pricing structure, this plan would've cost you at least $948 per year not including any other addons, so it's about 80% in savings.
We also reduced prices for our higher volume plans and made them all-inclusive.
Pro with 100 sites will cost you $399 compared to $1698 previously.
Pro with 200 sites will be $599 and Pro with 500 sites will be $999 per year.
Grandfathering Old Subscriptions
If you purchased MonsterInsights Pro in the last 12 months, you will be automatically upgraded to the new all-inclusive Pro plan..
If you only purchased the Ecommerce addon, you will also be upgraded to our new all-inclusive Pro plan.
Aside from making MonsterInsights significantly better and extremely more affordable, we're also going to be adding tons of new features.
What's Coming Next?
Few weeks ago, we had our executive meeting where we finalized the Roadmaps for all of our products, and I can say it's going to be very exciting for MonsterInsights.
In the coming weeks and months, we will be launching:
Google AMP Addon
Facebook Instant Articles Addon
Analytics Dashboard Widget Feature
and 5 other secret addons…
As we add more features, smaller ones will be released as part of the core plugin but larger ones will be released as addons to keep the plugin lean and fast.
Backward Compatibility
MonsterInsights 6.0 is a complete rewrite of the previous version to bring it up to date with the new Google Analytics standards as well as better coding standards.
However we simply cannot drop backward compatibility on the world's largest Google Analytics plugin for WordPress.
With the best of our abilities and the help of our beta testers, we have extensively tested all backward compatibility scenarios to ensure this upgrade process is smooth for everyone.
If you're a developer and have third-party plugins, addons, or extensions for MonsterInsights, then you may want to check out our documentation on backward compatibility.
When can I use MonsterInsights 6.0?
If you're using the MonsterInsights Pro plugin or Ecommerce addon with a valid license key, then you should have already gotten an upgrade notice in your WordPress admin dashboard.
You can also access the new MonsterInsights 6.0 plugin from your MonsterInsights account.
If you're using our Lite plugin, then you will have to wait for another two weeks before seeing the update.
If you have any questions, please feel free to get in touch using our contact form.
Thanks again for all your support. We are excited to bringing all these amazing features and more new ones very soon.
Syed and the MonsterInsights Team