Do you have videos on your site? Wouldn't it be great to see how many people are seeing them, clicking on them, and actually watching them to the end?
With MonsterInsights 8.3, you can do just that with a quick button click.
Our brand new Media Addon is going to track your video events for you. No more complicated event setup! No coding! Just click a button to track YouTube, Vimeo, or HTML5 video impressions, start clicks, progress, and completion events.
Not only that, but we're also excited to announce an integration with AffiliateWP, the best affiliate tracking and management plugin for WordPress. The integration will bring more data into Google Analytics, so you can get a better idea of where and how your affiliate conversions are happening.
Plus, check your stats for the whole year with your automatically generated Year in Review report.
New Media Addon Makes Video Tracking Effortless
Have you always wished there was a really easy way to set up tracking on your embedded YouTube, Vimeo, or HTML5 videos? If you could see how visitors are interacting with your videos, you could make better decisions about where the videos are placed on your site, whether your users are finding them engaging, and ultimately if they're helping your business.
The MonsterInsights Media Addon is exactly what you've been waiting for.
Simply click a button next to the video type you want to track and let MonsterInsights do the rest of the work.

Once your media tracking is switched on, you'll be able to access the following video tracking event data in Google Analytics:
Impressions (how many times your video was seen)
Start clicks (how many times users clicked to start your video)
Progress (what percentage of your video users watched)
Completion events (how many watchers saw the entire video)
New AffiliateWP Integration Provides Access to More Data
AffiliateWP and MonsterInsights users can now access even more data about their affiliates in Google Analytics. Just flip a switch to turn on our new AffiliateWP integration, and your affiliate IDs will be automatically sent to Google Analytics along with your transactions.
That means you'll have access to extra data that you don't get in your AffiliateWP dashboard, like demographics, landing page conversions by affiliate, and more affiliate-specific data.
For example, you can now add Affiliate IDs to your eCommerce transaction report in Google Analytics. So, instead of having to look at AffiliateWP for your affiliate data and Google Analytics for your overall revenue, you can see it all together in Google Analytics.

You can just open Google Analytics and access data like:
What demographics are buying from certain affiliates?
What landing pages are converting best for your affiliates?
How many orders for an affiliate use coupons?
Which campaigns brought in the most affiliate revenue?
With the new integration, you can create segments with Affiliate IDs in just about any report in Google Analytics.
Your 2021 Analytics, Wrapped
Last but not least, we've also loaded a year-end report into your MonsterInsights dashboard. This limited-time report will be available from January 1 to January 14, 2022. Open your report to find stats on visits, top pages, demographics, and more for the whole year.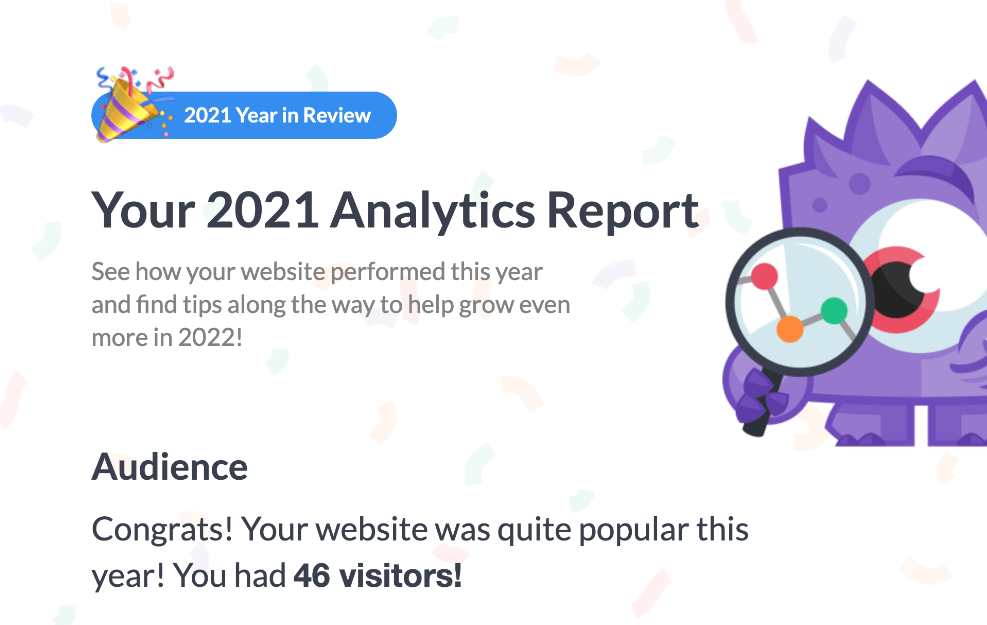 That's it for this update! As always, please let us know how you like the new features. We love your feedback and suggestions!
Not using MonsterInsights yet? What are you waiting for?
And don't forget to follow us on Twitter, Facebook and YouTube for more helpful Google Analytics tips.