eCommerce analytics are an extremely powerful tool to have. Without them, eCommerce store managers wouldn't have the insights necessary to grow their businesses with confidence.
However, eCommerce analytics are not straightforward to set up, especially for beginners! That's why MonsterInsights 8.20 adds two more eCommerce plugins to our extensive list of integrations: Charitable and WishList Member.
Now, Charitable and WishList Member users can simply connect with MonsterInsights to set up eCommerce tracking with a click or two, and get extensive eCommerce reporting right in their WordPress dashboards.
Meet the eCommerce Reports
Once Charitable or WishList Member is connected to MonsterInsights, users will be able to quickly access eCommerce reports right inside their WordPress dashboards, along with many other super useful reports about their traffic.
In the eCommerce Overview report, Charitable and WishList Member users will be able to see their total revenue (or total donations), total transactions, top products, top conversion sources, the percentage of abandoned checkouts, and more.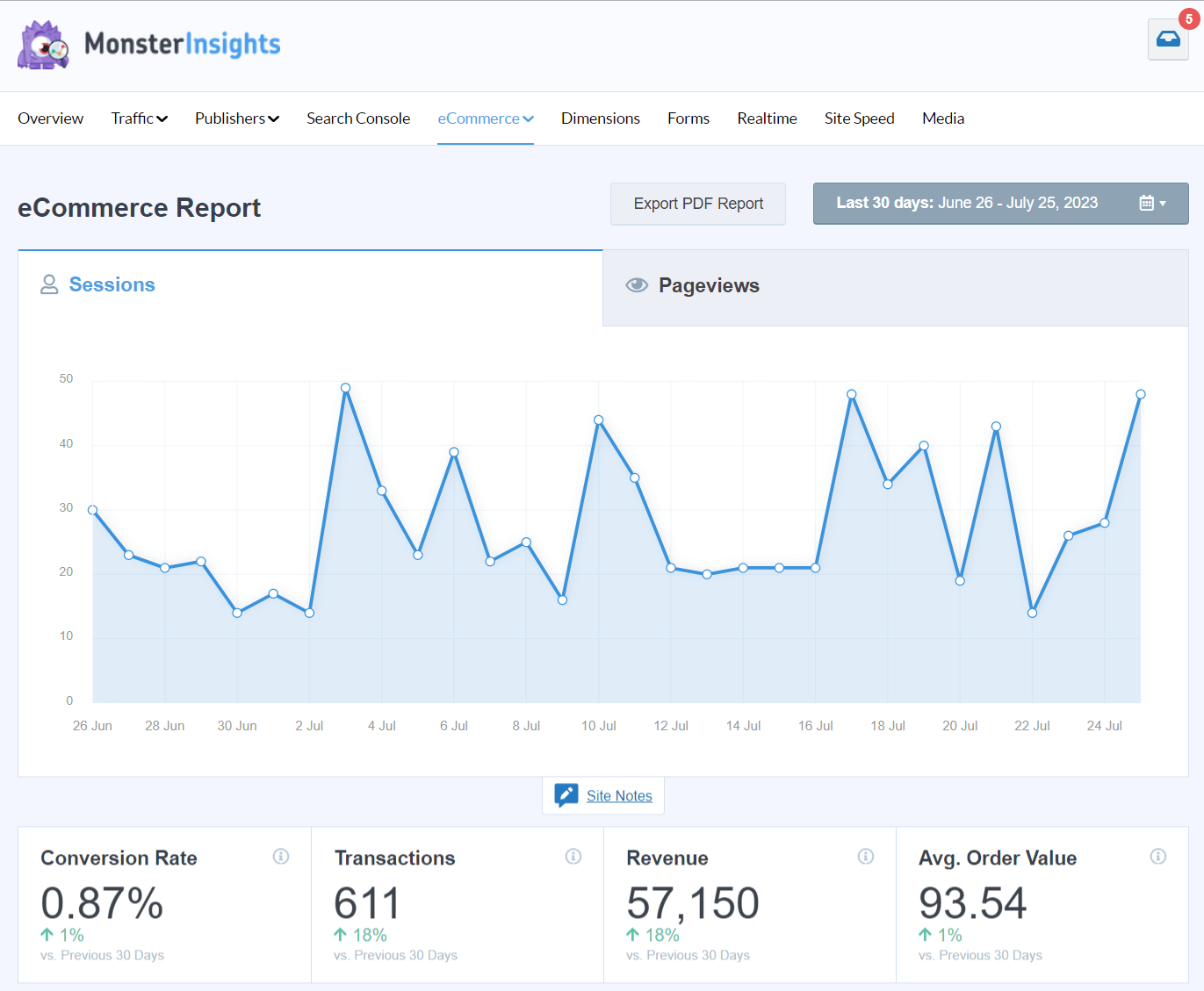 Next, they'll be able to check the Funnel report to see the step where users are dropping out of their funnel the most often. With this information, they'll be able to optimize their websites for more revenue or donations.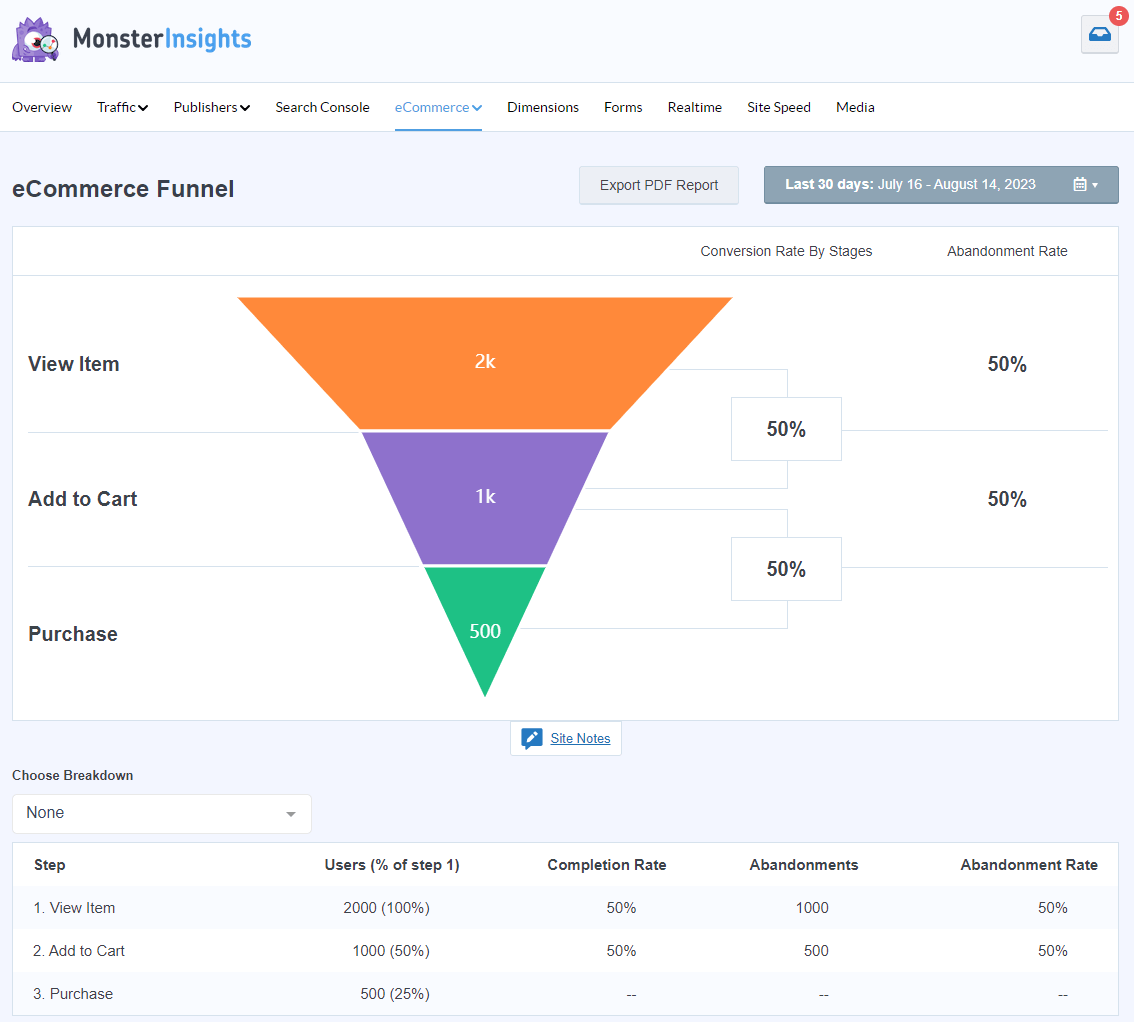 The last eCommerce report is the Coupons report, where users can check to see what coupon codes are being used in their store: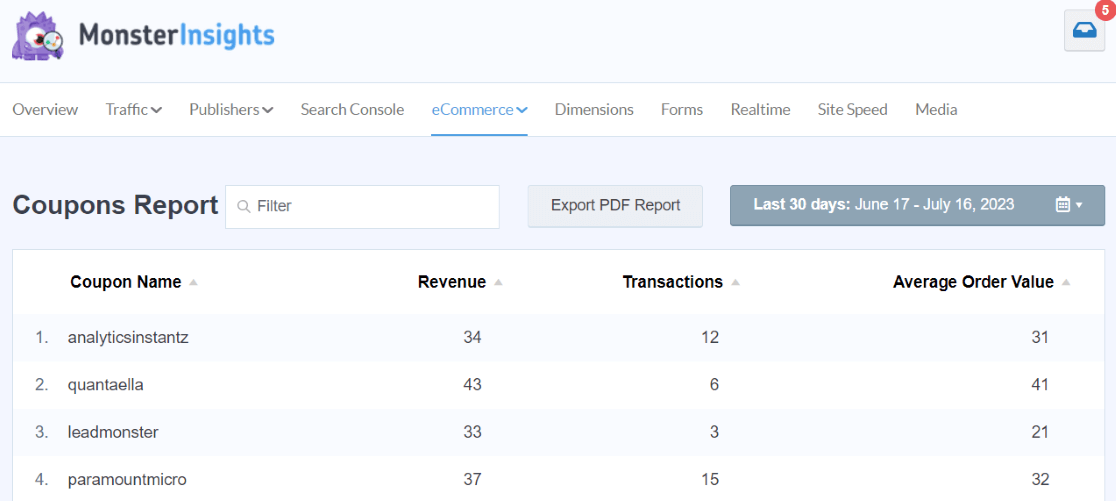 Beyond the three eCommerce-specific reports, Charitable and WishList Member users who connect to MonsterInsights will get tons of reports to analyze their traffic, like the Source/Medium report, Landing Page Details, Site Speed, Search Console, and more.
For a full tour of the MonsterInsights report dashboard, check out Your Ultimate Guide to MonsterInsights Dashboard Reports.
About Charitable
Charitable is a top-rated WordPress donation plugin with over 10,000 nonprofits using it to grow their online fundraising.
Charitable is both affordable and powerful, and super easy to use. With Charitable, you get:
Simple PayPal donation setup
Unlimited campaigns
GDPR-ready donation forms
$0 transaction fees
Recurring donations
Connects with Stripe, Authorize.net, Braintree, and more
Newsletter connections
And much more
Get started with Charitable now!
About WishList Member
WishList Member is a WordPress membership plugin that's awesome for creating membership sites, courses, and online communities. WishList member is unique because, instead of multiple levels with different features, they have one package where you just get everything, including 50+ built-in integrations.
With this all-in-one membership plugin, you get:
Free trials, recurring payments, and one-time payment options capabilities
Connects with virtually any WordPress theme
Dedicated support team
Seamless course creation with CourseCraft
One-click content protection
Automated and drip content
Sneak peek and partial display
And more
Get started with WishList Member now!
That's it for this release!
Not using MonsterInsights yet? What are you waiting for?
And don't forget to follow us on Twitter, Facebook and YouTube for more news and helpful Google Analytics tips.