Can't figure out why is Google Analytics filter not working? Many business owners want to filter out their internal traffic from Google Analytics, so their data remains accurate.
And they do this by setting up IP filters in Analytics. But IP filters are open to many errors and the slightest of changes can stop them from working properly.
In this article, we'll show you why Google Analytics filter is not working and how you can quickly fix it with a simple solution.
Let's start at…
How Do Filters Work in Google Analytics?
To check why filters aren't working in Google Analytics, it's a good idea to understand how they work.
Filters allow you to segment your data into smaller groups. For instance, you can include traffic from a particular country or exclude unwanted traffic from your reports.
The best part about filters is that you only have to create them once, and you can then apply them to any property or view you want.
But sometimes filters don't work properly. Why? Let's take a closer look at some of the reasons.
Why Do Google Analytics Filters Not Work?
Google Analytics is a powerful tool for tracking your visitors and finding out how they interact with your website. But if your filters fail to work, your data can be skewed and you won't get accurate reports.
Here are some possible reasons for Google Analytics IP filters not working:
Not Using a Static IP Address
Many business owners want to exclude their internal traffic from tracking in Analytics, as they want to distinguish between your actual visitors from their own employees.
And the most common way of excluding internal visits is by creating IP filters in Google Analytics.
However, IP filters work best if you have a static IP, an IP address that doesn't change. At times, people enter a dynamic IP instead of a static IP address. A dynamic IP is an IP address that changes at any time and without any notification.
If you enter a dynamic IP, then it means your IP address isn't the same as the one you set in Google Analytics filters. As a result, your Google Analytics filter will not work.
IP Anonymization is Enabled
Another reason why your IP filters aren't working in Google Analytics is because you've enabled IP anonymization. What this does is that it tells Google Analytics to mask the IP address of visitors.
Now, this feature is useful if you want to make Google Analytics GDPR compliant and ensure you don't record your visitor's personal information.

But on the downside, it will also affect your IP filters in Google Analytics.
If your Analytics tracking code or Google Tag Manager tag is set to anonymize the IP address, it will not exclude traffic based on IP and cause your filters to not work properly.
So, is there a way to fix these issues?
Use MonsterInsights to Fix Google Analytics Filters
An alternative method to set up IP filters is by using MonsterInsights.
It's the best Google Analytics WordPress plugin that helps you set up and use Analytics without having to edit code or hire a developer. You can easily configure advanced tracking and get detailed reports in your WordPress dashboard.
Using MonsterInsights, you can easily exclude internal traffic and keep your Google Analytics data accurate. Just select the user roles you don't want to track, and the plugin will take care of the rest.
This is a better and easier way of filtering traffic on your website instead of using IP filters. That's because you don't have to manually check each time whether your IP addresses have changed or not.
And you can safely anonymize IP addresses to comply with data protection regulations while ensuring that your own employees are not tracked on your website.
To manage user roles and exclude them from tracking using MonsterInsights, go to your WordPress admin area. And then navigate to Insights » Settings and click the Advanced tab.
Next, scroll down to Permissions and then under Exclude These User Roles From Tracking, enter the roles you don't want Google Analytics to record. By default, it will already exclude Administrator and Editor, but you can add more roles.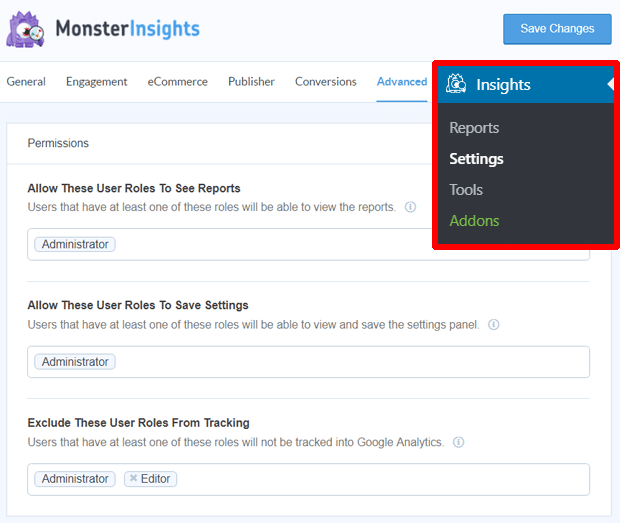 Once you're done, click the Save Changes button.
You can go through our detailed guide on how to stop Google Analytics from tracking logged-in users in WordPress.
Bonus Tips to Fix Google Analytics Filters Not Working
While using MonsterInsights is the best solution to overcoming Google Analytics IP filters not working, there are more tips you can try:
Check for Internal Traffic in Real-time Reports – To check if you're Google Analytics filter is working properly, go to real-time reports, and look for internal traffic. If the filter is set up correctly, you won't see any traffic.
Wait for 24 Hours so Filters Start Working – Usually filters take a few minutes before they start working. It's better to wait for at least 24 hours to see their impact on your data.
Don't Test IP Filters in Historical Data – Do note that filters will start working from the day and time they're created. So, don't test them on your historical data.
Remove Current Filter – Another reason why Google Analytics filters might not be working is that they're not set up correctly. One way of fixing this is to edit the filter and retrace your steps. Or you can simply remove the current filter and add a new one.
For more tips and tricks, check out our guide on Google Analytics not working: common errors and how to fix them.
And that's it for this post!
We hope you liked our article on Google Analytics filters not working. If you want, you can also go through our post on the ultimate guide to MonsterInsights dashboard reports.
Don't forget to subscribe to our newsletter follow us on Twitter and Facebook for more helpful Google Analytics tips.