Today, we're thrilled to announce the release of Project Delight Phase 3!
Like in Phase 1 and Phase 2 of Project Delight, we've continued to make further improvements to help you grow your business. Our goal is that every time you use MonsterInsights, the whole experience will be a delight.
In the latest version, you'll find changes to file download tracking, enhanced permissions settings, a new editors tracking exclusion, and much more.
Let's look at each update in more detail…
Enhanced File Download Tracking
MonsterInsights' file download tracking is one of our popular features because it automatically tracks downloads, no code needed, and provides insights about which type of content is most popular on your site.
But we realized that we could make it even more helpful to you by changing the default file types we track.
We found few users were using the file download tracking for .exe, .js and .tgz files.
So, based on your feedback, we've removed these from being tracked by default. MonsterInsights also now tracks .docx, .pptx, and .xlsx file types by default to provides a more delightful experience.

While MonsterInsights will track these filetypes by default, you can always customize your settings to track other filetypes.
Improved MonsterInsights Setup Workflows for Agencies
Sometimes agencies pre-install MonsterInsights so that their clients can easily log in, set up MonsterInsights, and have Google Analytics ready to go.
Previously, if those clients were given non-administrator roles, they would not be able to edit MonsterInsights settings. That's because the setting to change which WordPress roles can edit MonsterInsights settings was disabled until Google Analytics was connected.
Now this setting can now be edited at any time, making for an easier workflow. You can see our doc on how to allow user roles to access MonsterInsights reports and settings for more information.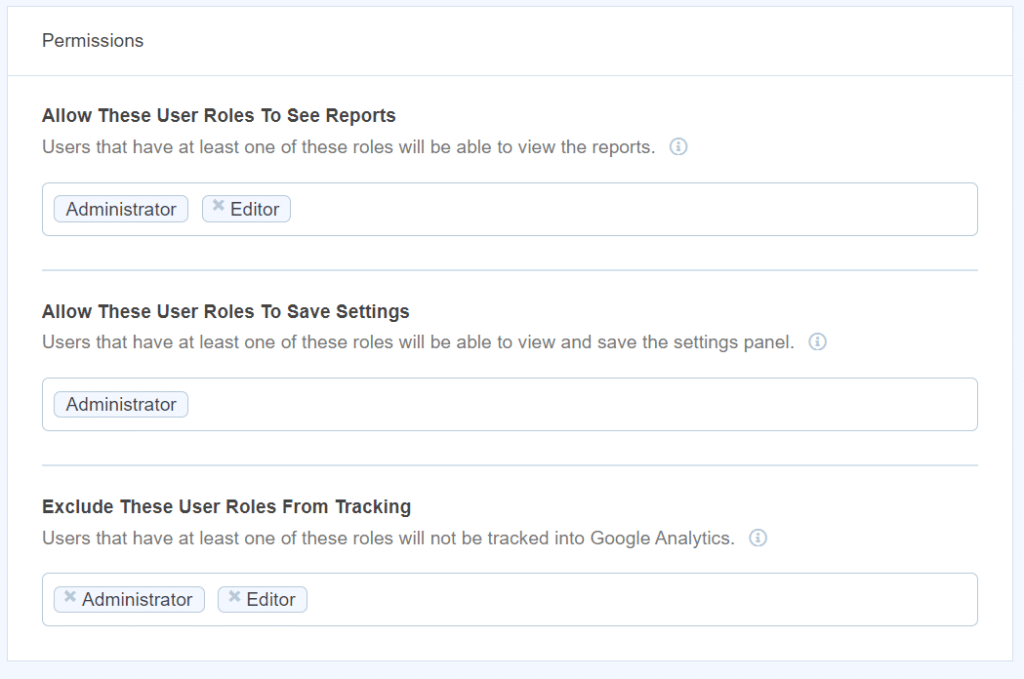 Excluding Editors from Tracking for Data Accuracy
In our previous version, MonsterInsights excluded administrator (and on multisite installs, super administrator) users from being tracked in order to prevent site owners from skewing their website data, especially demographics reports.
With this latest release, we've now excluded editors from tracking as well to help make your data more accurate than ever.
If you'd like to add or remove roles from being tracked, you can use our exclude user roles setting by navigating to the Advanced tab. Then remove the roles from Exclude These User Roles From Tracking under Permissions.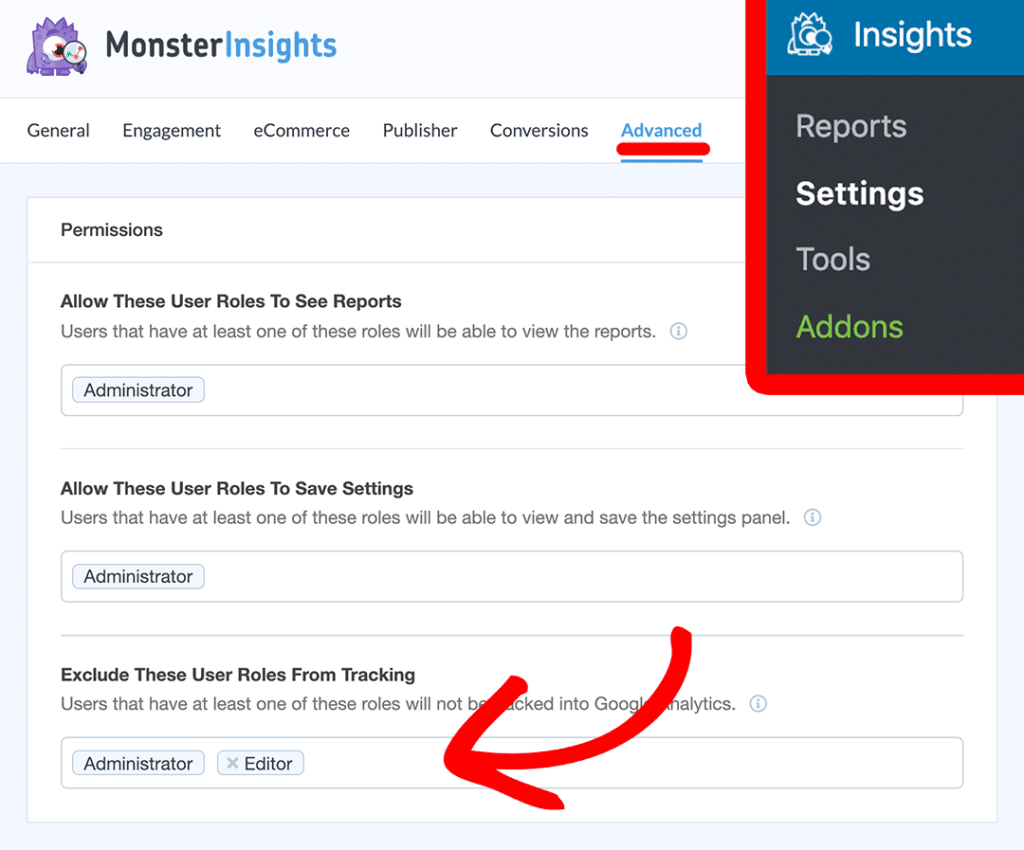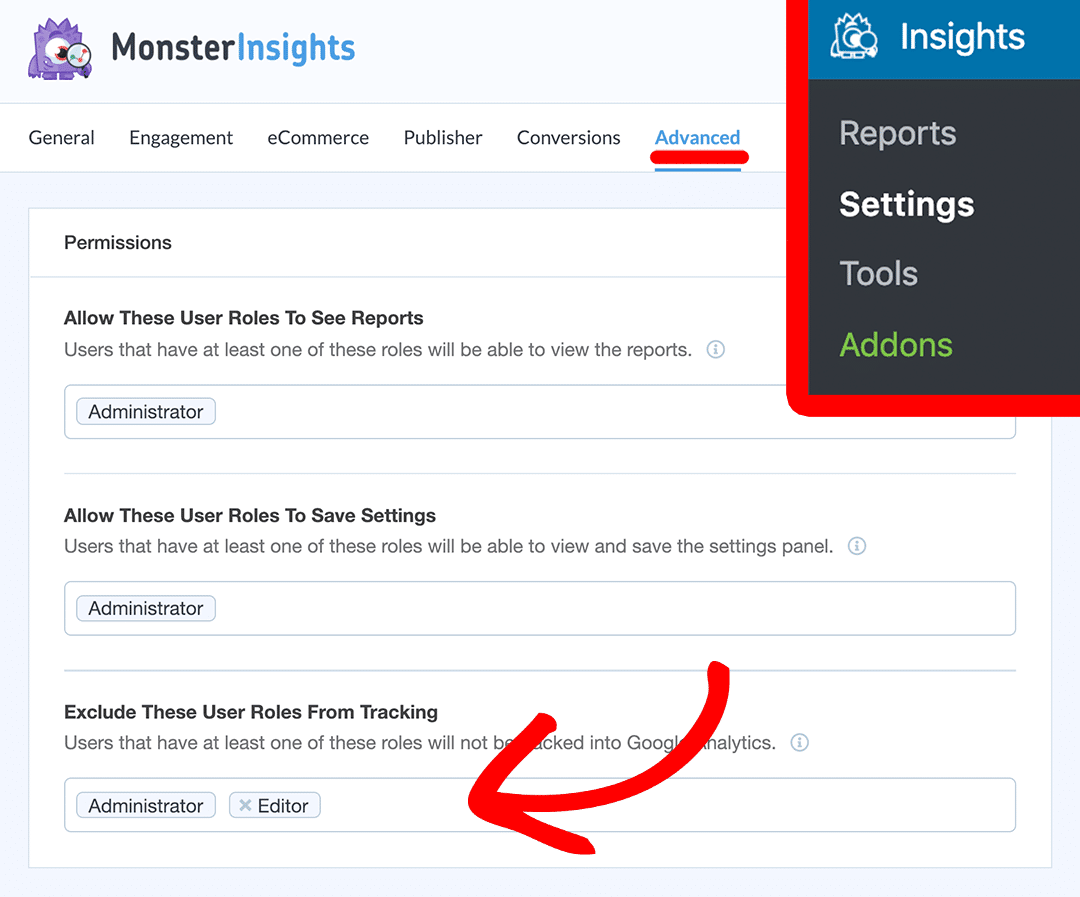 Continued Project Delight Refinements
We've also made a number of minor improvements throughout the plugin including more helpful documentation links, fixing a couple of minor bugs, and improving the load time of the Insights menu bar item.
As part of Project Delight, you'll notice that our mascot Charlie now provides helpful information and links right from your dashboard!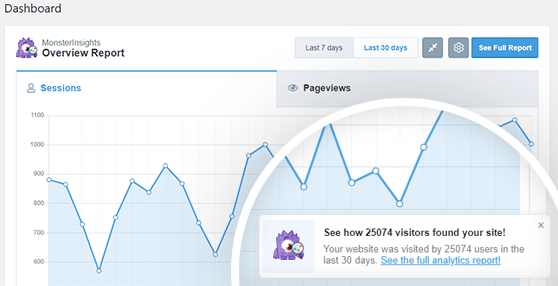 Charlie is also ready to help when you're viewing your MonsterInsights dashboard reports, with quick links to helpful support and documentation.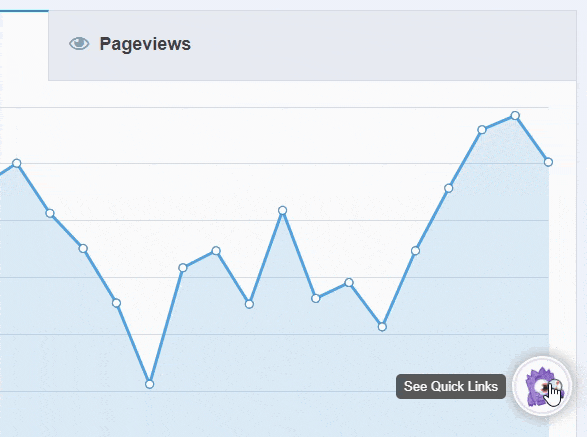 With this latest release, we've also updated our recommended versions of PHP to 5.6.20 (the minimum requirements of WordPress) and WordPress to 5.0 or newer.
That's it for this release!
All the changes are now live on MonsterInsights, so what are you waiting for? Click here to get started with MonsterInsights today!
We have many exciting features and releases lined up for you, so stay tuned for upcoming announcements. Don't forget to follow us on Facebook and Twitter for the latest updates.
Have an idea for a future Project Delight release and want to share it with us? Submit it on our Feedback Form!
And before we leave, MonsterInsights team would like to thank you for your continuous support and helping MonsterInsights to be the best Google Analytics WordPress plugin.