Over the past few weeks, we've been working super hard on improving MonsterInsights based on your feedback.
And today we're excited to announce the release of Project Delight phase 2! In this latest version, you can see how we've improved MonsterInsights by enhancing Yoast SEO compatibility, boosted our eCommerce addon, added AJAX form support, and much more.
Let's take a closer look at all the details…
MonsterInsights Now Tracks Yoast SEO Primary Category
By listening to your needs, we've made a few changes to MonsterInsights Custom Dimensions addon and improved Yoast SEO compatibility.
Yoast SEO is the best WordPress SEO plugin, and it helps to optimize your website content. If you're using the Yoast plugin, then a Primary Category will be set for your post when you choose multiple categories.
From now on, MonsterInsights Custom Dimensions will use your primary category as the sole category reported to Google Analytics.
Previously, if you selected multiple categories, they would all be sent to Google Analytics as one custom dimension separated by commas, instead of separately. That caused some problems with accurately tracking your category data.
But we've heard your requests and now if you've set a primary category in Yoast SEO, let's say to Content strategy, MonsterInsights will use that for reporting in Google Analytics.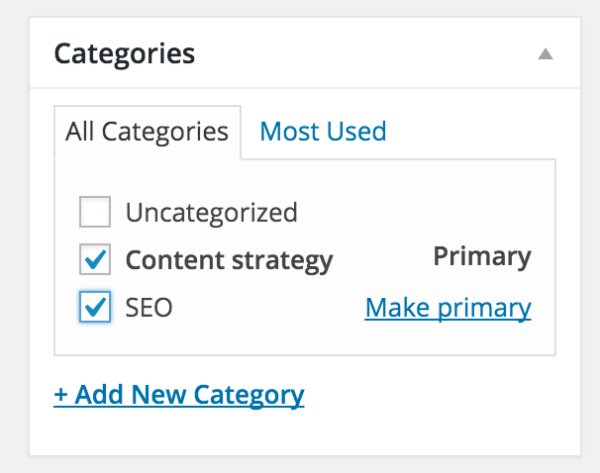 With this improvement, we want our users to have better Yoast SEO compatibility and get insights about which content category is performing the best. Using the information, you can learn about which category needs optimization and which category to promote more.
Enhanced MonsterInsights eCommerce Tracking
While working on Project Delight, we wanted to polish MonsterInsights and its addons. So you, our users, can make accurate and data-driven decisions.
For our eCommerce addon, we've enhanced its tracking feature. So, any orders made in the test mode of WooCommerce or Easy Digital Downloads won't be tracked in Google Analytics.
Similarly, MonsterInsights eCommerce addon will no longer track renewals by default in Google Analytics. However, you can reenable this option using a simple filter if you want to track renewals in Google Analytics. Here's our documentation on how to track eCommerce renewals with step by step instructions.
The reason for these changes is that we want our users to get precise data and minimizes the chances of skewed funnel analysis. Which means your data won't be misleading in any way.
So, by not tracking orders in test mode or renewals by default, you get a much better picture of your eCommerce store, its conversions, and then make the right decision for optimization.
New Frontend Widget for Admin Users
By default, MonsterInsights doesn't track you when you're logged in to your site as an Administrator. This way you can work on your site without skewing your analytics.
To continue with your feedback about making MonsterInsights better than ever before, we've added a new frontend widget for Admin users to remind you that you're not being tracked by Google Analytics. If you dismiss the message, it will not show again.

This widget is only visible to users with the Admin role. If you have other users on your site, such as editors or authors, they won't see the widget.
AJAX Form Tracking
AJAX forms are excellent as they can bring you the requested data in real-time without you having to refresh the webpage.
In Project Delight Phase 2, MonsterInsights now supports AJAX forms in its Form tracking addon. So, if you're using WPForms and have created AJAX forms on your website, MonsterInsights will automatically track them and give you a detailed report about their conversions.
AJAX forms offer lots of benefits and they include:
A much better user experience
Improving your WordPress site's loading speed
Providing the user with visual cues and assurance that the form is processing
Increased sales by keeping popups, modals, and overlays containing your form open, so you can show your messages or actions
Now with MonsterInsights, you can get all those benefits PLUS accurate tracking of your form submissions and conversion rate.
And that's it for this release.
We've got more improvements and updates lined up for you, so keep a lookout for upcoming announcements.
You can get your hands on MonsterInsights today and start using its new and improved features. Click here to get started with MonsterInsights.
As always, the entire MonsterInsights team would like to thank you for your continuous support and making it the best WordPress plugin for Google Analytics.
Want to get in touch with us? Drop us a comment below or reach out. Don't forget to follow us on Twitter and Facebook for the latest updates.