Do you want to know how your website performed in 2019 and how can you make 2020 even better?
To help you view how well your site did last year, we're thrilled to announce the release of a limited-time report called MonsterInsights Year in Review.
Here's a closer look…
View Last Year's Performance with Year in Review Report
You know how annoying and time consuming it is to put together a year-end report? You'd have to manually go through data of every report to see how your site did last year.
To help you see your site's overall performance more easily, we're excited to announce a limited-time report for our users called Year in Review.
Whether it's your own website or your client's, you get to view the complete performance from 2019  in a single report and plan for 2020 to grow your business even more.
How can you do that? Let us explain…
For starters, you can set traffic benchmarks for your website. The Year in Review report shows the total visitors your site got last year, so you get an idea of how many visitors you should attract in 2020.
And if you're wondering which keywords to target then Year in Review can help. By showing you which search terms perform the best in 2019, you can find similar keywords and boost your organic traffic.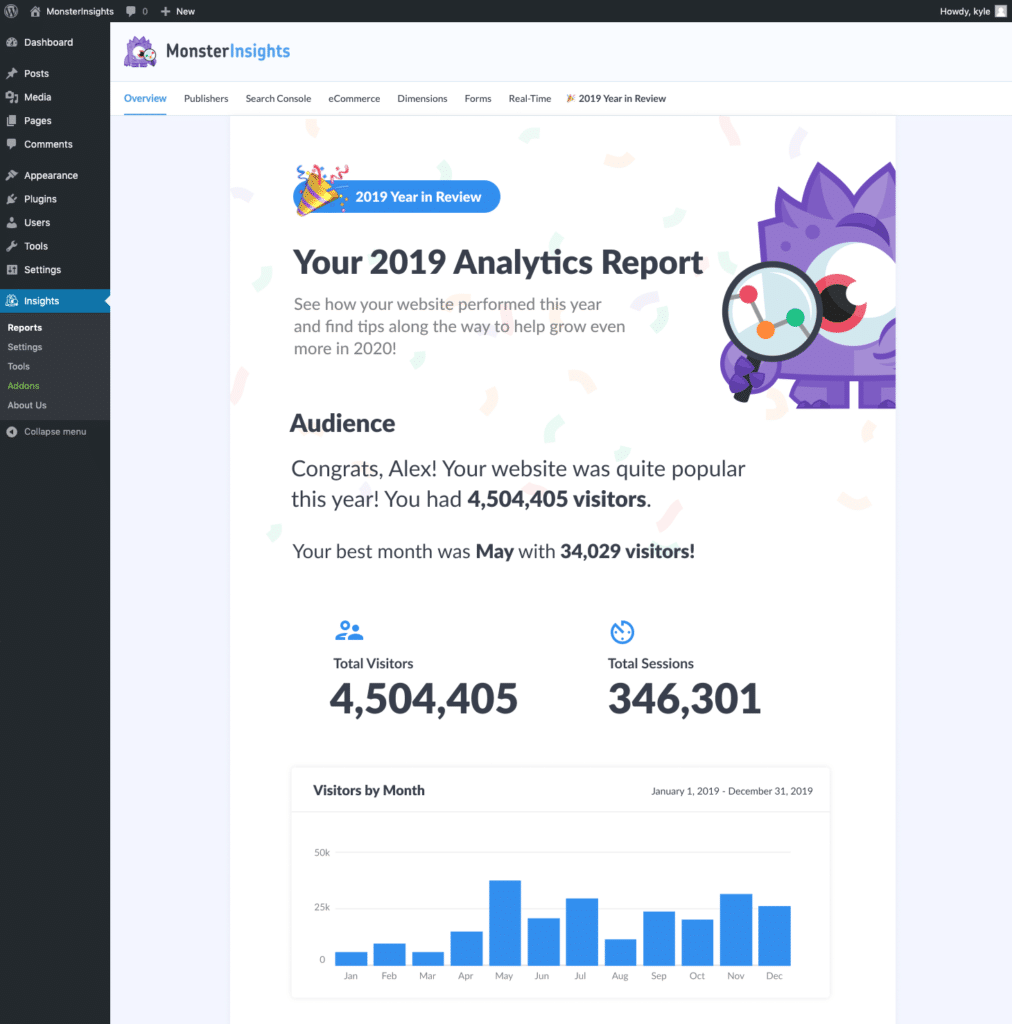 The Year in Review also provides insights for your eCommerce store.
You can easily identify your most popular product from last year and then use this valuable information to find similar winning products for your store.
You can now view the Year in Review report in your dashboard. Do note that the Year in Review report will available for a limited time only from January 1 through January 13.
So, make sure to make the most of the report, review your last year's performance to see what worked, and then plan for 2020.
That's it for this release, but we have more updates coming very soon!
The entire MonsterInsights team would like to thank you for continuous support and making it the best WordPress plugin for Google Analytics.
Not using MonsterInsights yet? click here to get started with MonsterInsights today!
We've got more exciting updates and featured lined up for you, so keep on the lookout for upcoming announcements.
And if you want to be the first to know, make sure to subscribe to our newsletter and follow us on  Twitter and Facebook.