Ever wish you had an easy way to write headlines that get more clicks and attract tons of visitors? Now you do!
Today we're excited to announce the release of MonsterInsights 7.12 with a new headline analyzer tool. You can use it to create compelling copy to get more clicks on your headlines and improve your search engine rankings.
Let's take a look at how the analyzer works and how you can use it to grow your business.
Optimize Your Headlines Right Inside WordPress
Did you know that 36% of SEO experts think the headline is the most important SEO element?
Yet many website owners don't know how to optimize their headlines for SEO and clicks. Instead, they write copy and hope for the best, only to see disappointing results.
Now there's an easier way!
With MonsterInsights Headline Analyzer, you can get targeted suggestions to improve your headlines, right in the WordPress editor.
Just click on the headline analyzer option in the top right corner and it will rate your copy on a scale of 1 to 100 and provides suggestions, so you can improve its score and make it more enticing.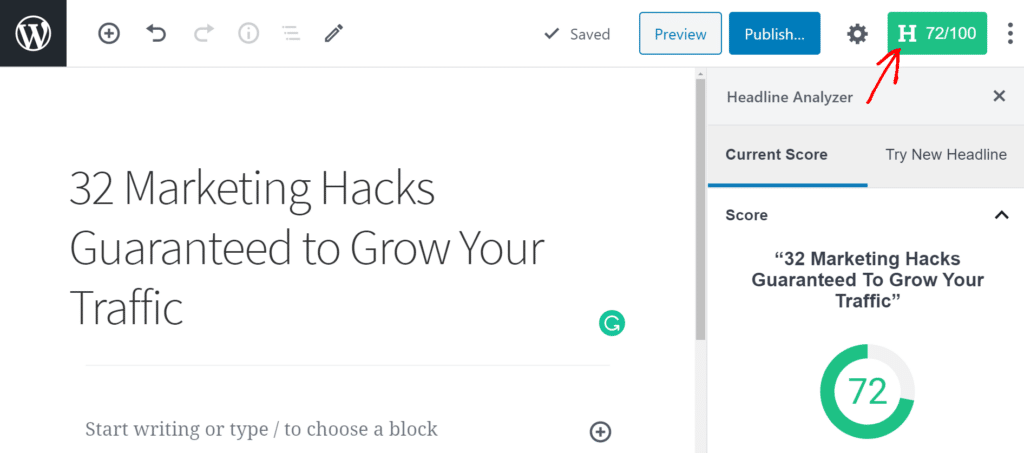 Make Your Headlines Irresistible with Word Banks
To help you improve your headline, the tool checks for word balance. It looks for common words, uncommon words, emotional words, and power words.
Why does it look for these words?
Well, these words make your headline copy compelling and impactful. If you have them in your copy, then you have a higher chance of boosting the click-through rate (CTR) and traffic to your webpage.
Ensure Your Titles Are Within Character Limit
It's important to make sure your titles are the right length.
Otherwise, search engines like Google will cut off your title if they're over the allowed limit, and readers won't be able to read the full headline.
This is bad for your site's click-through, as without complete information about what the posts is about, people won't click on your link.
So, to help you out, MonsterInsights headline analyzer shows the total character and word count of your SEO titles.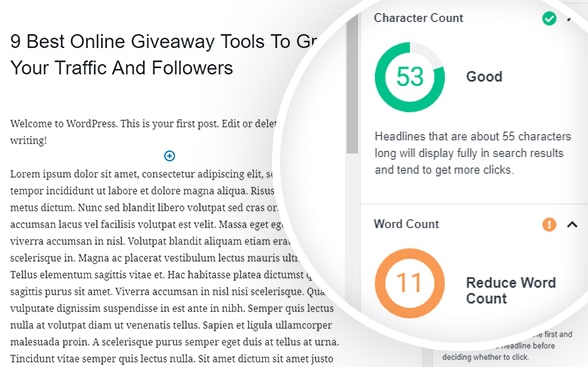 Want to test out some title variations?
Just click Try New Headline and you can quickly get scores on all your ideas.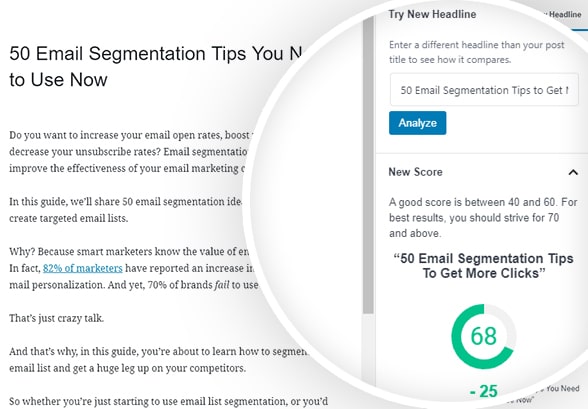 With this powerful tool at your disposal, it's easier than ever to create clickable, optimized titles to skyrocket your traffic.
You can now use MonsterInsights 7.12 along with the new headline analyzer feature. So, click here to get started with MonsterInsights today!
But that's not all, we've got more exciting new features in the pipeline, so stay tuned for upcoming announcements.
Lastly, we appreciate your support and feedback for making MonsterInsights the best WordPress plugin for Google Analytics.
If you want to be the first to know about new releases, don't forget to subscribe to our newsletter and follow us on Twitter and Facebook.