Do you use Google Ads to attract traffic to your eCommerce website and increase your sales? If so, you probably wish you didn't have to use a snippet of confusing code to track those important conversions on your website.
Today, we're excited to announce MonsterInsights 8.1. With this release, you no longer have to worry about using a Google Ads conversion tracking snippet.
With MonsterInsights 8.1, Google Ads eCommerce conversion tracking is now automatic and, like most things in MonsterInsights, codeless.
This update works with:
WooCommerce
Easy Digital Downloads
MemberPress
Plus, we've got an Easy Affiliate integration that will automatically assign your orders to your affiliates in Google Analytics, so you can get a better idea of where and how your affiliate conversions are happening.
Google Ads Conversion Tracking Made Codeless
If you're a Google Ads user, you're probably familiar with the annoyance of adding conversion tracking code to the page where your conversion takes place. For eCommerce websites, this is the page your users see after completing a purchase.
First, you have to hire a developer to add the tag in the right spot on your site. If you don't, you risk entering the conversion tracking code in the wrong spot, adding an accidental extra character, or triggering another error on the page that keeps your code from working. If that happens, or if the developer makes a mistake, you'll miss out on collecting that ridiculously valuable conversion data in Google Analytics.
Our goal at MonsterInsights is to make setting up and using Google Analytics as easy (and as code-free) as possible. So, if you use WooCommerce, Easy Digital Downloads, or MemberPress, you can now add your Google Ads Conversion ID to your MonsterInsights settings and forget about doing anything else to set up your tracking.
That means no more worrying about whether or not you set up your conversion tracking code correctly.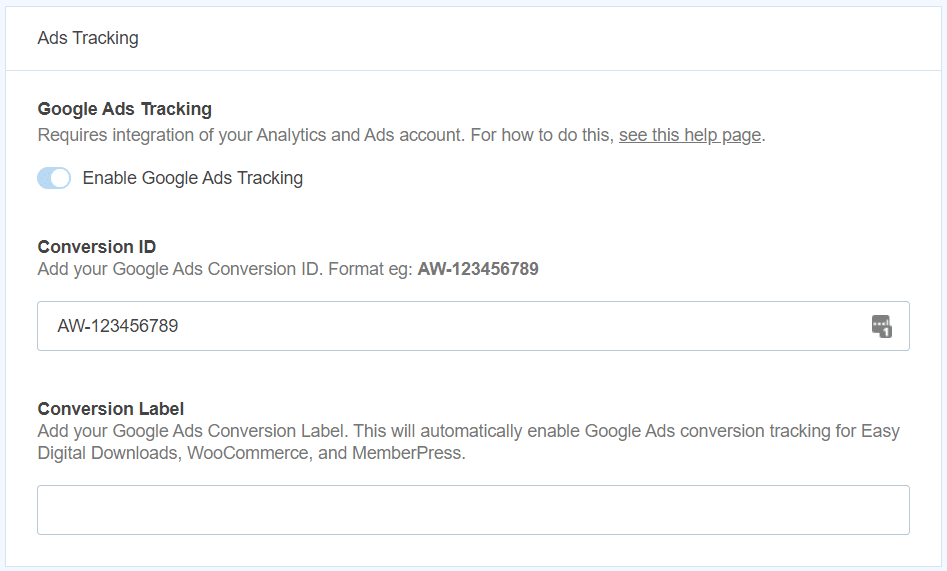 Easy Affiliate Integration Adds Data to Google Analytics
Easy Affiliate users, do you wish you could see more data on your affiliates, beyond just the transactions and basic stats in your Easy Affiliate dashboard?
With MonsterInsights 8.1, your Affiliate IDs will now be tracked in Google Analytics. That means you can apply them to reports to access data you don't get in Easy Affiliates.
For example, you can now add Affiliate IDs to your eCommerce transaction report in Google Analytics. So, instead of having to look at Easy Affiliate for your affiliate data and Google Analytics for your overall revenue, you can see it all in Google Analytics.

You can just open Google Analytics and access data like:
What demographics are buying from certain affiliates?
What landing pages are converting best for your affiliates?
How many orders for an affiliate use coupons?
Which campaigns brought in the most affiliate revenue?
You can now create segments with Affiliate IDs in just about any report in Google Analytics.
That's it for MonsterInsights 8.1!
These features are available in MonsterInsights now, so get started today.
As always, we really appreciate your continuous love and support in making MonsterInsights the best Google Analytics plugin for WordPress.
And don't forget to follow us on Twitter, Facebook and YouTube for more news and announcements.