Do you want to track your Ninja Forms conversions to see which forms are triggering the most leads? The most powerful website analytics tool, Google Analytics, allows you to track your forms conversions; however, it's configuration process is quite complex for newbies.
Fortunately, MonsterInsights simplifies the Google Analytics setup process, as well data viewing, for WordPress sites. In this article, we'll show you how to track your Ninja Forms conversions with Google Analytics using MonsterInsights.
Setting Up Ninja Forms Tracking in Google Analytics
Ninja Forms is one of the most popular contact form plugins on the market that you can use to create online forms for your WordPress site. If you're using it, there're 2 main ways to track your form conversions using Google Analytics.
The first option is setting up events tracking in Google Analytics manually. For this method, you'll need to set up event goals where you'll need to define forms conversions as your event goals.
Although this method works well, it's not ideal for beginners or anyone who isn't intimately familiar with the Google Analytics interface. If that's you, you'll need to either learn the entire process or hire an expert. Either way, it'll be a huge investment of time and / or money.
That's where the second option comes in handy. It's using Google Analytics with the help of the MonsterInsights plugin.
MonsterInsights is the most beginner-friendly Google Analytics plugin for WordPress. It makes the whole process of using Google Analytics simple and quick. The plugin with, its powerful Forms addon, enables you to set up forms tracking easily in a just few clicks and offers you great reports.
MonsterInsights' Forms addon is compatible with Ninja Forms, WPForms, as well as all the other WordPress forms plugins.
Why Use MonsterInsights to Track Ninja Forms Conversions?
The greatest reason to use MonsterInsights is that the Forms addon makes forms tracking in Google Analytics easy and quick. Besides that, there're more reasons to use MonsterInsights for tracking your Ninja Forms conversions. Let's check out few of them:
Get quick and easy-to-understand form reports containing form views, conversions, and conversion rates.
View your forms conversions reports inside your WordPress dashboard. You don't need to open any new tab / window for reports.
Enjoy the flexibility and features MonsterInsights offers; you can use other addons like eCommerce, Custom Dimensions, Ads tracking, etc. in just a few clicks.
Video Tutorial

You can go through our written steps for more details.
How to Use MonsterInsights to Track Ninja Forms Conversions
First, you'll need to install the MonsterInsights plugin on your WordPress site and then connect your site with your Google Analytics account using MonsterInsights. The authentication will take just a few clicks and you'll have your site connected with Google Analytics.
Then, go to Insights » Addons from your WordPress dashboard and navigate to Forms Addon. Next, click the Install button.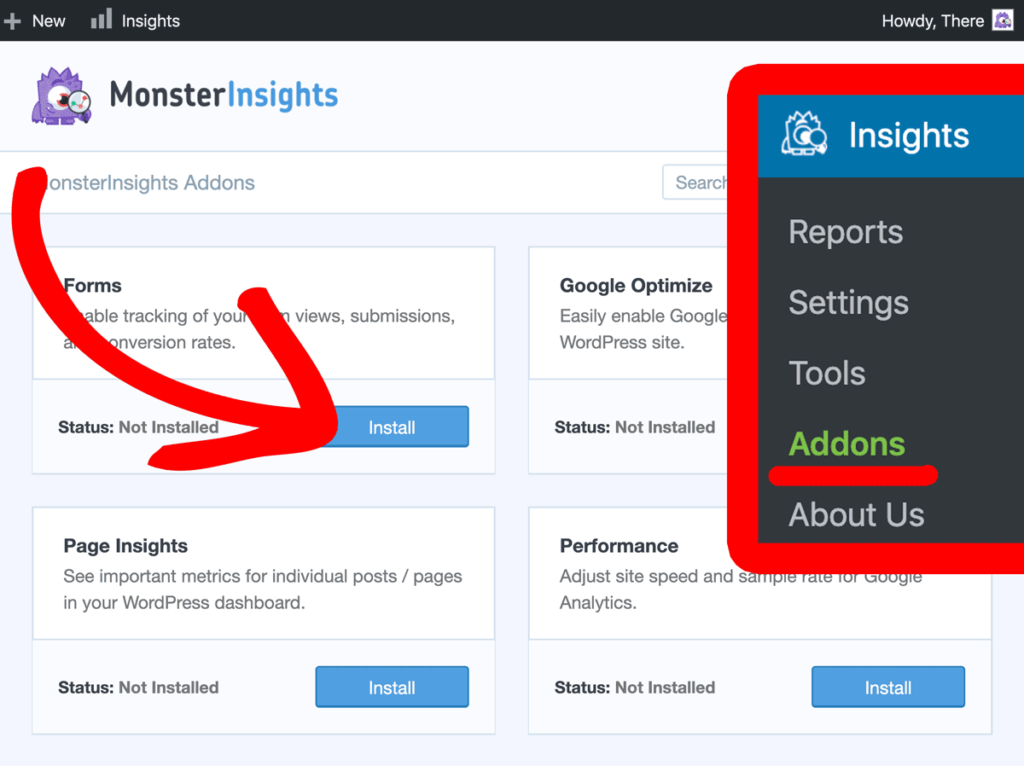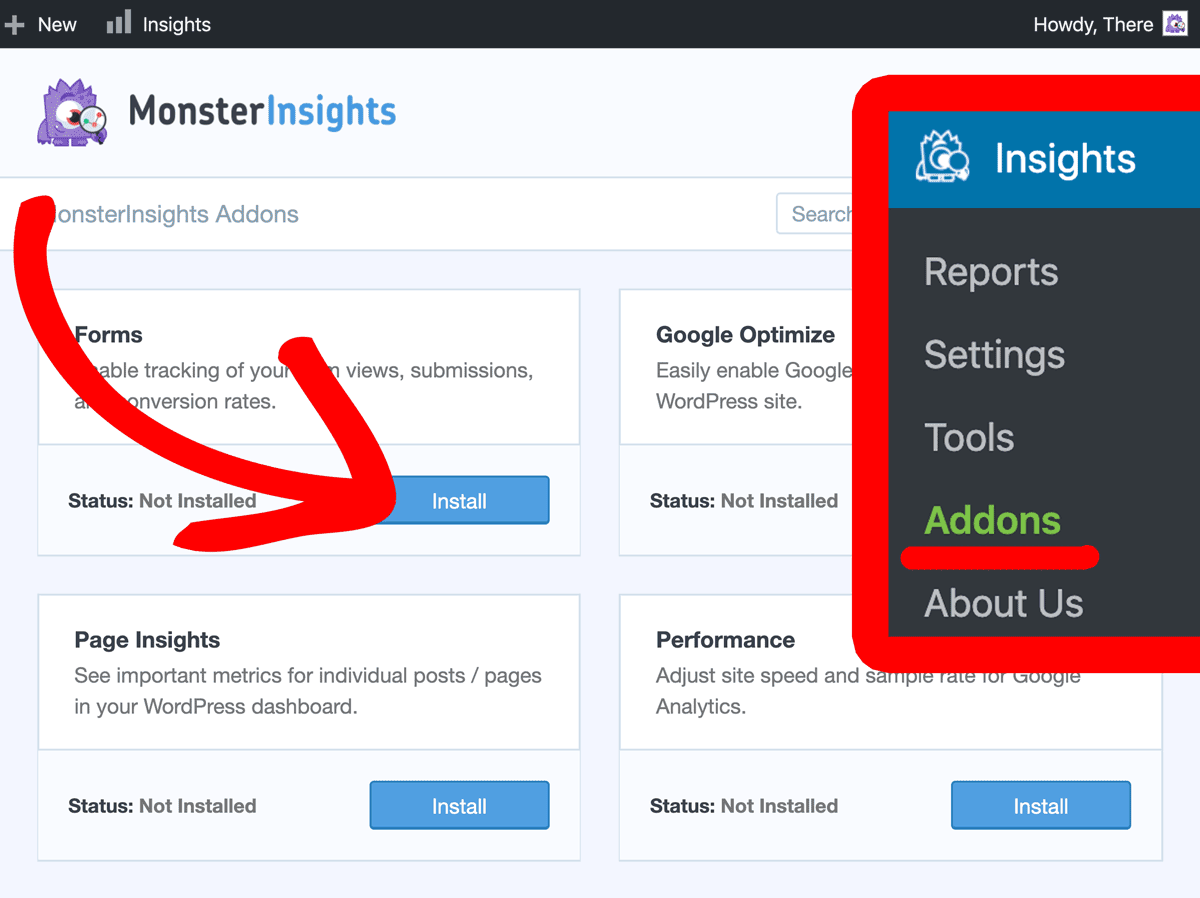 You'll see the button changed into an Activate option.  After that, you'll see the addon's status as Active. That means you've done the job correctly.
You've completed the forms tracking setup process in just two clicks! We told you it was easy.
Now, MonsterInsights will automatically start tracking your Ninja Forms conversions.
Let's go ahead and see how to view your forms conversion reports.
How to View Ninja Forms Conversion Reports
After successfully setting up forms tracking, you can go ahead and check your forms reports; however, reports may not be available immediately because Google Analytics takes 24 to 48 hours normally to track events like form actions. So, it's better to check the reports after 1 or 2 days of configuration.
To view your forms conversion reports, you'll need to visit Insights » Reports from your WordPress dashboard. There, you'll see the Overview Report of your entire site.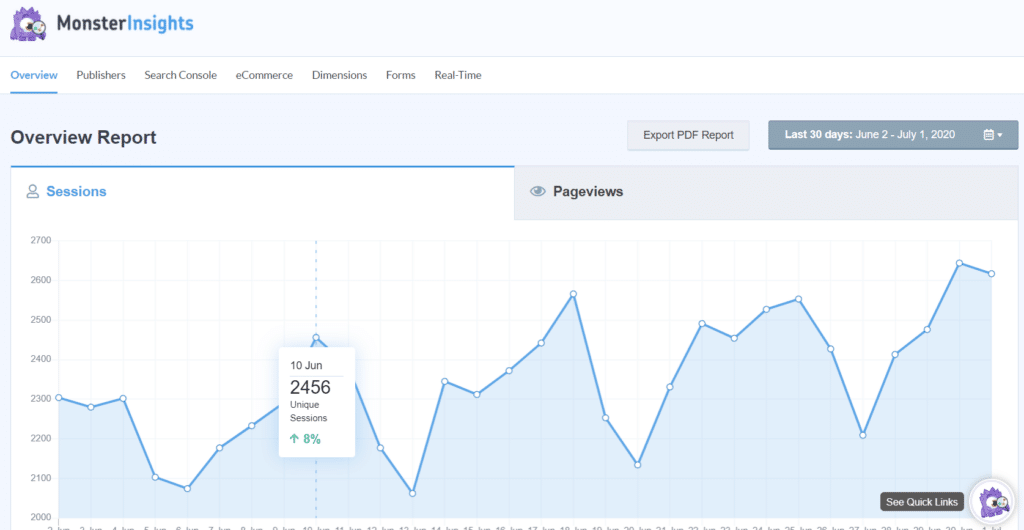 To view your forms reports, go to the Forms link at the top of your Overview Report and click it.
Then, it'll show you the forms reports.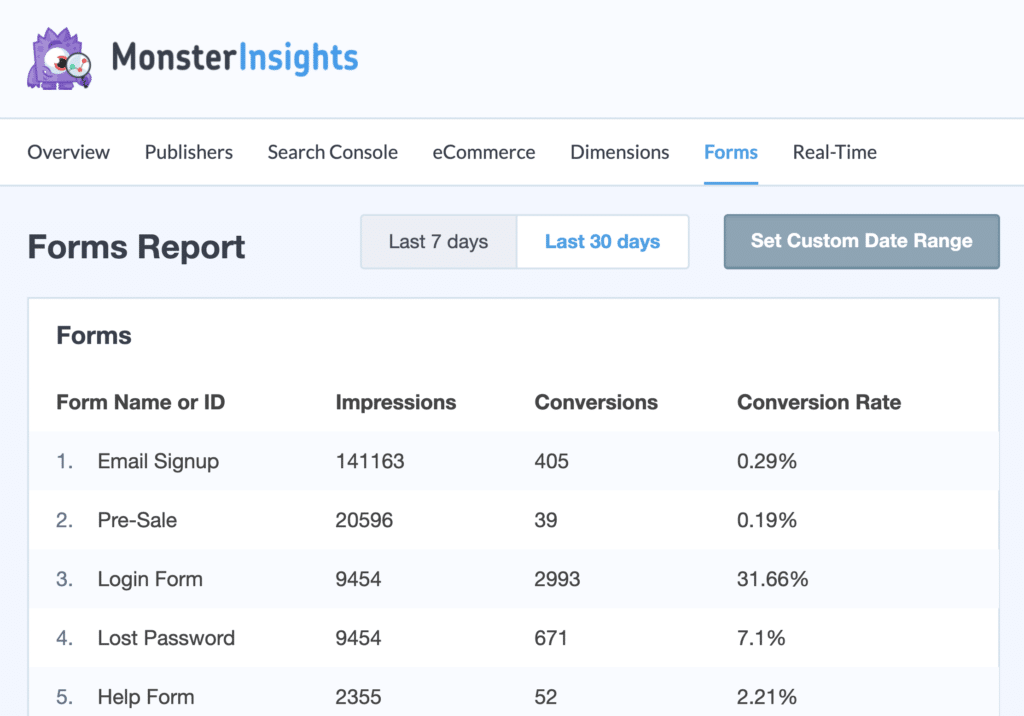 As you can see, MonsterInsights shows you the important data in a very clean and comprehensive style.
Your WordPress forms' names are in the first column on the left. The second column shows the number of total views, and the third shows the number of successful form submissions. The last column shows the conversion rates for each of your forms.
It's just clean and beautiful!
Moreover, you can click the View Full Forms Report button at the bottom of the report page and explore your forms reports more in depth.
Once you click that, it'll prompt you to open your Google Analytics account. If you're already logged in, it'll take you to Google Analytics » Behavior » Events » Top Events page in your Google Analytics account.
There, you can see the total impressions and conversions triggered by all of your forms.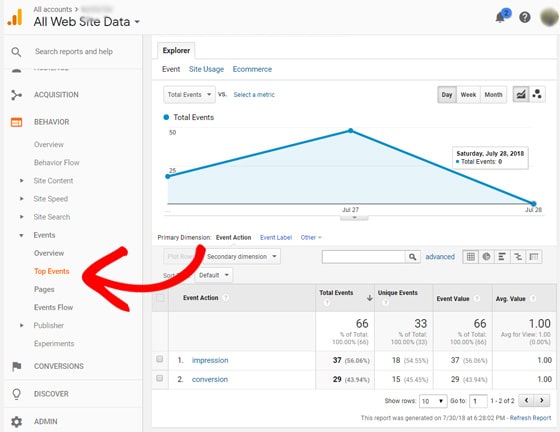 Now, if you want to view conversions for each of your forms separately, you'll need to click on the Event Label link in your Forms report Primary Dimension.
There, you'll see the total number of events for your Ninja Forms forms. Events include both the impressions and conversions in Google Analytics.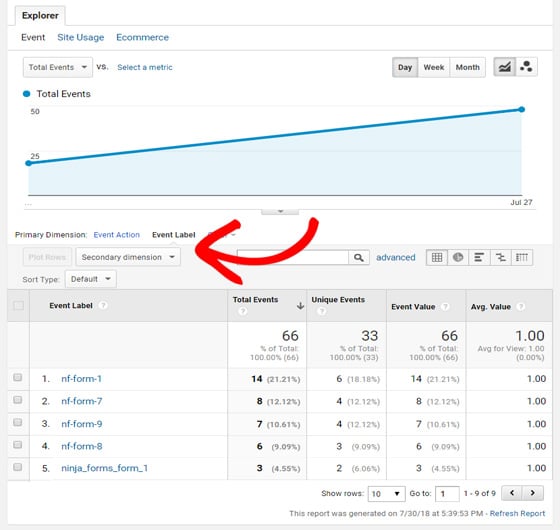 If you want to be more precise and see impressions and conversions separately for each of your forms, you'll need to click on the form names one by one.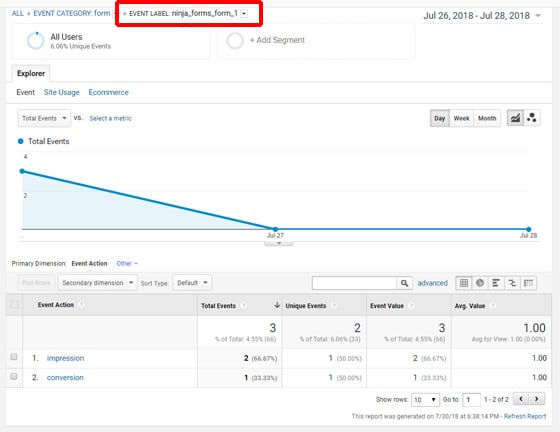 Then, you can see the events divided into Impressions and Conversions separately for your selected form.
That's all.
We hope this article helped you to learn how to track your Ninja Forms Conversions with Google Analytics. If you found MonsterInsights useful, download it today!
Also, check out our guide on how to find demographics and interest reports in Google Analytics.
Don't forget to follow us on Twitter and Facebook for more Google Analytics tutorials.