It's difficult times out there and with businesses closing left, right, and center due to the global health crisis, it can be hard to keep attracting customers and remain open for business.
But what if we told you that you can still stay in business and provide amazing food to your customers by accepting online orders?
Whether you're a takeout joint, small café, or a high-end fine dining restaurant, by offering a digital solution to your customers, you can increase your number of orders and keep earning money.
In this article, we'll show you how to set up online ordering for your restaurant website. So, let's get straight to it…
How to Set Up Online Ordering?
You might think that creating a way to accept online orders is tough, but trust us, it isn't. If you follow these steps, you'll have a system in place in no time.
Step 1: Create a WordPress Website for Your Restaurant
Do you have a website for your restaurant? If not, then the first step is to create a site for your business. And the best platform to build a website is through WordPress.
That's because it's easy to use, it's free, and it powers more than 35% of the websites worldwide. Not only that, but WordPress offers thousands of plugins that you can use to run your site smoothly.
To help you get started, WPBeginner has created a step by step guide on how to make a website.
It has all the things you'll need to get you up and running, like which is the best web hosting service, how to install WordPress, how to create pages in WordPress, and more.
You can even follow their detailed video for creating your own restaurant website on WordPress.
As for how much does a website costs to build, then really depends on your needs. You can create a website for under $100 per year or you can go as high as $30,000 per year.
Step 2: Install WPForms WordPress Plugin
Once you've created your WordPress website, the next thing to do is install WPForms.
Why WPForms?
It's the best WordPress forms plugin and offers a simple drag and drop builder to create different types of forms. Using the plugin, you can set up online ordering for your restaurant within minutes.
Step 3: Activate Forms Template Pack Addon
WPForms offers a variety of pre-built templates to choose from and helps you save time. And amongst them is a template for a takeout form. Using it's drag and drop builder, you can customize the form according to your customer's needs.
Do note, to create a takeout order form, you'll need its Form Template Pack Addon, which is available in its Pro Plan.
You can activate the addon by going to WPForms » Addons and then navigating your way to Forms Templates Pack Addon.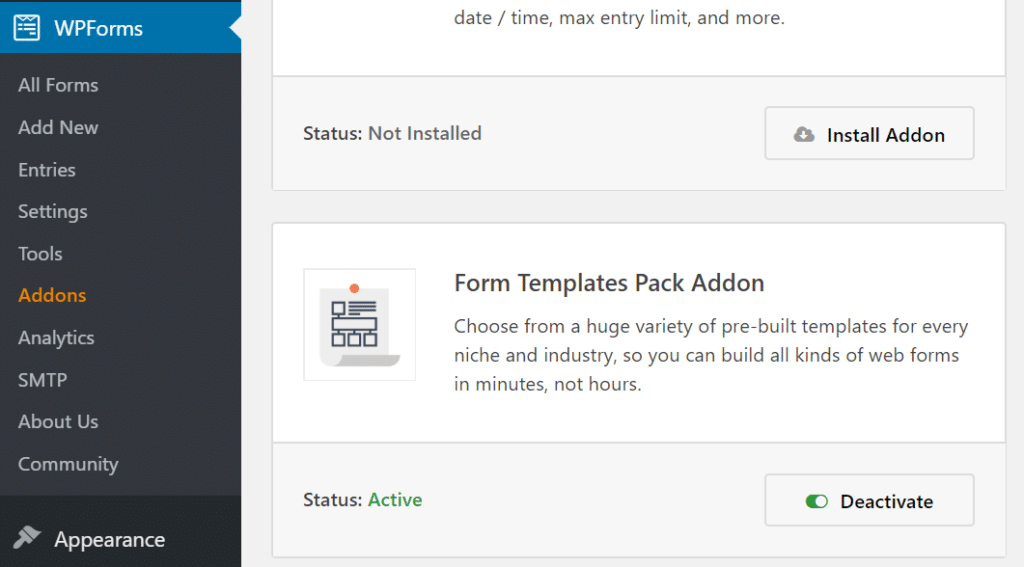 Step 4: Create a Takeout Order Form
After installing and activating WPForms on your WordPress, let's create a form through which you can accept online orders of your customers.
To start, go to WPForms » Add New. You'll now have to select a template for your online ordering form under Setup.
Scroll down to the Additional Templates section, navigate your way to Takeout Order Form, and then click on the template.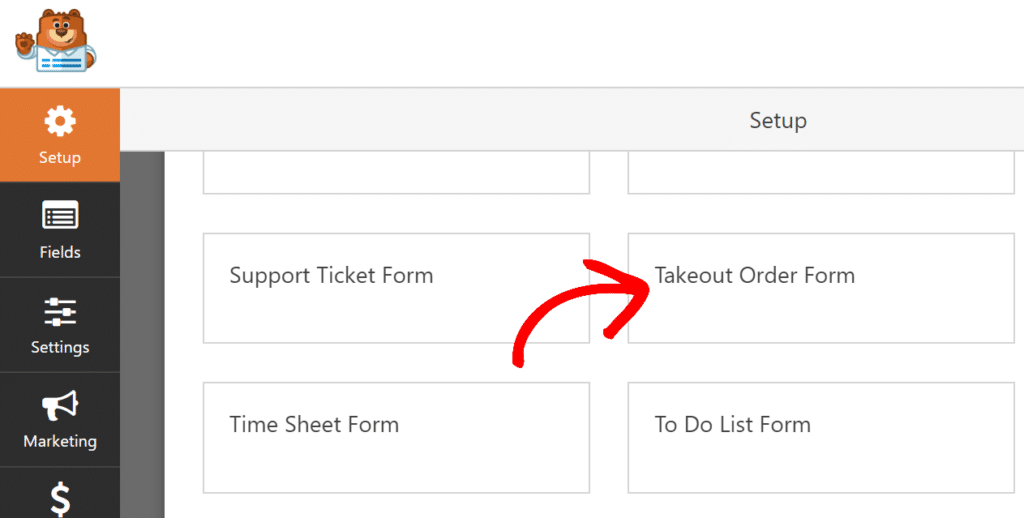 WPForms offers lots of options to customize your takeout order.
Under Fields, you can drag and drop different fields to change their placement, add standard fields such as a single line text, multiple-choice, dropdown menu, checkboxes, numbers, and more.
There are additional options to add more fields to your takeout order form. For example, you can add a field for a phone number, address, and rating to your restaurant order form.
And since customers are ordering food online, you can even add fields for accepting online payments. Using WPForms, you can accept payments through PayPal and Stripe.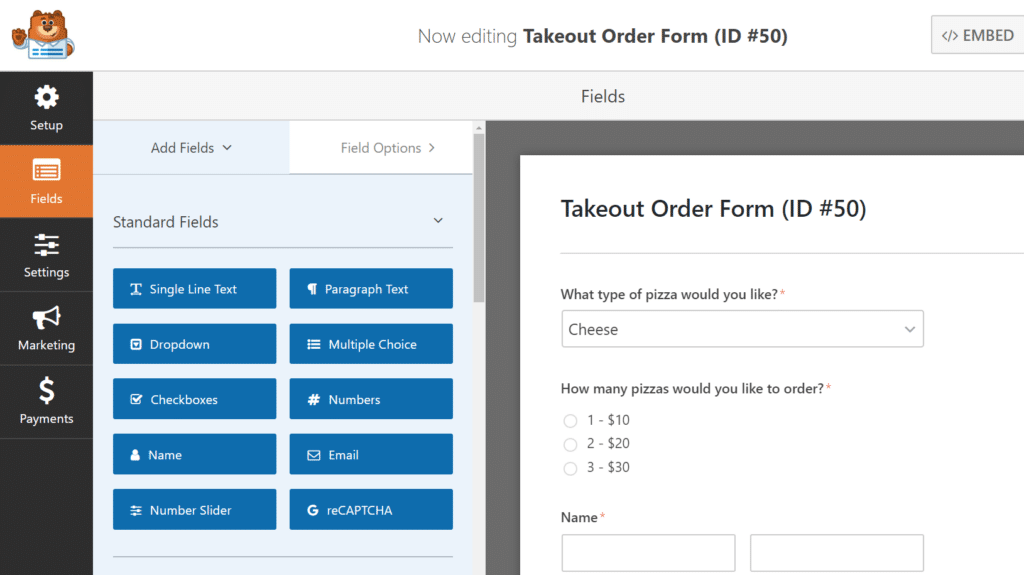 The customization doesn't end there. You can edit each field, change its label, format, order, add a description, and more.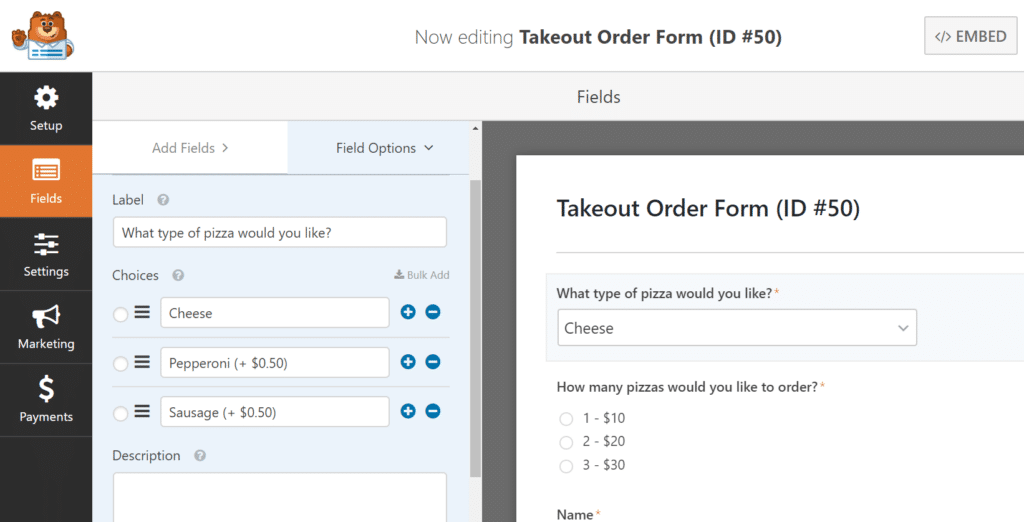 Step 5: Change Takeout Form Settings
Now that you've customized the form the way you want, you can change its settings.
Click on the Settings tab on your left.
Here you'll see General settings, which let you change the form name, add a description, change submit button text, and more.
It even offers options like enable anti-spam honeypot, dynamic fields population, AJAX form submissions, and disable storing entry information in WordPress.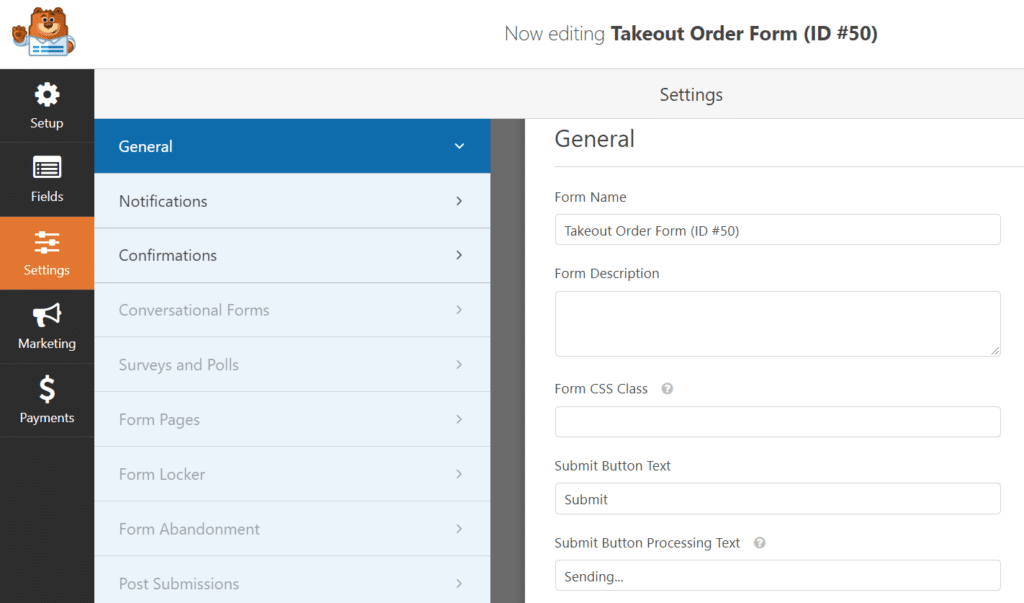 Next, you can configure the Notifications settings of the form. This tells you that a customer has placed an order on your restaurant.
You can customize the settings as per your needs and edit which email address should the orders go to, what should be the subject, and more.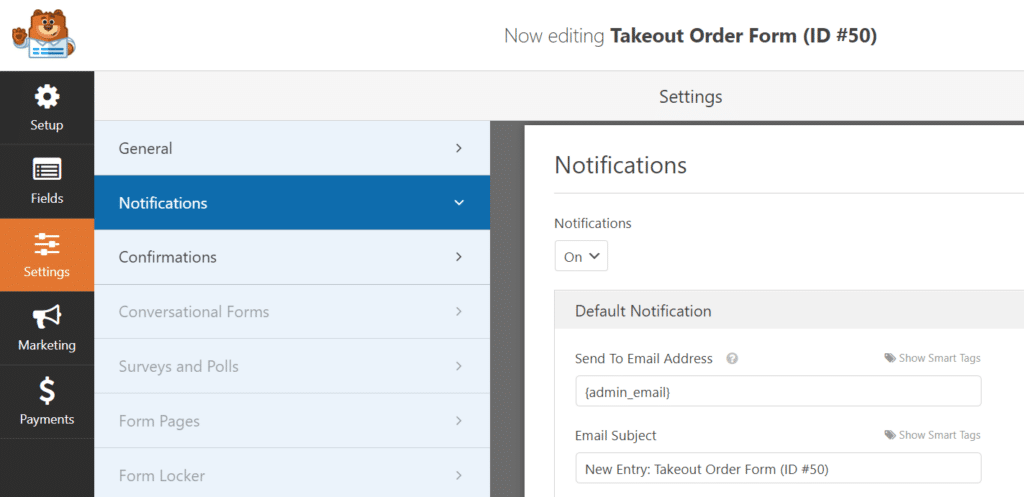 If don't want to use the default notification settings, then you can also create a new notification by clicking on Add New Notification.
Once you're satisfied with your notification settings, you can change the Confirmations settings. You have 3 options to confirm when a customer places an order:
Message – Show a confirmation message to your customers when they click the submit button
Show page – You can display a page, like a Thank You page or Order Confirmation page when a user clicks the submit button
Go to URL (Redirect) – Redirect customers to another page on your website when they place an order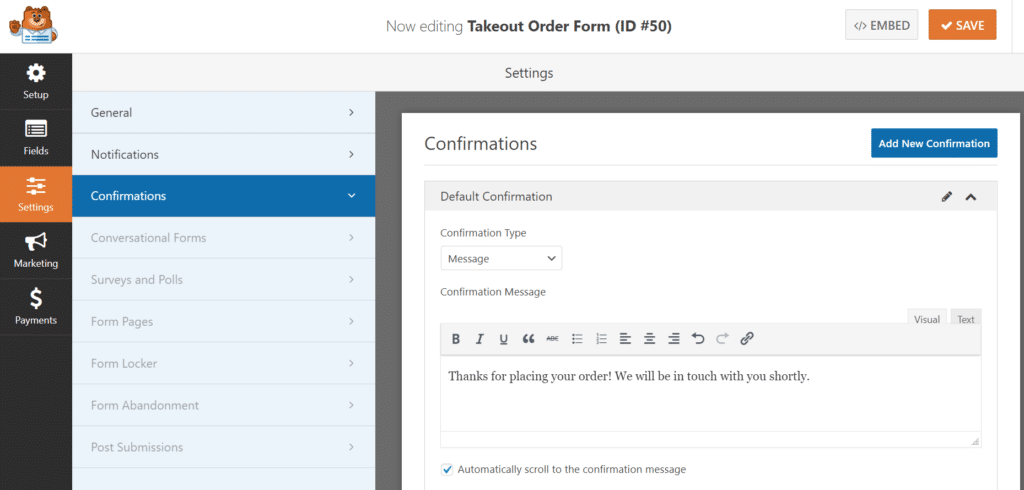 Step 6: Enable Payment Options
The last thing to do is add a payment option to your takeout order form in the Payments tab. You can add your PayPal and Stripe account to accept payments from customers.
To use these payment options, you'll have to activate them from addons.
And to do that, go to your WordPress dashboard, click on WPForms and then select Addons. Now look up PayPal Standard Addon and Stripe Addon and activate them.
Next, enter the payment information in the takeout form.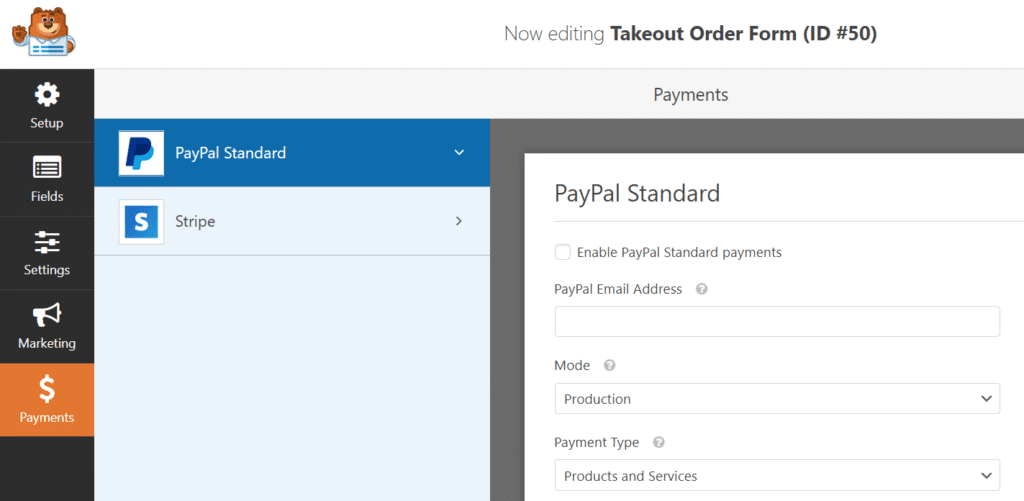 After setting up the payment options, click Save on the top right corner.
Step 7: Add Your Takeout Form to Your Website
Your takeout form is now ready to accept online orders for your restaurant. But you'll have to add it to your website.
There are different ways you can add your newly created form. You can copy a shortcode and paste it inside your page or post.
Or you can go to your page or post from your WordPress dashboard and then use the WPForms widget on the edit screen.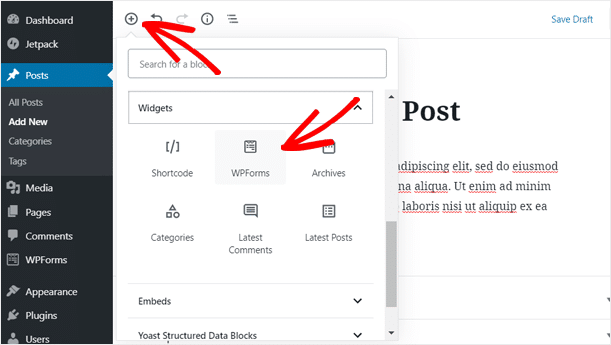 Now from the dropdown menu, select your takeout form.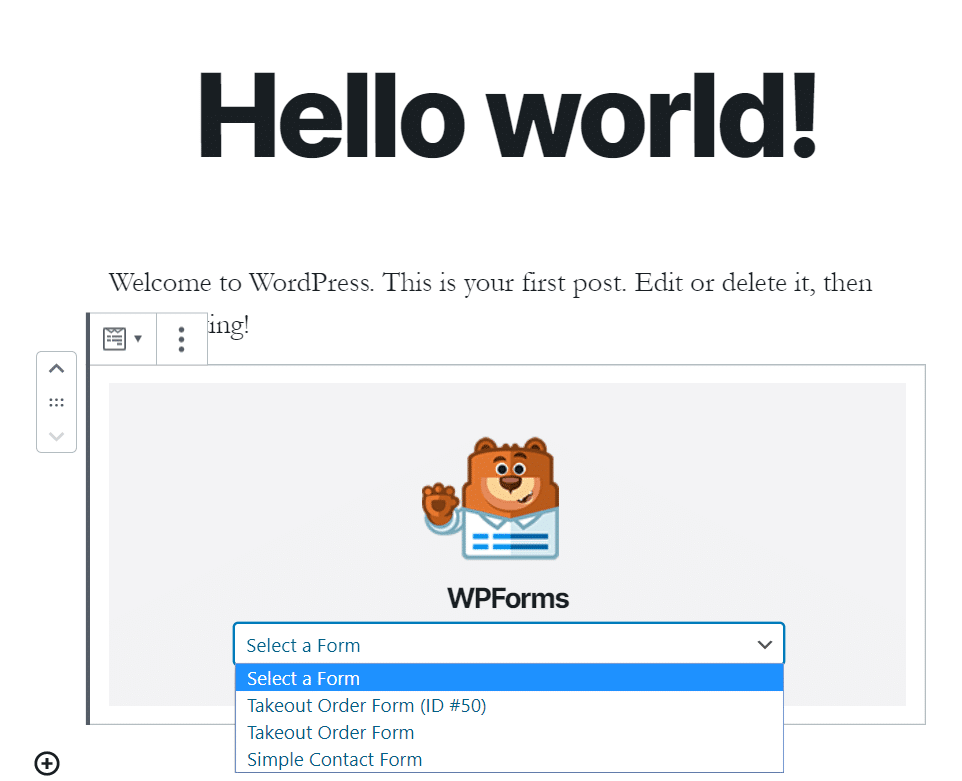 And there you have it!
You've now successfully created an online ordering form for your restaurant.
But what if you need to track its performance? Continue reading to find out…
How to Track Your Online Order Forms?
Once you've published your takeout form, you'll need to check its performance and see how many people are viewing the form and submitting orders. Sadly, Google Analytics doesn't track the performance of your forms by default.
This is where MonsterInsights comes in handy. It's the best Google Analytics plugin for WordPress. Using the plugin, you can set up advanced tracking in Google Analytics and track conversions of your forms on your website.
Through MonsterInsights Forms Addon, you can view each form's impressions, conversions, and conversion rate.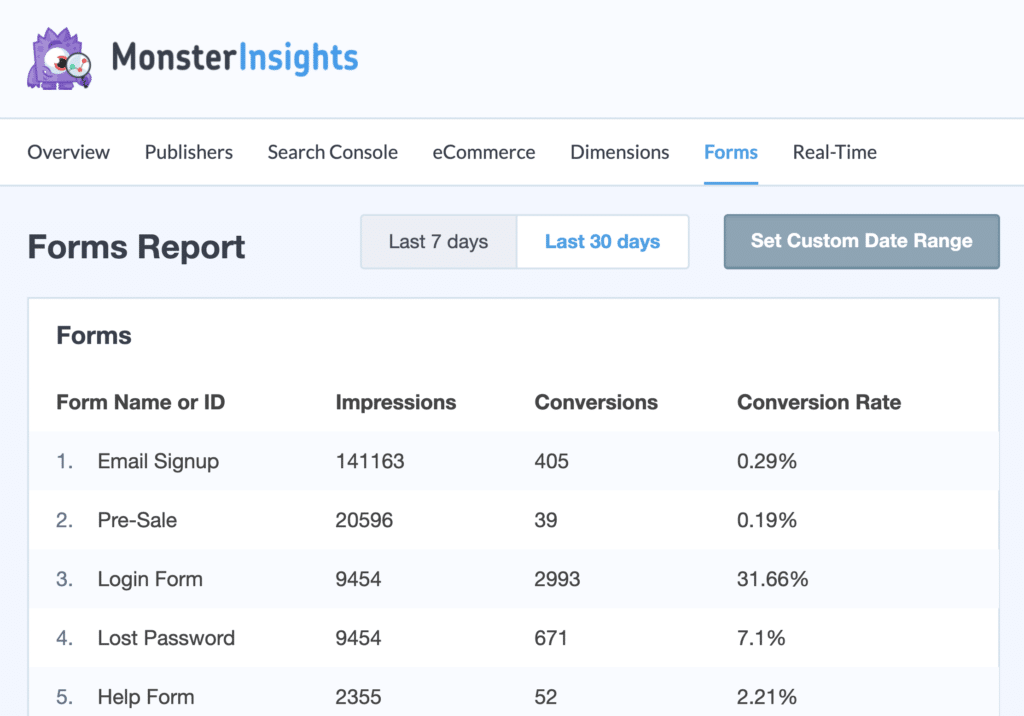 How to Promote Your Online Ordering Facility?
You must be wondering, how can you inform your customers about your new online ordering facility and get more people to place online orders? Well, here are a few tipis you can try:
Share Online Ordering News on Social Media – Create social media posts and let your followers know about online ordering. You can also place an Order Now button on your social pages.
Run a Giveaway – To boost your online orders, you can run a giveaway and offer discounts for a limited time. This will create awareness, boost engagement on your page, and bring in more followers.
Send an Email – If you have an email list, you can send out an email to let people know that your restaurant now accepts online orders.
Run Facebook Ads – You can run Facebook ads and target delivery area near your restaurant to boost online orders and increase awareness
And that's it, folks!
We've now made it to the end of the post. Thanks to WPForms, you can create a takeout form and add it to your WordPress site to accept online orders.
We hope you liked our article on how to set up online ordering for your restaurant. You can also take a look at our guide on how to track user engagement in WordPress using Google Analytics.
Don't forget to follow us on Twitter and Facebook to learn more about WordPress and for more helpful Google Analytics tips.