Want to know how to increase your website's landing page conversion rate? If you can grab people's attention and get them to click on your site's landing page, you've won half the conversion battle.
And it just so happens that one of the best ways to give a good first impression is to create a good landing page headline.
In this article, we'll show you how to use landing page headline formulas to attract your site visitors' attention and encourage them to take action.
What Are Landing Page Headline Formulas?
In 1999, 200 award-winning ads were studied by Israeli researchers to find out what made them so great.
What they found out was that 89% of the ads they looked at fell into one of 5 categories. These categories, or headline formulas, can now be used as a way to come up with the headline copy of your site's landing pages.
The 5 landing page headline formulas are:
Testimonial
Cliffhanger
Value Proposition
Listicle
How-To
So, do your headlines fall in these categories? How can you find out? Let's take a look…
How to Analyze Your Headlines?
With MonsterInsights new headline analyzer tool, you can now get instant feedback about your titles. You can use the free tool inside your WordPress editor and review the ratings.
Simply click on the headline analyzer button and get a rating between 1 – 100 for your headline.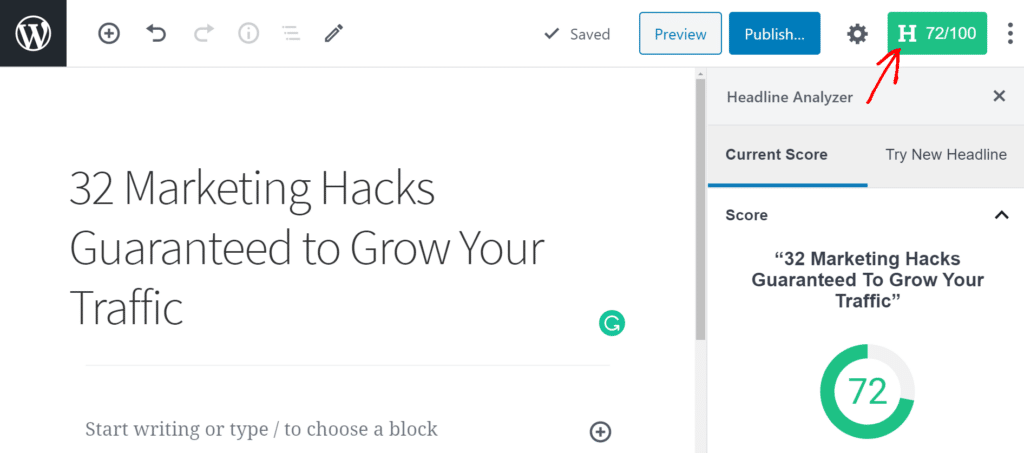 Not only that, but the tool helps you improve your titles. It looks for words that can increase your score and make your headlines more enticing.
For instance, it measures the word balance by looking for common words, uncommon words, emotional words, and power words. If your copy is missing some of these words, then you can add them and improve its CTR (click-through rate).
To use the Headline Analyzer tool, make sure you have a MonsterInsights Plus or a higher plan.
Once you know where your copy stands, let's take a look at each headline formula in detail to boost your conversions.
1. Testimonial
Word of mouth is a powerful marketing tool. That's why using what your actual customers are saying about your products or services is sometimes the best (and easiest!) option.
Testimonial headlines reduce the risk factor for site visitors wanting to give you a chance. After all, if other people enjoy what you have to offer, and are willing to say it out loud for everyone to hear, your business must be good.
They also help boost your credibility. In fact, using testimonials as a landing page headline is just another way to show off positive reviews.
And, since 85% of people report trusting online reviews as much as personal recommendations, it makes sense to do this to in your landing page headlines.
LKR Social Media experimented with making their landing page's headline a testimonial. Replacing their original headline with a subscriber's direct quote, "Yours is the only newsletter I actually read", they experienced a 24.31% conversion rate increase.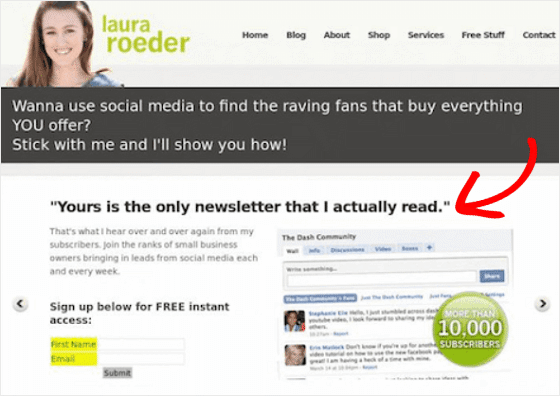 This works because it draws on the FOMO (fear of missing out) phenomena and makes people want to convert.
2. Cliffhanger
Cliffhanger landing page formulas tease potential customers with something really great, and hold back the best parts to make them click for it.
This strategy is used by many big name websites, including Buzzfeed. They always have a gripping headline with just enough information to get you interested, and then make you click on their article to get the rest.
Take for instance this article about charcoal teeth whitener. You're being told it's as good as magic, but you don't know the name of the product quite yet. And if you want to know, you'll have to click to find out.

Cliffhanger headlines are usually very specific. They also have compelling numbers to back their statements and bold images to really entice readers.
They also like to stay away from "Buy Me" language. A perfect example of this is when Moz (who was SEOmoz at the time), changed their headline from this:

To this:
Rather than go in for the sale right away, Moz wanted to spark enough reader interest before pushing their product. With this new cliffhanger headline, Moz ended up increasing their annual revenue by $1 million dollars.
3. Value Proposition
Your main goal when it comes to getting people to convert is to convince them that you have something that'll help solve their problems.
To do this, you should focus on the benefits you provide, rather than your products.
For example, MarketingProfs did a headline test that added solution selling into their headline. As a result, they had nearly 28% more sign ups.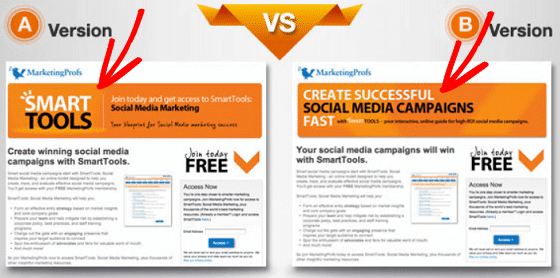 To create an effective landing page headline that has a value proposition built into it you must:
Figure out what your customers value the most
Show them how you can give them what they value better than anyone else
Never assume your target audience understands your value
Not sure how to find out what your customers value the most?
Try conducting a survey on your website and see what people have to say using WPForms' Survey and Polls Addon.
4. Listicle
36% of people prefer headlines that have numbers in them.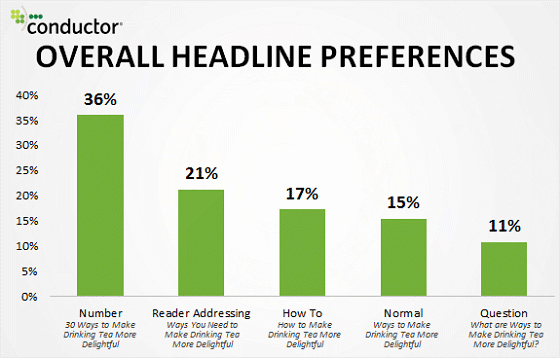 Lists are great incentives to get people to subscribe to your email list because people love to click on them. Especially if you make your list valuable to your readers and don't make them all just entertaining, which is what a lot of listicles are.
If you really want to entice people to click, use an odd number in your listicle headline formula and outperform even number lists by 20%.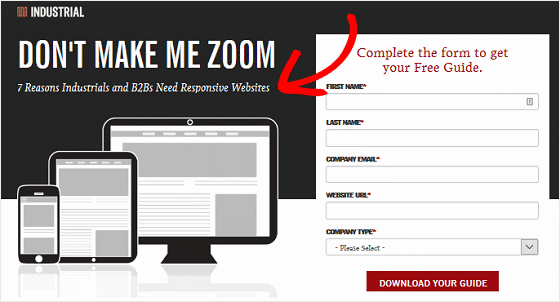 It's good to know that these headline formulas work for subheadings too, as seen above in the landing page for Industrial Strength Marketing.
5. How-To
The phrase "How-To" is one of the most popular because it promises to teach people something of value, which makes them want to click and learn.
Take for instance the results CityCliq saw after changing their headline "Businesses grow faster online!".
Their new headline offered more value, promised to show people how to do something, and looked like this: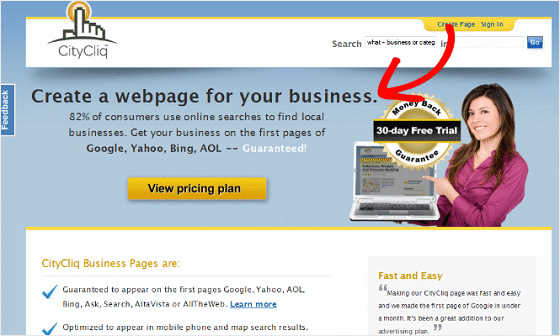 After the change, CityCliq experienced a whopping 90% jump in conversions. People finally saw the value in what CityCliq had to offer and were excited to click through.
You may have noticed that there's a common theme in most of the examples above: A/B testing.
The easiest way to set up A/B testing of your landing page headlines is to use Google Optimize. This free A/B testing tool by Google lets you run split tests on your website to see what works best.
However, setting up and using Google Optimize in WordPress can be tricky. That's why using the MonsterInsights Google Optimize addon, the only Google Analytics plugin that lets you connect Google Optimize to your site is the best way to A/B test your headlines to see which ones convert the highest for you.
If you want to split test your landing page headlines to make sure you are giving your audience exactly what they want, check out our helpful guide on how to set up Google Optimize in WordPress.
And that's it!
You now know the most effective landing page headline formulas and how to best use them to boost your conversion rates.
If you want a way to make sure your landing page headlines are working for you, be sure to check out how to create a goal in Google Analytics to track conversions. Also, you can choose from the best WordPress landing page plugins to create a page.
And don't forget to follow us on Twitter and Facebook for more helpful Google Analytics tips.