Looking for the best plugin to add conversational forms on your WordPress site?
Typeform and WPForms are the two most popular form builders on the market. Both of them allow you to create beautiful interactive forms and surveys on your website. But which one is better?
In this article, we'll compare WPforms vs Typeform side by side to help you choose the best form builder plugin for your needs.
Typeform vs WPForms: Table of Contents
The main points of comparison between Typeform vs WPForms are given below in the table of contents.
Now let's take a look at these factors in more details.
Overview
Typeform and WPForms both are powerful form builders. However, the way they work is mostly different. Let's get started with the general overview of both these platforms.
Typeform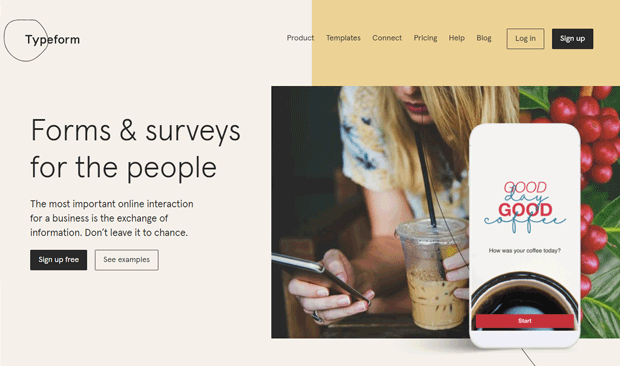 Typeform is one of the most popular form builders on the market. It's a standalone SaaS (Software as a Service) software which allows you to build forms and add them to your website.
With Typeform, you can create beautiful conversational forms easily and engage your audience. Unlike regular forms, they show just one question at a time that excites users to complete the form.
The interactive forms are great for contact forms, surveys, quizzes, shopping cart forms, customer feedback forms, etc. They're proven to reduce form abandonment and collect more data.
WPForms
WPForms is the most user-friendly WordPress form plugin on the market. Unlike Typeform, it's a WordPress plugin which lets you create forms right inside your WordPress dashboard.
Using WPForms, you can create simple contact forms as well as advanced forms like surveys, polls, quizzes, order forms, etc. on your WordPress site easily. And, the best part is that you can turn each form into a conversational form with just a few clicks.
WPForms offers a simple drag and drop form builder interface for building forms. No coding is required.
Undoubtedly, WPForms is the best Typeform alternative for WordPress.
Ease of use
Ease of use is the most important factor to consider when choosing a form plugin. You need an easy to use form solution because it allows you to build forms quickly and save time for other more productive tasks.
Typeform
Creating forms in Typeform is fairly straightforward. It comes with more than 60 templates to get you started quickly. You can choose one of them or start from scratch.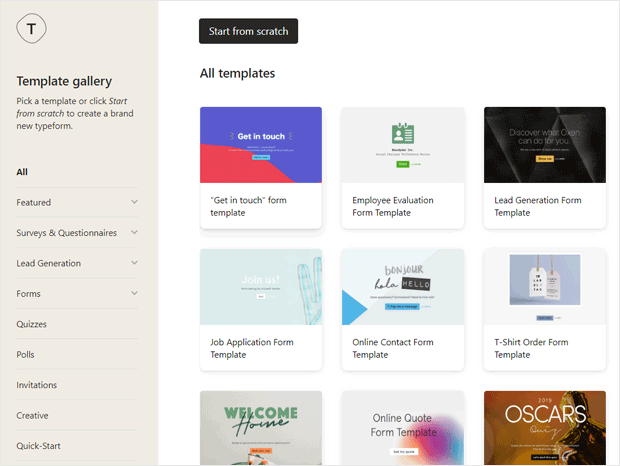 Customizing the Typeform templates is also easy. You can edit the questions, add new questions, add login smart jump to your questions, etc. easily.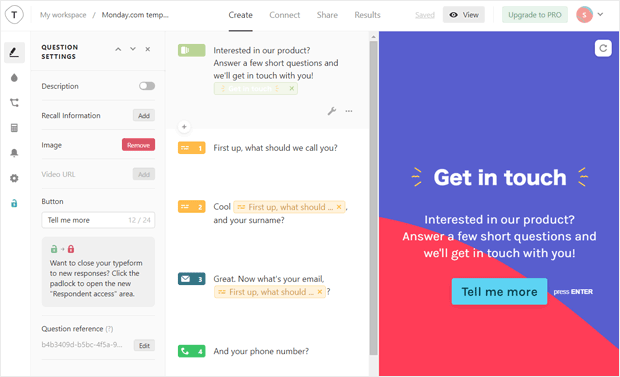 Making forms in Typeform is pretty simple; however, adding the forms to your WordPress site is a bit tricky. You need to find an embed code and add that to your website on every page where you want to display the form.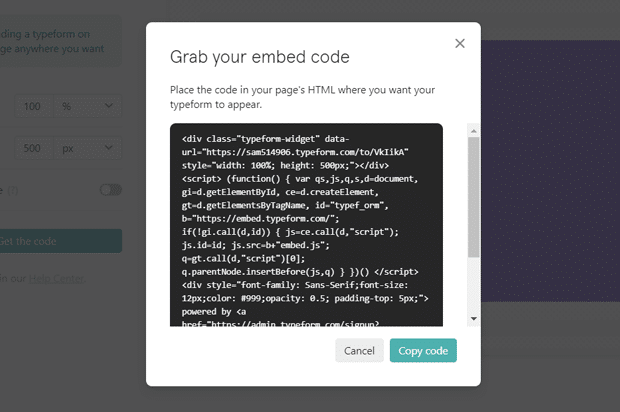 If you're not familiar with HTML codes, then it'll be a quite confusing task for you.
Another disadvantage is that you need to visit the Typeform website every time you want to create a form or get a code.
If you're looking for a quick and simple way to add forms in WordPress, then WPForms is the better option.
WPForms
WPForms makes it super easy to create forms in WordPress. There're tons of pre-designed templates to let you get started quickly. By default, there're a handful of templates, and you can add 100 more templates with the Form Templates Pack addon.
You can choose one of the form templates or start a new one from scratch.
Creating and customizing forms in WPForms is super easy. It offers beginner-friendly drag and drop form builder, which lets you quickly add fields, customize, and make a form.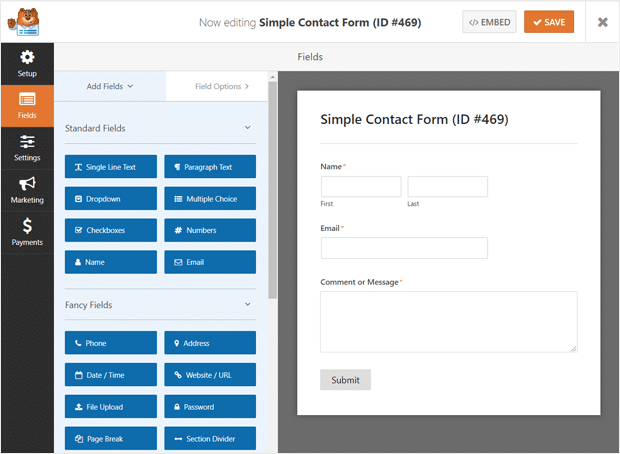 Once you've built a form, you can quickly transform that into a conversational form with just a few clicks.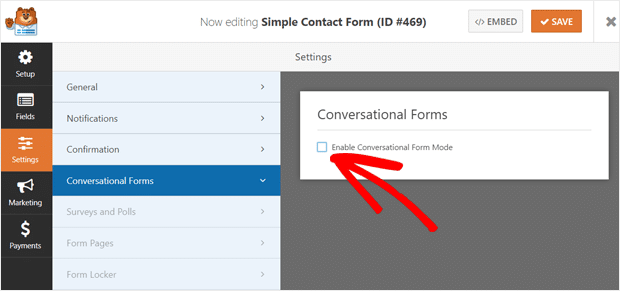 And, when your conversational form is ready, you can easily embed it on your posts and pages. It offers a native block which lets you add your forms anywhere on your WordPress site easily.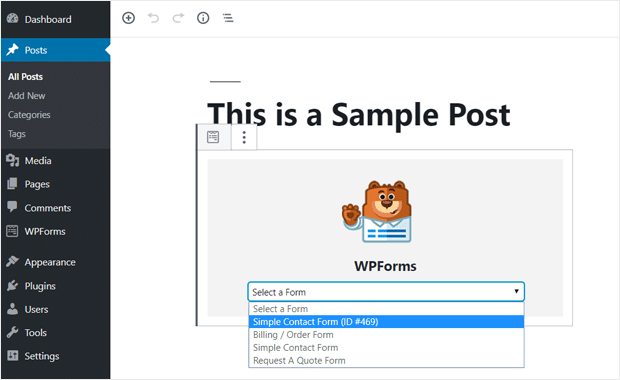 It's the benefit of using a native WordPress plugin over a SaaS software like Typeform. While Typeform requires you to paste an embed code to your page, WPforms makes it simple with its native block.
Features
Now that you know both Typeform and WPForms allow you to create conversational forms, you may want to know what more features they offer. Let's take a look at the features they offer to help you grow your website.
Typeform
Typeform mainly focuses on creating conversational forms; hence, it offers some cool features to make your forms more interactive and human.
For example, it provides a smart jump feature which shows different questions based on the users' answer to the previous questions. This feature helps to make your forms more personal and humane.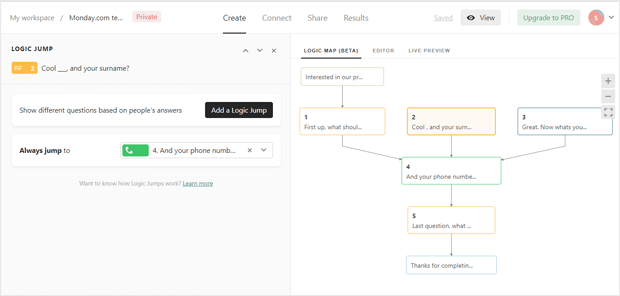 Typeform lets you integrate your forms with plenty of third-party services and tools. You can integrate with popular email marketing tools like MailChimp, Constant Contact, Drip, ActiveCampaign, and more.
Similarly, you can connect your forms with analytics, support, lead generation, and more tools.
WPForms
WPForms offers some exclusive features that make it the best choice for WordPress forms. It includes powerful addons to extend its features and functionalities.
The Signature addon allows your users to sign your forms electronically. It's useful for signing contracts and agreements.
For payments, it includes addons for PayPal and Stripe. You can create order forms, donation forms, and collect payments.
WPForms has smooth integration with the major email marketing services, including AWeber, Campaign Monitor, Drip, GetResponse, and MailChimp.
Best of all, it provides an exclusive Form Abandonment addon to help you recover leads from the abandoned forms. The addon saves partial entries and lets you follow up with the interested prospects.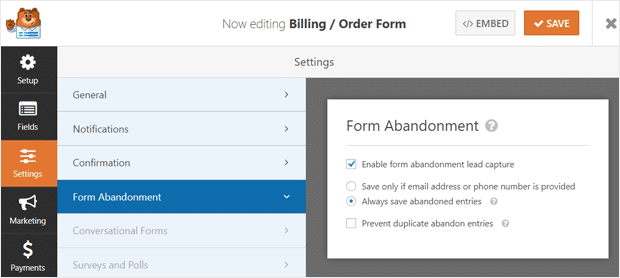 With all these amazing features, WPForms is an excellent form builder plugin for WordPress.
Pricing
Choosing the best-priced plugin allows you to save money for more critical growth tools. Let's take a look at the pricing plans of WPForms vs Typeform.
Typeform
Typeform offers mainly 3 different pricing plans: Basic, Pro, and Pro+.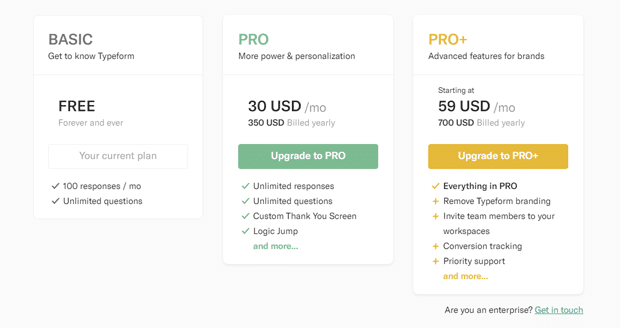 The Basic plan is free; however, it has minimal features. You can get only 100 responses per month and add only 10 questions per Typeform. And, it supports only the basic question types.
The Pro plan is available for $30 / month or $350 / year. It supports unlimited responses, unlimited questions, and advanced question types as well. Plus, it has more powerful features like Logic Jump, Calculator, Custom Thank You Screen, and more.
The most expensive Typeform plan is Pro+ which is available for $59 / month or $700 / year. It lets you use analytics tools like Google Tag Manager, the Facebook pixel with your forms. And, it also enables you to remove Typeform branding from your forms.
The Typeform pricing seems quite expensive for the small businesses which are on a budget.
WPForms
In comparison to the Typeform, WPForms offers advanced features at a much lower price. It has mainly four pricing plans: Basic, Plus, Pro, and Elite.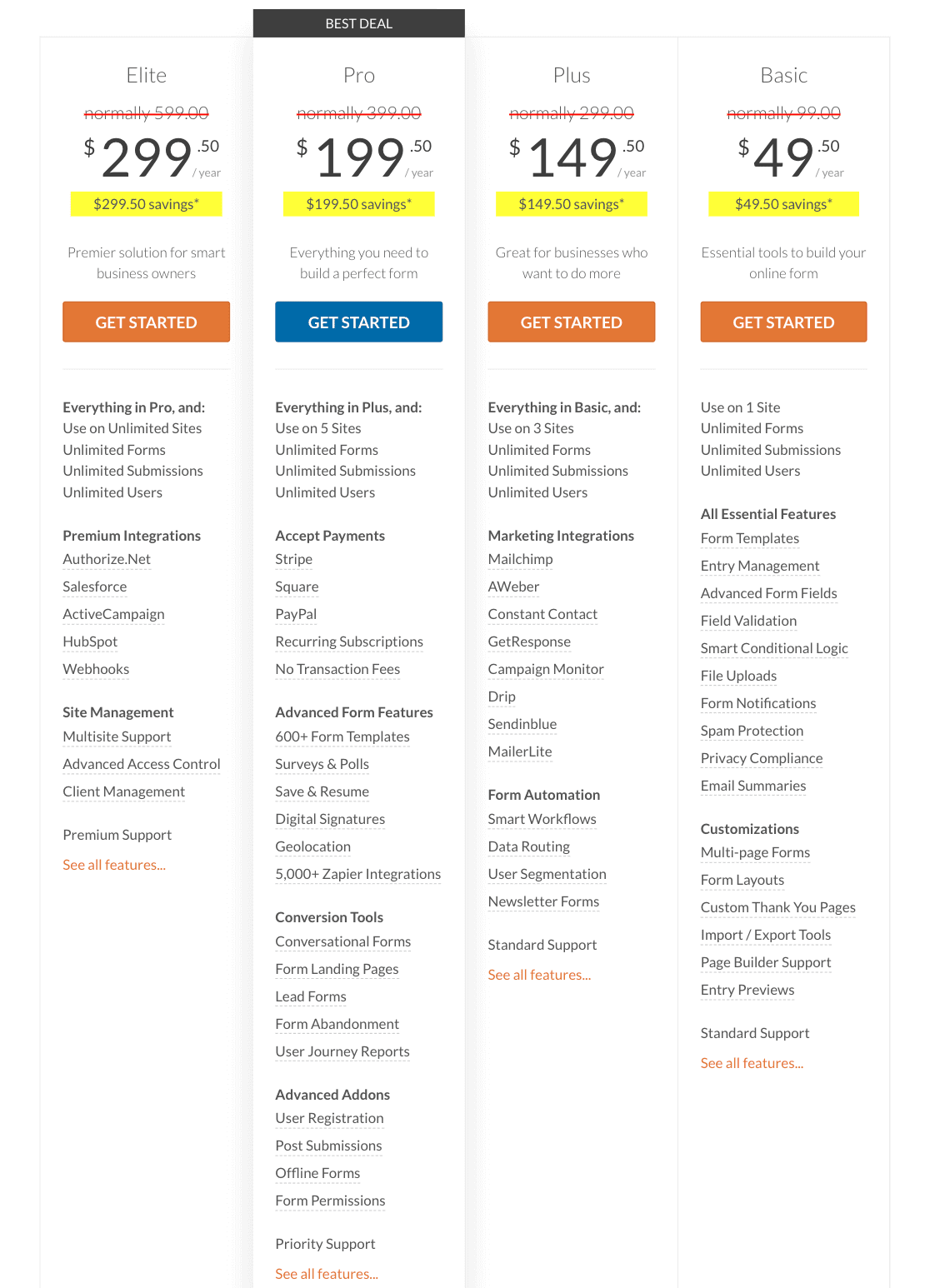 The Basic plan costs you only $49.50 / year, and it lets you create unlimited forms and accept unlimited entries. It supports advanced fields, file uploads, conditional logic, etc. With this plan, you can also connect your forms with Constant Contact and collect emails for campaigns.
The Plus plan is available for $149.50 / year and lets you connect more email marketing tools. It also allows you to create newsletter forms.
The Pro plan is the best WPForms deal that comes with all the powerful features of the plugin. It includes PayPal and Stripe add-ons to accept payments. It's available for $199.50 / year.
The highest WPForms plan costs $299.50 / year. It comes with WordPress multisite support.
WPForms also offers a free version to the users looking for simple contact forms.
The cost comparison clearly shows that WPForms offers more affordable forms. If you think Typeform is expensive for you, WPForms is the best alternative available for you.
Support
Customer support is another crucial thing to consider. You need a very dedicated and expert support provider that can help you right when you need it.
Typeform
Typeform website offers a help center with extensive documentation. You can find tutorials on how to create a form, connect with different tools, how to share your forms, and more.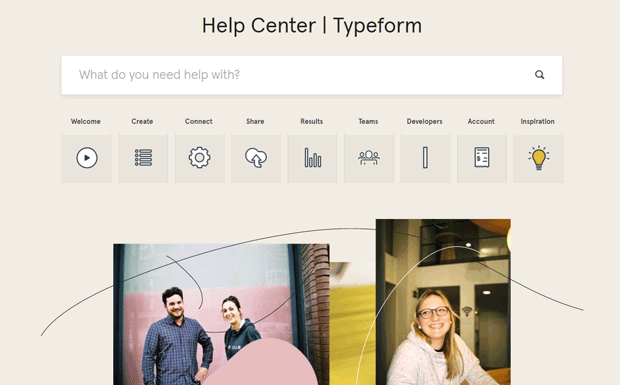 Besides that, you can contact the customer support via the support form; however, it's limited.
WPForms
Customer support at WPForms is excellent. They offer instant technical support via support tickets.
The WPForms website also includes a documentation hub with dozens of articles on how to use the plugin.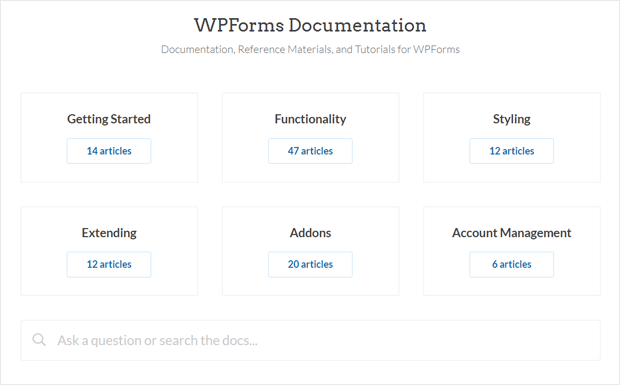 Besides, you can visit their blog for useful articles, tips, and tutorials. The free version users can simply post questions in the plugin support forum page on WordPress.org website.
Conclusion: Which is Better?
After reviewing the two form builders Typeform and WPForms, we conclude that WPForms is the clear winner for WordPress forms. It allows you to create any form easily in WordPress, whereas there's some learning curve to add Typeform forms in WordPress.
Another benefit of using WPForms is that you get all the features at a much lower price. With the WPForms Pro plan that costs $199.50 / year, you can create conversational forms and use most of its powerful features.
Whereas the Typeform Pro costs $350 / year for fewer features. You need to buy their most expensive plan Pro+ for $700 / year to remove the Typeform branding.
Last but not least, WPForms is a WordPress plugin, whereas Typeform is not. WPForms is built the WordPress way. And, it lets you create forms and configure everything right from your dashboard. But you need to visit Typeform website whenever you need to add, edit your forms.
WPForms is the best form builder for WordPress sites. And, the perfect Typeform alternative for WordPress.
We hope this article helped you to find out the differences between WPForms vs Typeform and decide which tool to use on your WordPress site. You may also want to see our guide on how to track your WordPress form conversions with Google Analytics.
And don't forget to follow us on Twitter and Facebook for more helpful Google Analytics tips.