Do you wish you could find out what your website visitors are thinking as they're clicking around your site?
Are they finding the information they needed? What do they think of your products? Does something in your design make your site seem confusing?
Now, you can find out the answer to all of these questions (and an infinite number more!) with UserFeedback.
What is UserFeedback?
UserFeedback is the best new user feedback plugin for WordPress. This simple but powerful plugin makes it effortless to ask your visitors absolutely anything you want. With UserFeedback, you can collect the feedback that you need to understand your visitors. When you know what your visitors need and want, you can make changes that'll take your website to the next level.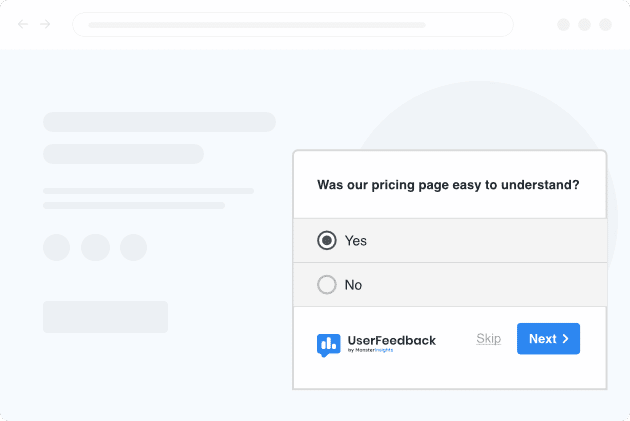 Installing UserFeedback is quick and easy, and setup takes only a few clicks.
A few more of the features you'll love include:
Unlimited surveys, questions, and responses
Automatically display the widget in a bottom corner of your site, or use a shortcode to place it anywhere
Browse our library of pre-built templates for survey ideas
Customize your design, including a custom logo
Ask just one or several questions in each survey
Multiple question types, including long answer, radio buttons, star ratings, email form, and more
Smart targeting
And more!
Let's take an inside look at how UserFeedback can work to help you delight your visitors and get more sales and conversions from your traffic.
Create Completely Customizable Surveys
With UserFeedback, you're not limited to only a couple kinds of questions. That means you can create the custom feedback survey you really need to understand your visitors' wants and needs.
Use question types like:
Checkboxes
Radio Buttons
Email Capture
Single Text Field
Long Answer
Star Rating
Net Promoter Score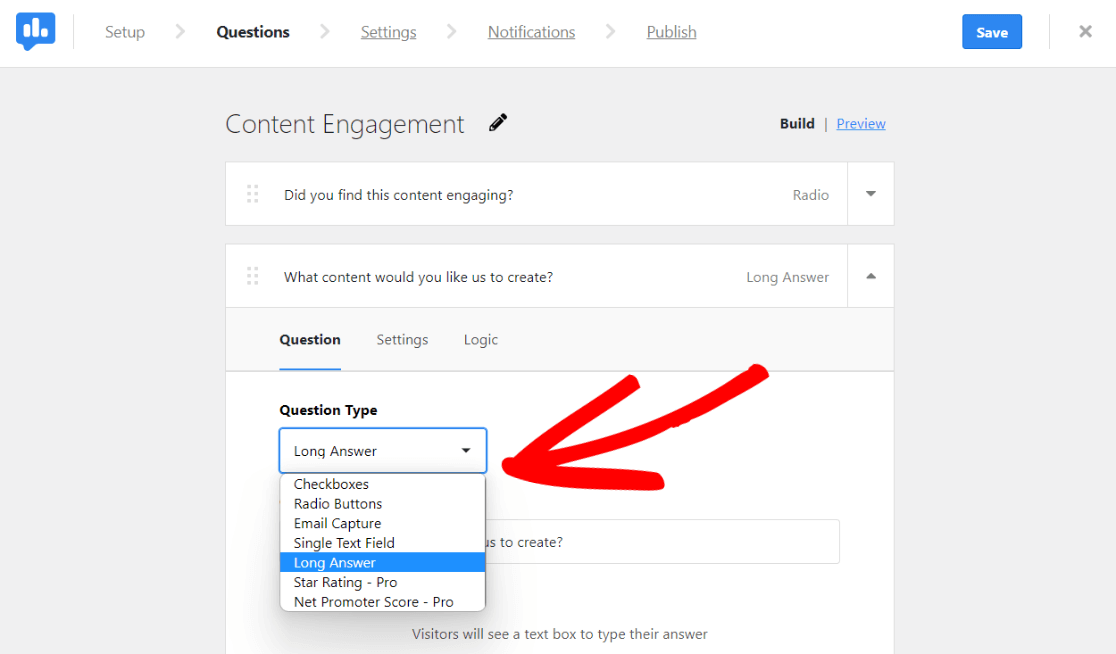 Not only are there multiple question types, but you can even use conditional logic to make your survey change based on how a visitor answers.
Use one question, two questions, or however many you need to make your survey. You can also choose to display any kind of message at the end to thank your visitor for completing the survey.
Worried about the survey matching the look and feel of your website? Don't be! You can customize the colors to make the widget look just like it was built for your site. Change the background, button color, and text color.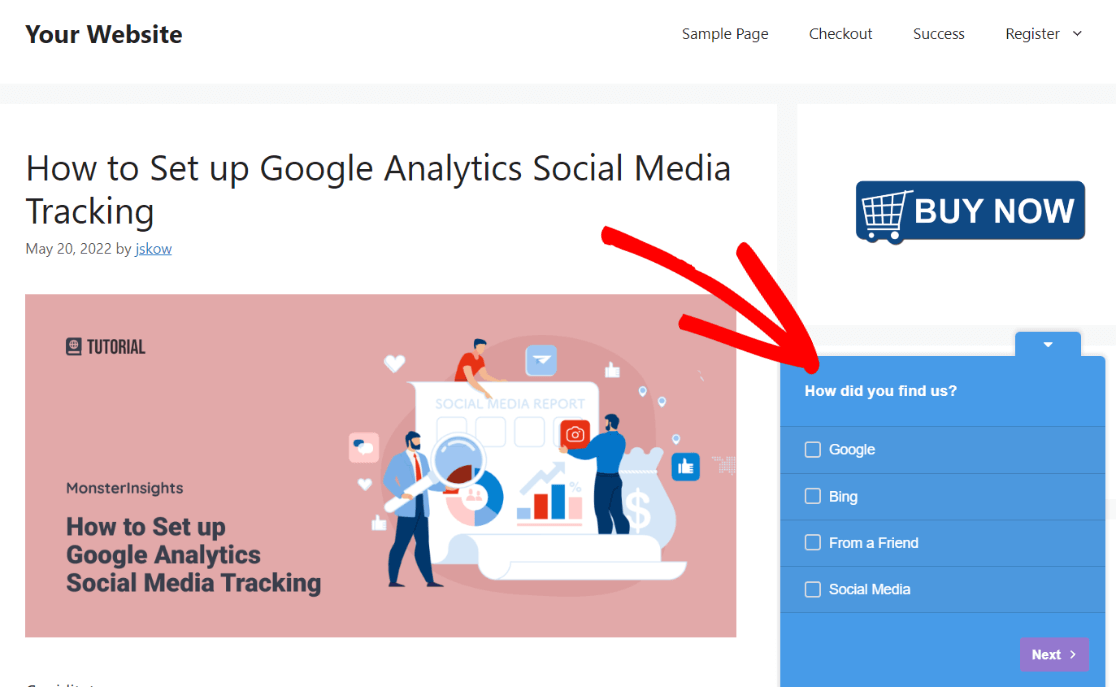 You can also make your surveys appear on any page, a set of pages, or across your whole site. Want them to only show on desktop or mobile? You can customize that, too!
Analyze Responses Like a Pro
With UserFeedback, there are multiple options for checking the responses to your surveys. If you want them all, or just specific ones sent to your email, you can set that up: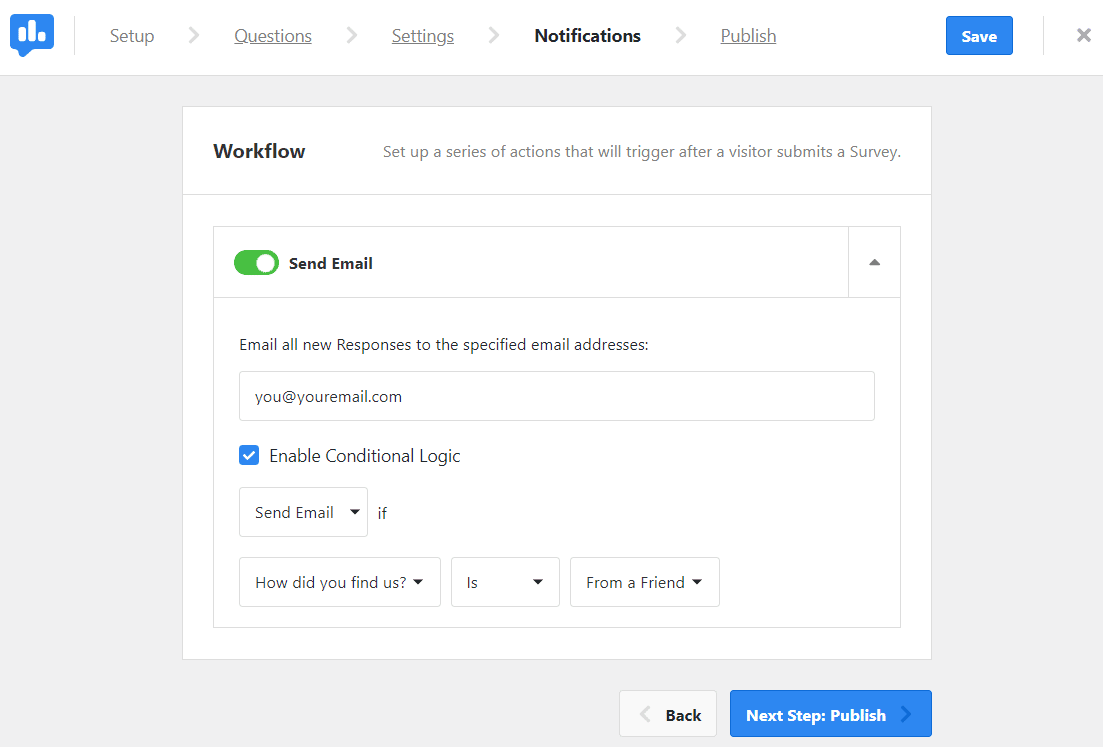 You can also analyze all your responses right inside your WordPress dashboard. Just log in to find out what your visitors are thinking: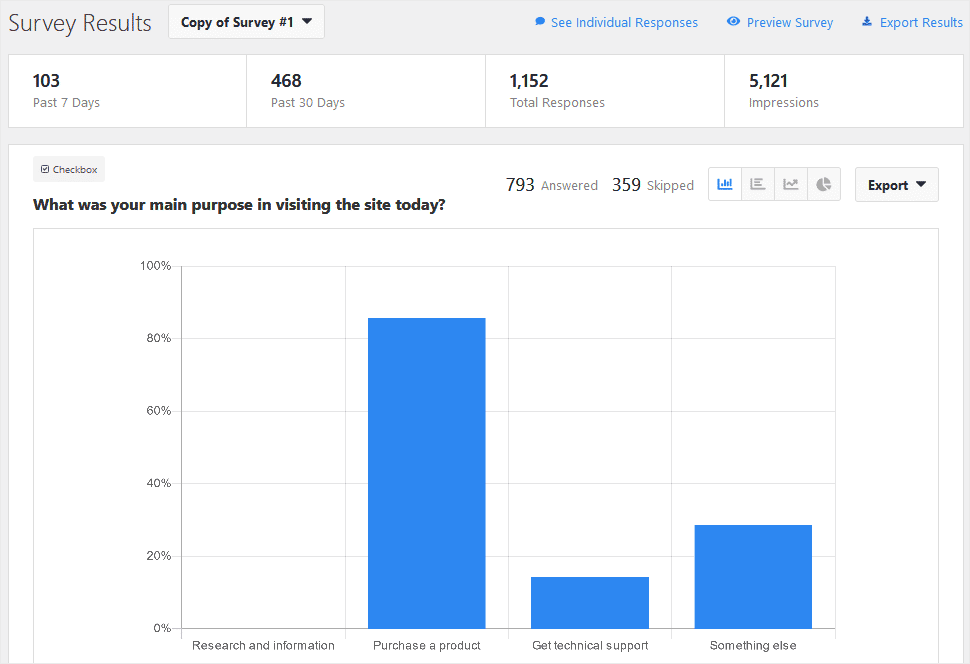 You can also view individual responses, or export all responses to a spreadsheet.
How Can UserFeedback Help My Business?
Making the right changes to your website, even if they're small, can have a big impact on your sales and conversions. Without real feedback from your visitors, you're just taking guesses at what they really need.
For instance, let's say you want to know why you have a lot of traffic to a page where you have a downloadable guide, but your visitors aren't downloading it. You could ask people why they came to your page, or what other information they'd like to see there.
Here are some more ideas and situations where you could use UserFeedback:
Ask what type of content visitors want to see
Find out what questions visitors have that you could answer with content
Ask what products your visitors would like to see more of
Find out why visitors are choosing not to buy from you
Ask for website design feedback
Ask how visitors would rate your business or website
The possibilities are endless. Your website is unique, so your surveys should be unique, too. With UserFeedback, you can make them exactly what your site needs.
Get started with UserFeedback now!
And don't forget to follow us on Twitter, Facebook and YouTube for more announcements, helpful reviews, tutorials, and Google Analytics tips.