We're eager to announce that MonsterInsights now supports Google Search Console Domain properties.
That means you can save time (and a headache) by setting up one Domain property instead of multiple URL properties.
For example, you can set up just mywebsite.com instead of http://www.mywebsite.com, http://mywebsite.com, https://www.mywebsite.com, and https://mywebsite.com.
If you've had problems setting up Search Console and getting it connected with your website in the past, a Domain property is your solution.
Now, you can connect easily and accurately with your Google Search Console Domain property to bring your Search Terms report right into your WordPress dashboard.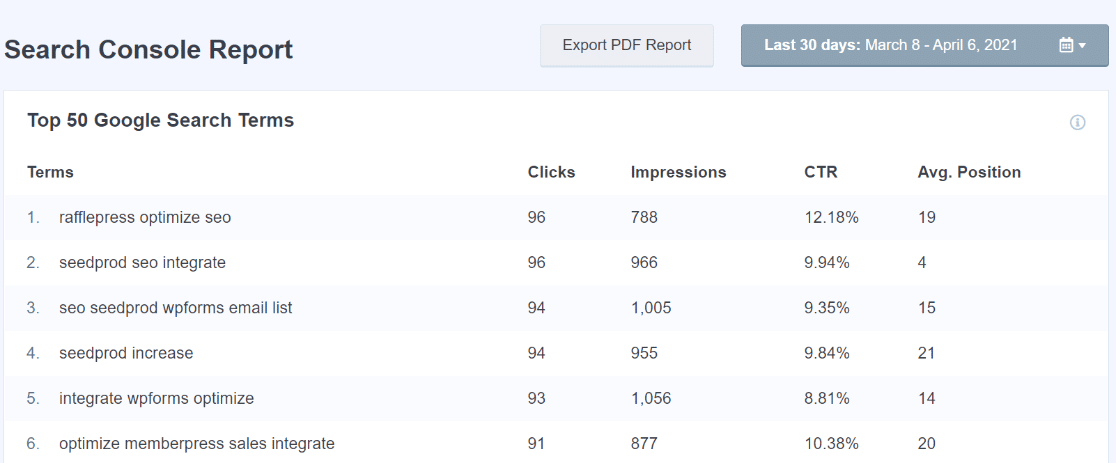 What Are Domain Properties in Google Search Console?
When you set up Google Search Console, you have the option to create either a Domain property or a URL prefix property. A Domain property covers all URLs and subdomains, whereas a URL prefix property covers only the URL you input.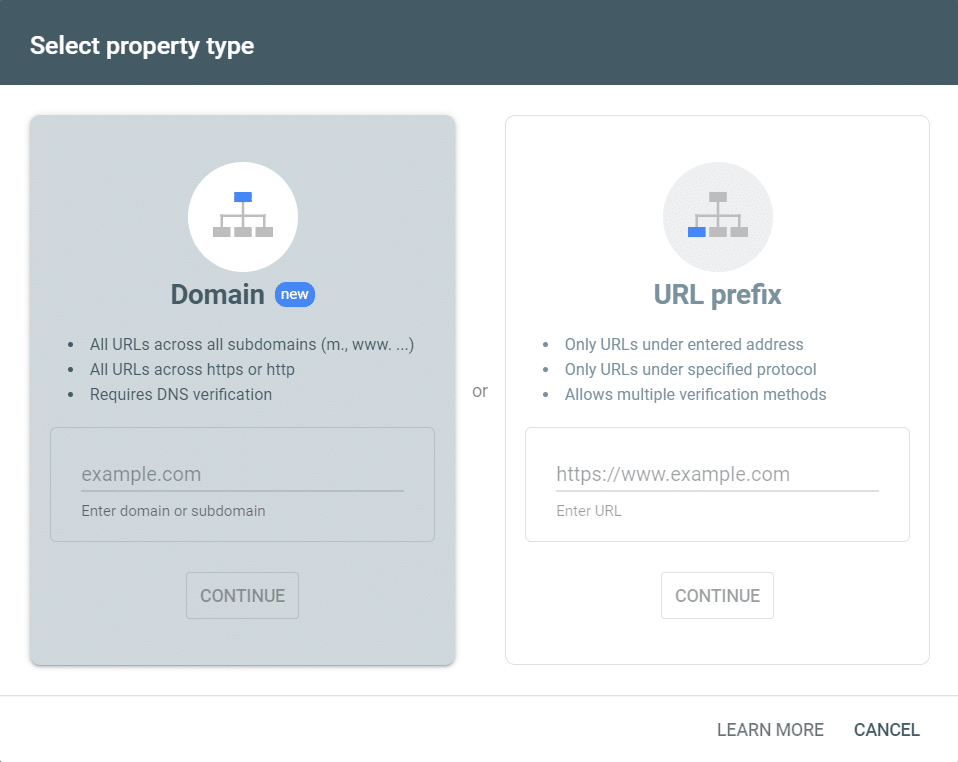 For example, a Domain property could cover:
https://www.examplewebsite.com
http://www.examplewebsite.com
http://examplewebsite.com
https://examplewebsite.com
A URL prefix property would cover only one of those URLs.
Why Should I Use a Domain Property?
Let's pretend that you have http://www.examplewebsite.com set up as a URL prefix property. Then, you find out that your host provides a free SSL certificate, so you can upgrade to https://www.examplewebsite.com. Great! So you implement it. A few weeks later, you open your Search Console to check something, and you find out that it hasn't worked since you added that SSL certificate.
Oops.
Another common issue occurs when you might verify your site with a URL prefix, like http://www.examplesite.com, but then you find out that your site also exists at http://examplesite.com, and now you're missing a bunch of your data.
To make sure neither of these issues happen to you, you can verify your site using your domain.
How to Verify a Domain Property in Search Console
In order to verify a Domain property in Google Search Console, you have to verify that you are, in fact, the owner of the domain, not just the URL.
That means you need to verify it with your DNS (Domain Name Service) provider. That would be whomever you bought your domain name and/or hosting services from, such as GoDaddy, Siteground, or Bluehost. To do that, first input your domain name and click Continue: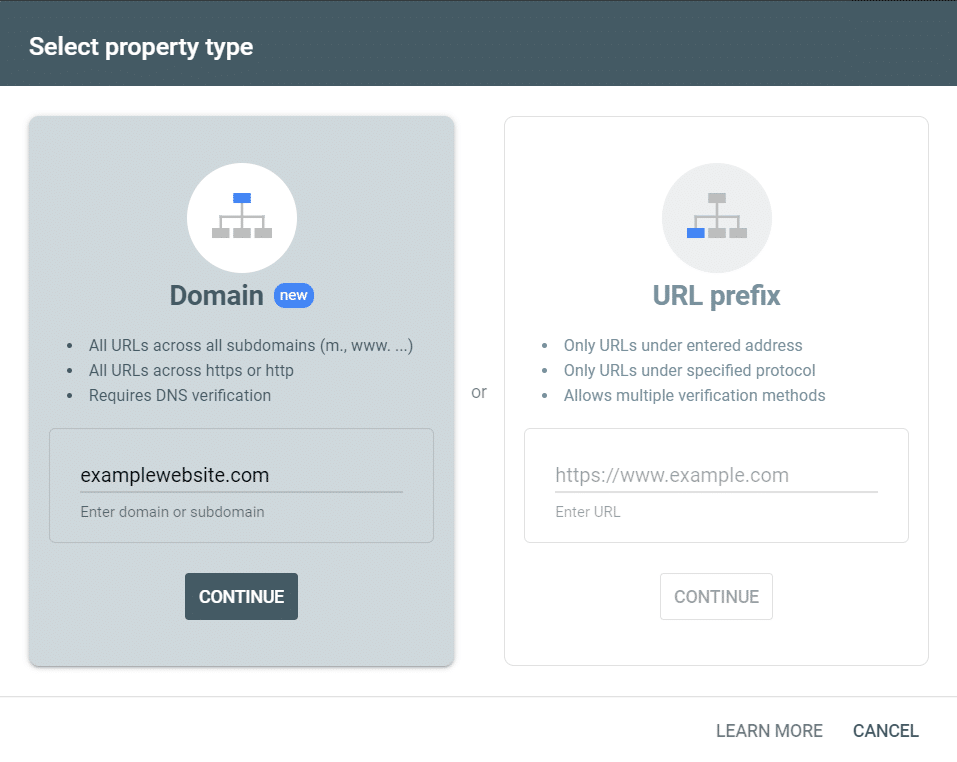 Then, Google will try to give you specific directions if you have one of the hosts in their dropdown. Or, you can just pick Any DNS provider for the universal instructions: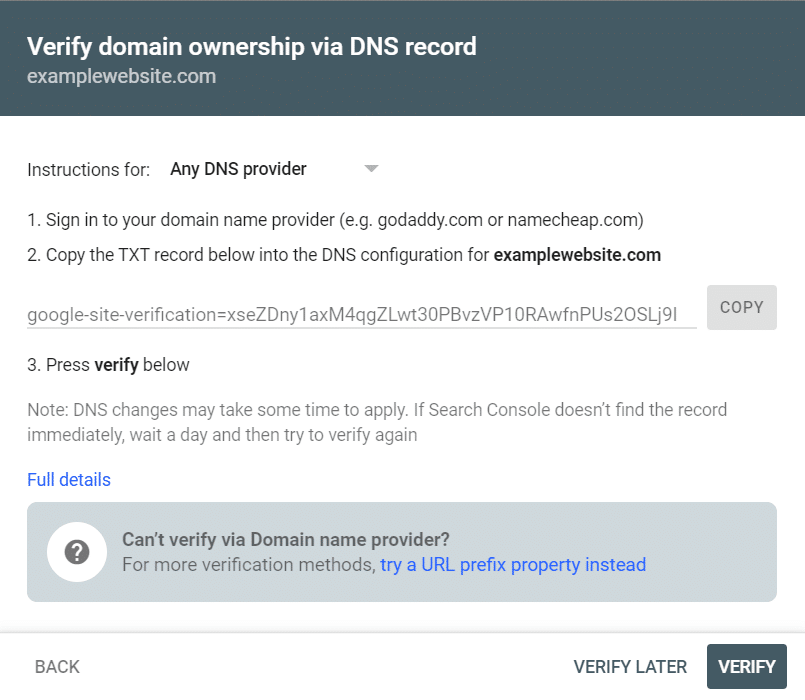 Now, you just need to copy the TXT record (that string of code) and paste it into your DNS. The location of where you can add a TXT record differs between different DNS providers, but will generally look like this example in Siteground:

All you would do here is paste the code from Search Console into the Value field and click Create.
For more help with these steps, visit Search Console Help.
That's it for this update! If you're not a MonsterInsights user yet, what are you waiting for? Get started today!
And don't forget to follow us on Twitter, Facebook and YouTube for more helpful Google Analytics tips.