Do you want to easily upgrade to Google's new tracking code system? If yes, then we've exciting news for you!
Today, we're thrilled to introduce MonsterInsights Global Site Tag support.
In this release, we'll show you how simple it is to move to the new tracking script (gtag.js) using MonsterInsights.
Let's look at the details…
Switch to Global Site Tag Tracking Code
Google's new tracking code snippet, Global Site Tag (gtag.js), allows you to send data to each of your Google marketing tools. This provides better integrations and offers deeper insights about your visitors and how they behave on your website.
And since Google will be using gtag.js to create new analytics features in the future, MonsterInsights is now making Global Site Tag its default tracking code for all new users.
As for our existing users, we're introducing a new limited-time option that you can use to switch from the older tracking code (analytics.js) to Global Site Tag with a click of a button.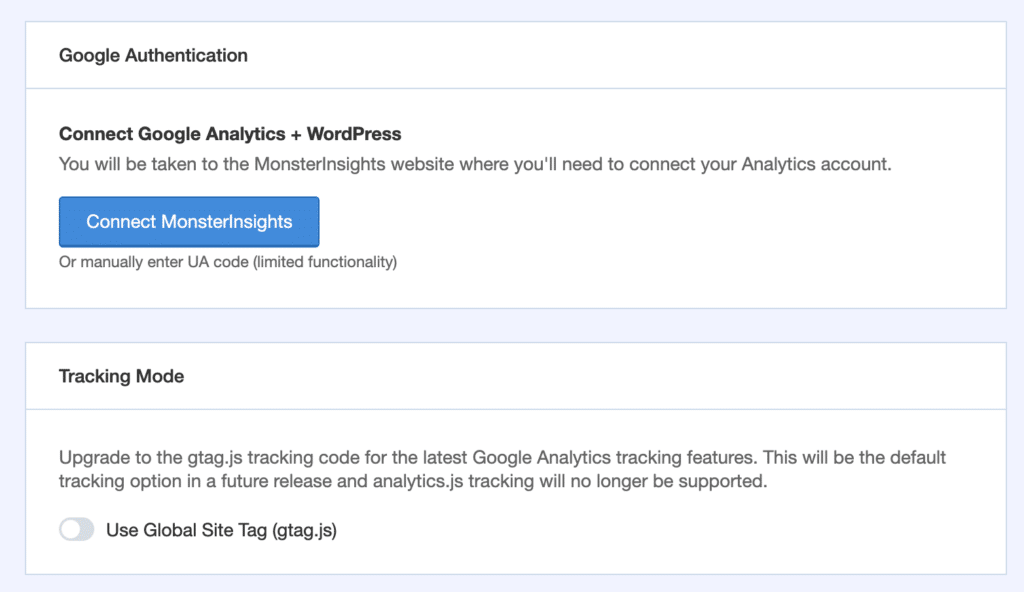 At MonsterInsights, we've worked tirelessly for the last few months, ensuring that the transition to Global Site Tag is smooth and effortless for our current users.
If you have any custom codes running on your site or have set up event tracking using another plugin, then you don't have to worry about updating them. MonsterInsights will automatically detect analytics.js events and pass them through the Global Site Tag (gtag.js).
And in our next release, we'll make the Global Site Tag the default tracking code and upgrade all MonsterInsights users to gtag.js.
That's it for this release!
The option to switch to Global Site Tag is now available in MonsterInsights. Click here to get started today!
We'd also like to thank you for your continuous support and for helping us make MonsterInsights the best Google Analytics plugin for WordPress.
Don't forget to subscribe to our newsletter and follow us on Twitter and Facebook for upcoming releases, features, and updates.