Today, I'm super excited to announce the release of MonsterInsights 7.3 because it comes with a lot of exciting features that you have been asking for including real-time reports, page insights addon, and more.
Let's take a look at what's new in MonsterInsights 7.3…
Page Insights Addon
Want to see stats for each individual blog post or page in WordPress?
Our new Page Insights addon allows you to quickly view individual post / page metrics right from your WordPress dashboard.
Once activated, the page insights addon will add an Insights column on the WordPress Posts / Pages screen.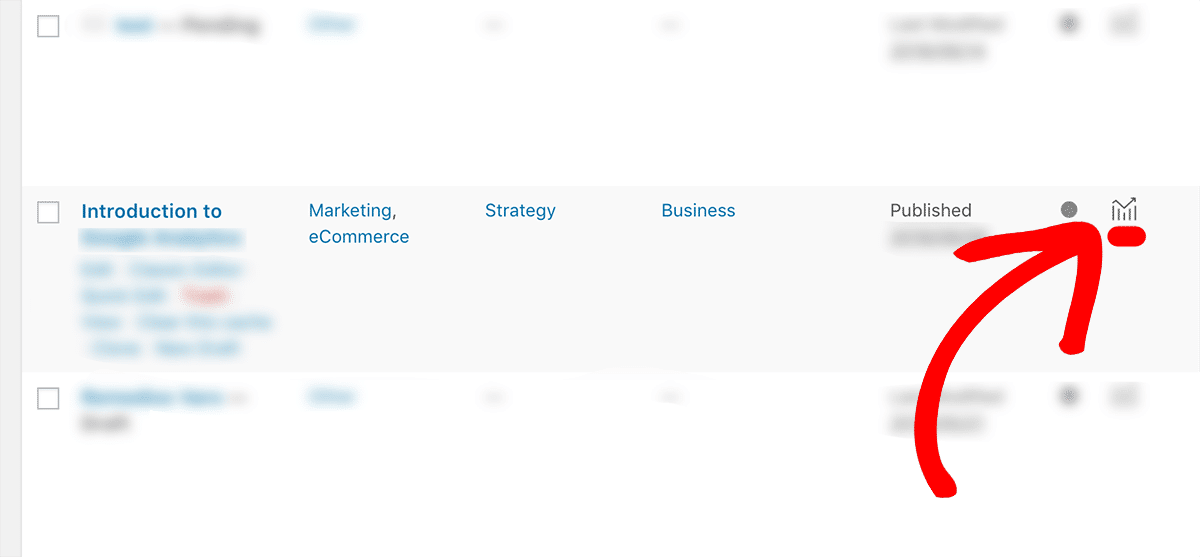 When you click on the Insights icon, it will open a popup window with stats for the individual blog post or page.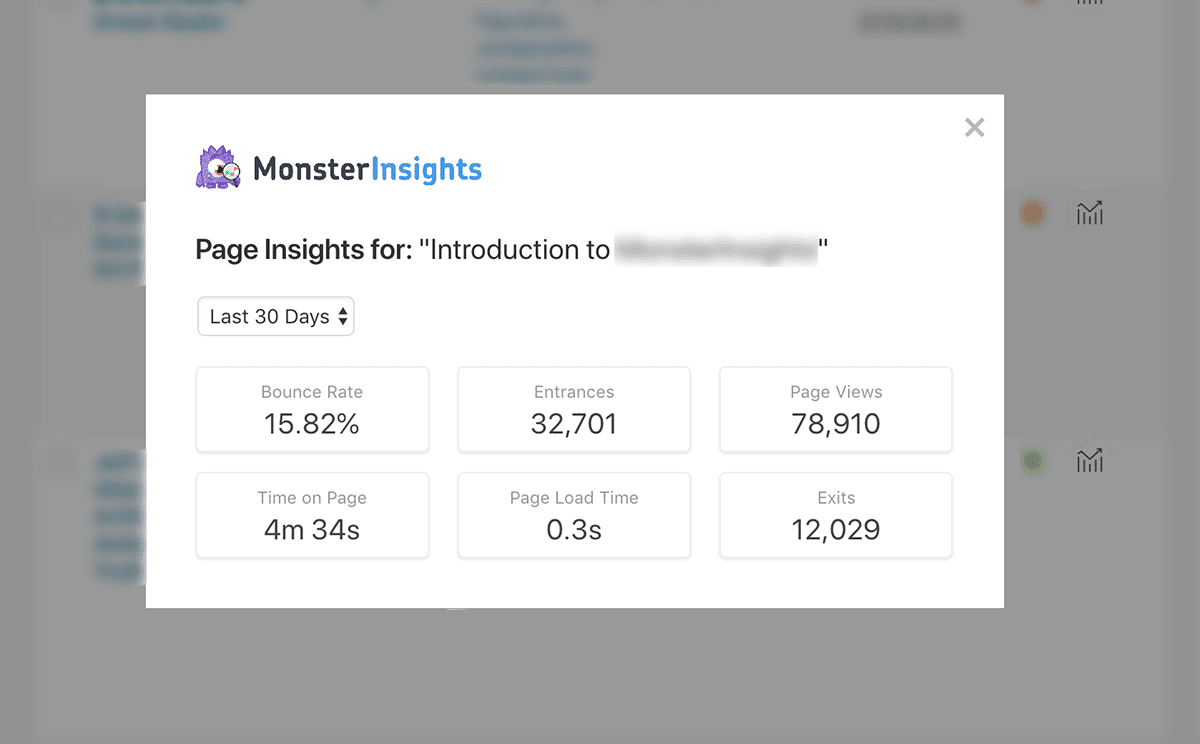 The Page Insights addon allows you to quickly view important metrics like: new visitors, page views, bounce rate, time on page, page load time, and exits.
Real Time Reports
We have also added the much requested Real-Time report in MonsterInsights.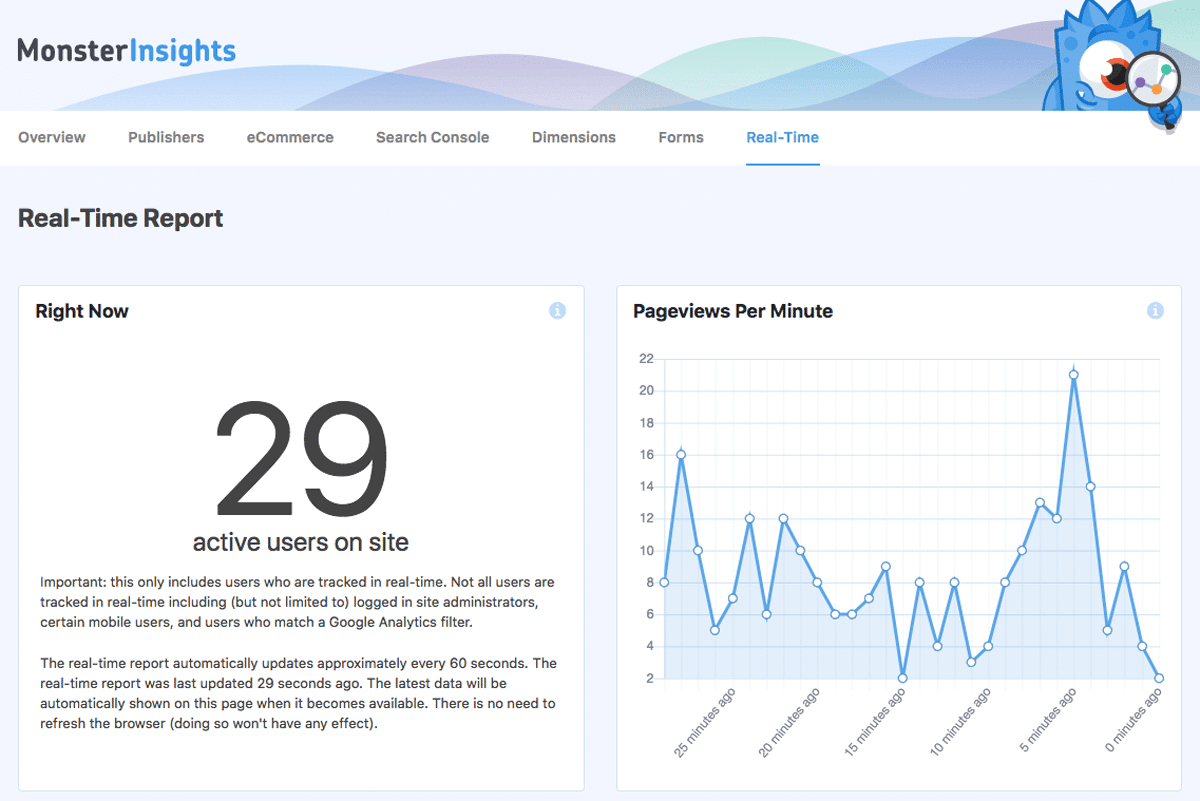 This report allows you to see the results of your marketing campaign or product launch as it's happening.
You can track the number of active visitors, top referral sources, top countries, and top pages right from the Real-time report.
Because real-time reports can really impact Google Analytics API quota, we have it set to refresh every 60 seconds.
Custom Link Attribution
Want to measure results of the most important links on your website?
With MonsterInsights' new custom link attribution feature, you can easily add custom event tracking to your important links and call-to-action buttons.
To add custom event tracking to your WordPress links, simply add the following data-variable tags to the HTML of your link:
<a href="https://www.monsterinsights.com" data-vars-ga-category="Custom Category" data-vars-ga-action="Custom Action" data-vars-ga-label="Custom Label">Example</a>
This will add event tracking to the specific link, so you can track how valuable this link is when it comes Ecommerce or other conversion metrics.
We also updated our Google AMP addon to add support for custom event tracking, so you can easily measure results while still utilizing the performance improvements of Google AMP.
Gravity Forms and Formidable Forms Conversion Tracking
We have also updated our Forms Tracking addon to add improved conversion tracking support for both Gravity Forms and Formidable Forms.
While our Forms Tracking addon works with all popular WordPress form plugins, improved support helps you better identify and track your form conversions, so you can grow your business.
We hope you enjoy these features. We have a lot more in the works that I can't wait to share with you in the upcoming weeks.
As always, thank you for continued support of MonsterInsights. We look forward to continue making analytics easy for you!
Syed and the MonsterInsights team
Don't have a MonsterInsights Pro license? Click here to get started today, and experience the power, and ease, of MonsterInsights.