MonsterInsights 8.2 is here, featuring new integrations with the CookieYes and Complianz plugins, plus improvements to our email summaries.
Now, you have even greater control over your website's GDPR compliance. With a cookie consent plugin like CookieYes or Complianz and MonsterInsights working together, compliance gets a whole lot simpler.
Plus, we used feedback from you, our users, to improve our automatic email summaries. Read on for all the details!
Cookie Consent Plugin Integrations
Making Google Analytics compliant with GDPR and other privacy laws is a big deal. Getting caught without those compliance measures in place can really cost you.
That's why one of our most-loved features here at MonsterInsights is our EU Compliance addon. The addon works to help you make your site compliant, without having to go through the huge headache of figuring out what changes you need to make to Google Analytics on your own.
Many of our users also choose to have a cookie compliance plugin active on their websites. We want to make that easy for you, too! So, MonsterInsights already integrates with CookieBot and Cookie Notice, and now we've added integrations with two more great plugins: CookieYes and Complianz.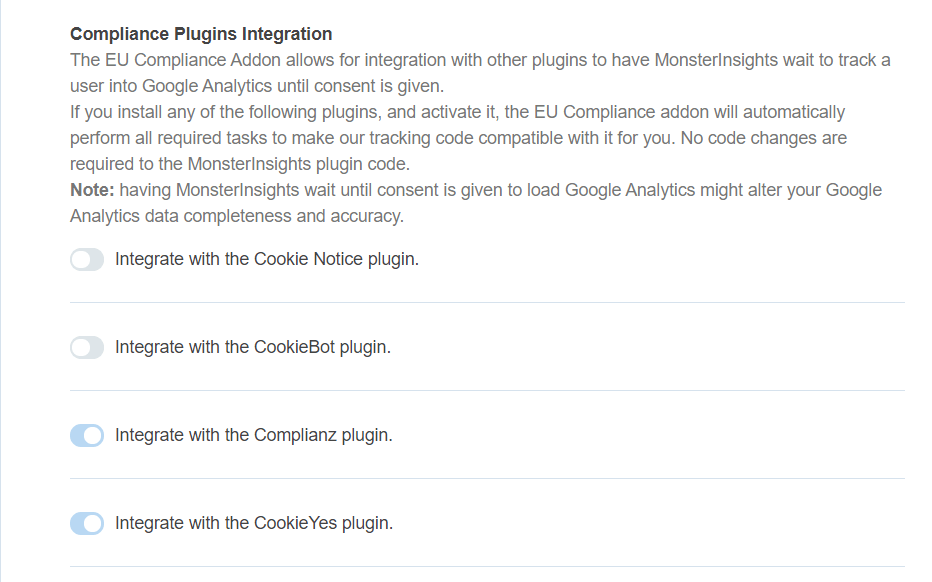 If you choose one of those four great compliance plugins, the MonsterInsights EU addon will automatically detect and integrate with it. Then, if a user clicks the opt-out button on your site via your cookie compliance plugin, MonsterInsights will automatically adjust your Google Analytics tracking to ensure the opt-out is being honored.
Email Summary Improvements
This upgrade comes straight from user requests. Before, our weekly automatic email summaries included the last 30 days of data. Now, since the summaries are sent every 7 days, they'll include 7 days of data instead.
Did you fall in love with getting 30 days of data? When you log into MonsterInsights on your WordPress website, we automatically show the last 30 days' worth of data. You can even create a bookmark in your browser that goes straight to the MonsterInsights reports and click that to access 30 days of data at any time! The URL to bookmark will look something like this:
https://yourwebsitehere.com/wp-admin/admin.php?page=monsterinsights_reports#/
There you have it! That's all for this update. As always, stay tuned for more updates and please let us know if you have ideas to improve MonsterInsights.
Not using MonsterInsights yet? What are you waiting for?
And don't forget to follow us on Twitter, Facebook and YouTube for more helpful Google Analytics tips.