Check out some of the most commonly asked questions about using MonsterInsights.
General FAQ:
Advanced FAQ:
License FAQ:
Addons FAQ:
Troubleshooting FAQ:
---
General FAQ
---
Will MonsterInsights slow down my site?
No. Only very specific tracking is loaded where needed while visitors are browsing your site, and this helps keep our script size as optimized as possible.
We load the Google Analytics script directly from Google, since it's used on millions of sites. This means the script is most likely already cached in your visitors' browsers.
When you're logged into your WordPress admin, and looking at reports, MonsterInsights is built using a modern JavaScript framework that makes it fast to load async without using up a lot of resources.
If you're looking to improve your site speed scores, you can utilize our option to load the Gtag.js file locally in our Performance addon.
---
Can I run MonsterInsights together with another Google Analytics plugin?
No, using another Google Analytics plugin together with MonsterInsights can interfere with tracking and skew your data.
We recommend uninstalling other Google Analytics plugins before you install MonsterInsights.
---
Should I remove other Google Analytics tracking codes?
If you already have your Google Analytics tracking code installed on your site before installing MonsterInsights, it's possible that Google Analytics will double track your traffic.
Google Analytics has a built-in system that's supposed to stop double tracking, but it doesn't always work. When installing MonsterInsights, make sure to remove any previously installed Google Analytics tracking code from your site.
How to Check if the Tracking Code Is Installed Twice
You can take a look at the source code of your site to check for your Google Analytics code and determine if you can find the tracking ID twice. You can learn how to find the tracking code in your source code here.
If you find the tracking ID twice in your source code, it means you've installed tracking code twice. It could have been previously installed through your theme settings or another plugin.
In that case, you'll need to remove the previously installed tracking code. Otherwise, your site traffic could be counted twice.
---
Can I use MonsterInsights on WordPress.com?
At this time you can use MonsterInsights on WordPress.com if you have WordPress.com's Business Plan. WordPress.com's lower tier plans do not currently allow for the use of plugins. For more details, see this infographic on the differences between WordPress.com and WordPress.org.
---
Which eCommerce plugins are supported?
We support WooCommerce (all versions), Easy Digital Downloads (all versions), GiveWP, MemberPress(1.3.43 or newer), LifterLMS, and Restrict Content Pro currently.
Our development team is currently reviewing whether or not to expand support for more eCommerce plugins.
---
My download links have expired; how do I download MonsterInsights?
You can download your purchase items at any time via the Downloads tab on the My Account page of this website.
---
I downloaded MonsterInsights; why don't I see the file to upload?
If you use the Safari browser to download MonsterInsights, likely you won't see the file to upload. It is because Safari automatically extracts the zip files.
To stop automatic unzipping, open your Safari browser, and then click Preferences. Under the General tab, uncheck the option Open "safe" files after downloading.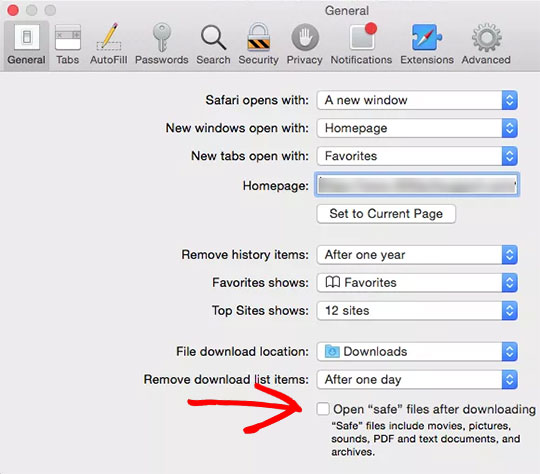 Alternatively, you may use any other browser to download MonsterInsights.
---
Advanced FAQ
Why is the tracking code loaded in the head section of the site?
This allows for other Google Analytics plugins and our addons to track things like downloads and eCommerce transactions, by ensuring that the Google Analytics script is loaded before anything else tries to use it. As it is an asynchronous Javascript snippet, it does not slow down the speed of your site loading.
---
How do I set up subdomain tracking?
Subdomain tracking is for domains with prefixes (such as sub.example.com or shop.example.com). You do not need to configure anything extra to track users across different subdomains of the same domain (such as example.com).
However, you should exclude your domain as a referral by following the steps here.
If you have multiple top-level domains, like example.com and anotherdomain.com, please see this article to set up cross-domain tracking.
---
Why do I not see ga('require', 'ecommerce'); in my source code?
There are several ways to send data to Google Analytics. We do not use the JavaScript method:
ga('require', 'ecommerce');
because we've chosen a more reliable solution.
What we use are direct API calls to Google Analytics. This way you are not dependent on your client having JavaScript enabled.
---
License FAQ
Where can I find my license key?
You can find your license key at any time by logging into the My Account area of our site, and going to the "overview" tab.
---
Where should I enter the MonsterInsights license key?
The license key, which can be found on the Overview tab of the My Account page, should be added to the license key field in the MonsterInsights's settings panel (found in Insights » Settings in your WordPress dashboard). Once you enter it into the field depicted below, click on Verify Key to validate and save the license key.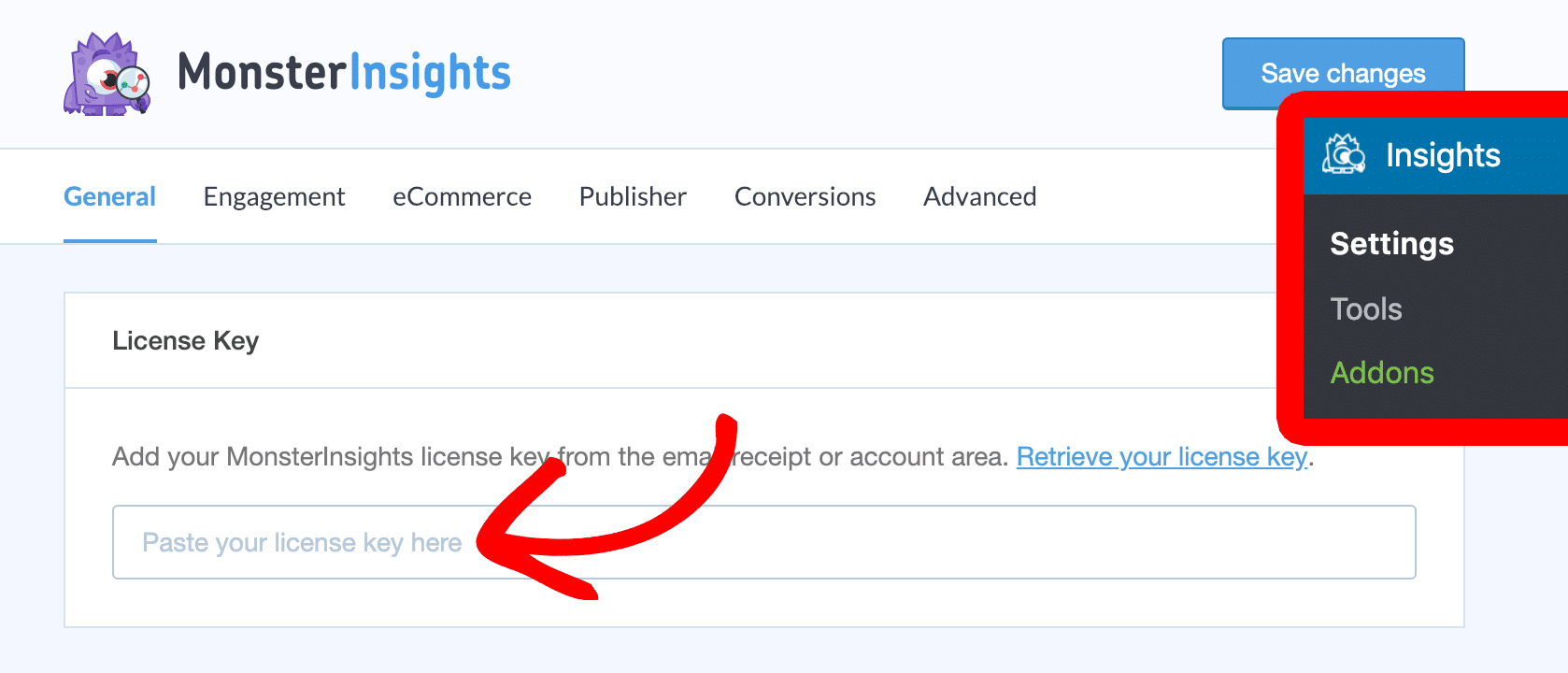 ---
Does my licensed plugin expire?
With each MonsterInsights purchase, we include a renewable license for tracking, reports, upgrades and access to our premium support team. The license is valid for one year from the purchase date and is automatically renewed for one year at the current renewal annual price for the plugin. This license must be kept active for the tracking and reporting functionality to continue working.
Please see our Terms and Conditions for the complete legal disclosure.
---
I have a multi-site or multi-lingual site; do I need a multi-site license?
That all depends on how many WordPress installs you have.
Do you have 1 domain name and 1 WordPress install? You just need a single license, no matter how many sites or languages you have!
Multi-site installs use 1 license for updates and 1 site for each Google profile authenticated into, beyond 1 site.
In other words, a network site that network auths into Google Analytics requires 1 site.  A network site with a network auth and overrides the google profile on a single sub site needs 2 sites for their license.
If you have more than one domain name or multiple WordPress installs, you'll need a license that allows for the number of installs you have.
---
Addons FAQ
Which eCommerce plugins are supported?
We support Easy Digital Downloads (all versions) and WooCommerce (all versions), and MemberPress (1.3.43 or newer) currently. Our development team is currently reviewing whether or not to expand support for more eCommerce plugins.
---
Does MonsterInsights include Enhanced Ecommerce Tracking?
Our eCommerce addon allows for both standard and enhanced eCommerce tracking.
---
Troubleshooting FAQ
I've just installed the new tracking, so why does Google Analytics say it's not receiving data yet?
Give it a couple of hours; usually it'll be fixed. It can take up to 24-48 hours to appear.
---
Google Analytics says it's receiving data, so why don't I see any stats yet?
This can take up to 24-48 hours after the installation of the new tracking code before you'll be able to view your stats.
---
Why does "(not set)" appear in Google Analytics?
The placeholder (not set) is used when Google Analytics hasn't received information for the dimension you have selected.
This missing information isn't caused by MonsterInsights, but rather by incomplete information being provided to the plugin by Google Analytics. This can occur for many reasons, including:
The customer did not allow your website to place cookies.
There was an error when saving the cookie.
The ID was lost during a redirect from one URL to another (for example, when returning to your website from a payment provider).
The reasons for (not set) appearing will vary according to the report you're trying to view. This Google article provides more information about the (not set) placeholder, and can help you to narrow down the cause of the issue.
---
How can I get support?
For the Lite Plugin
Our free version support is available on our support page for MonsterInsights Lite. For quicker responses, please include as much detail as possible, including but not limited to a link to the site in question, a description of the issue, the expected outcome, any errors you received, steps to recreate the issue, and, if possible, screenshots.
For MonsterInsights Pro and Addons
Simply go to the my account page's support form, and submit a ticket. Note, you must be logged in before you will be able to submit a ticket to us.