Are you interested in finding the custom link events you've created with MonsterInsights?
MonsterInsights makes it easy to add custom link click events to Google Analytics.
But where can you find those custom link events in Google Analytics you've created with MonsterInsights? In this guide, we'll show you how.
Do you need to create custom link events? These are just for important link clicks, but we'd not recommend applying them to all links since it would make it harder to find the important data. And remember, MonsterInsights already adds a lot of the most important custom link events to your site out-of-the-box. Here are some of the events MonsterInsights already automatically adds to Google Analytics.
Where can you find your custom link click events?
To start, let's say you've created a custom event for your call-to-action links and gave it a custom event category of CTA.
Step 1: You will find all of your events at analytics.google.com » Reports » Life cycle » Engagement » Events.
In the Events overview report, locate your custom event category in the list of events.
In our example, it is CTA.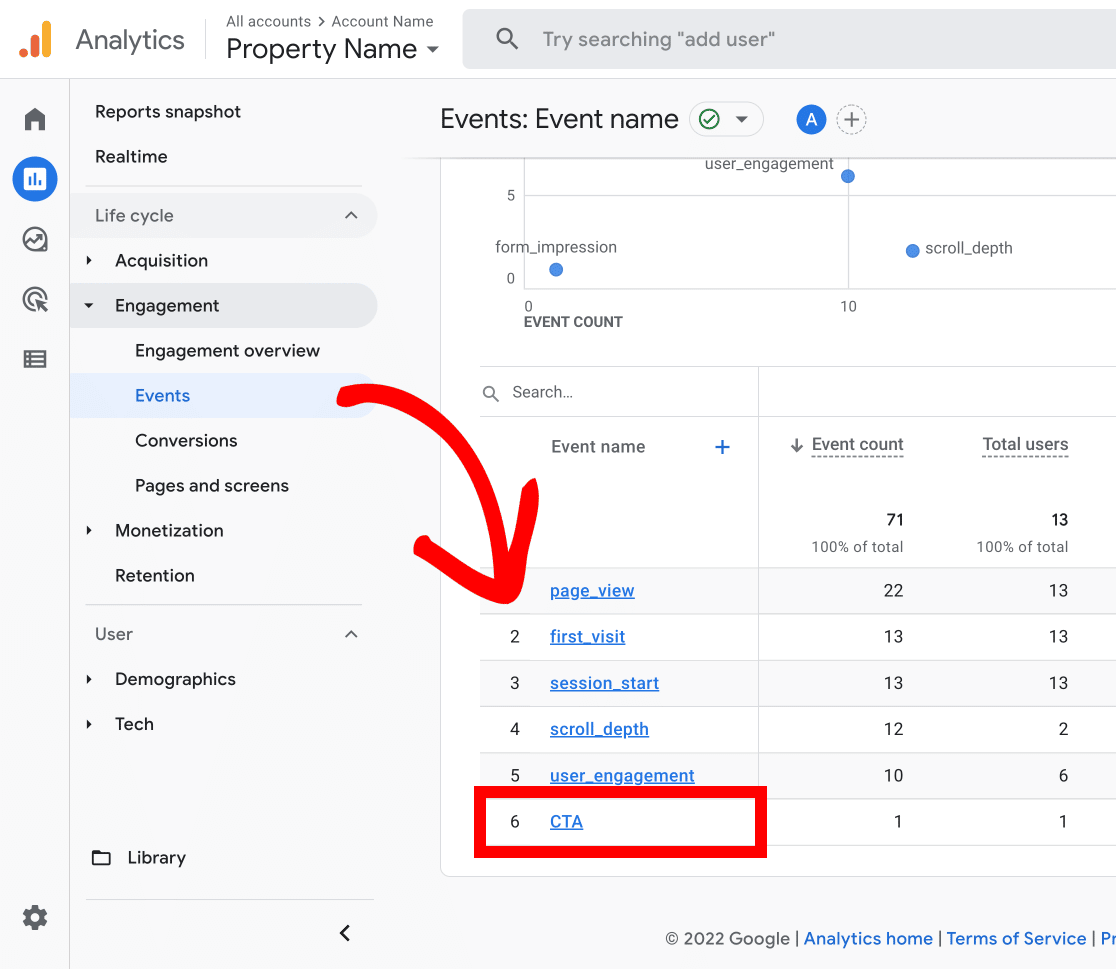 Step 2: Once you've located your custom event, you can view columns of data such as Event count and Total users.
You can also add a custom parameter to view more information.
To do this, click on the the plus "+" icon next to the Event name and choose a parameter from the dropdown.
For example, if you open Page / screen and choose the custom parameter Landing Page, a new column will appear and you'll see more information relating to your custom event.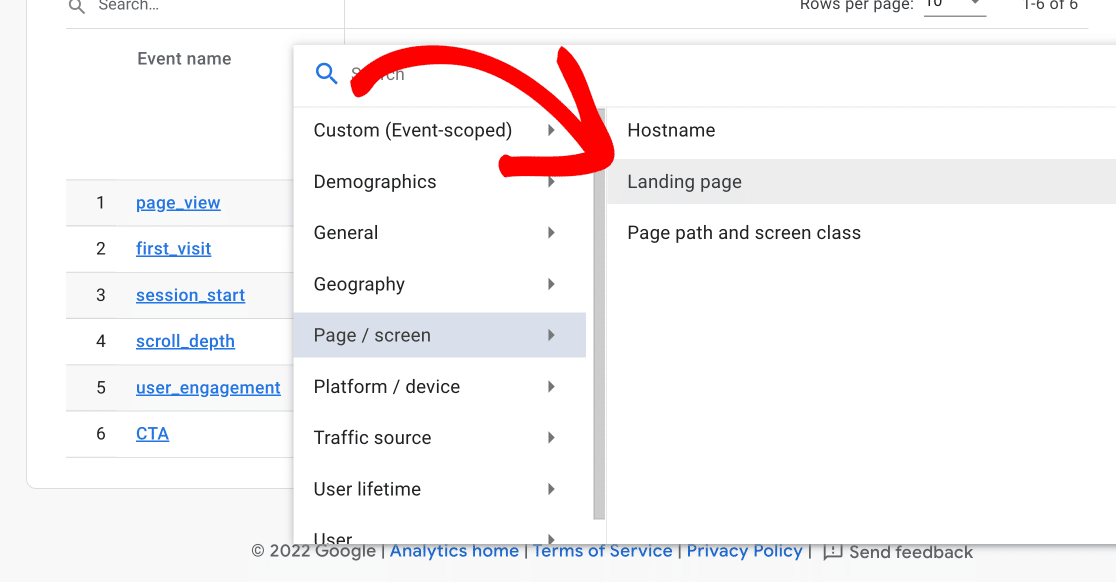 Step 3: Or you can choose a custom parameter of Traffic source » Session source / medium to learn more about how effective your campaigns are.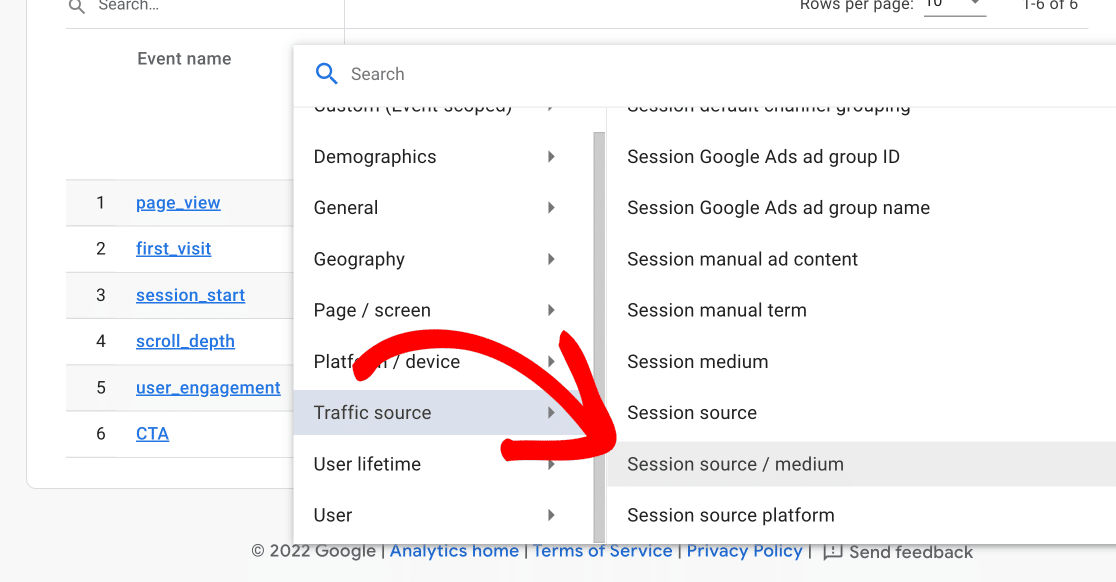 You can also click into the CTA event to view a detailed overview report instead.
Other things to explore:
Try setting the custom parameter to Page / screen » Page Path and screen class.
Try selecting items under Custom (Event-scoped) to choose custom definitions that MonsterInsights automatically generates for your GA4 property
Try creating a custom report under Explorations » Free Form and experiment with displaying columns and rows of your data.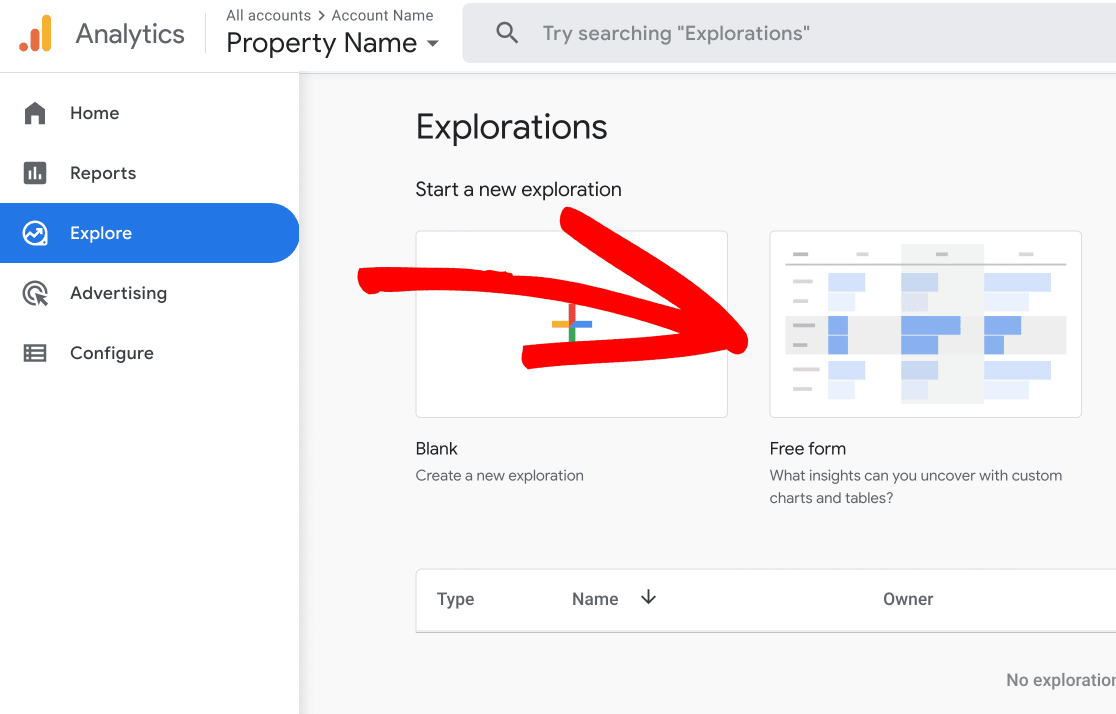 To learn more about custom explorations, check out this guide: How to Create Google Analytics Custom Reports (Step by Step)
That's it! Now you know how to find your custom link click events you've created with MonsterInsights!
Are you interested in creating goals in Google Analytics for some of these events? Then please see our blog post: How to Create a Goal in Google Analytics to Track Conversions.