Are you running into issues with MonsterInsights? Before reaching out to our support team for help, if you're looking to resolve the issue on your own first, we're happy to help point you in the right direction in this guide.
Let's get started!
---
1. Is MonsterInsights Fully Updated?
Our team consistently releases updates for MonsterInsights, pushing out new features or enhancing existing ones so that our users always have access to the latest that Google Analytics has to offer.
It's possible that a previous update has already resolved the specific issue you're currently encountering. To check for updates:
Verify that your MonsterInsights license key is active on your site.
Navigate to the Dashboard » Updates section to check for available MonsterInsights updates.
See our article on using the latest version of MonsterInsights for more details on the benefits of updating.
2. Is WordPress Core Fully Updated?
We adhere to coding best practices to ensure MonsterInsights compatibility with the latest WordPress releases. If your site runs an older WordPress version, it may no longer be supported by our plugin.
To verify if a WordPress core update is accessible:
Log in to your site
Navigate to Dashboard » Updates.
If you encounter a notice stating "You have the latest version of WordPress", you're good to go!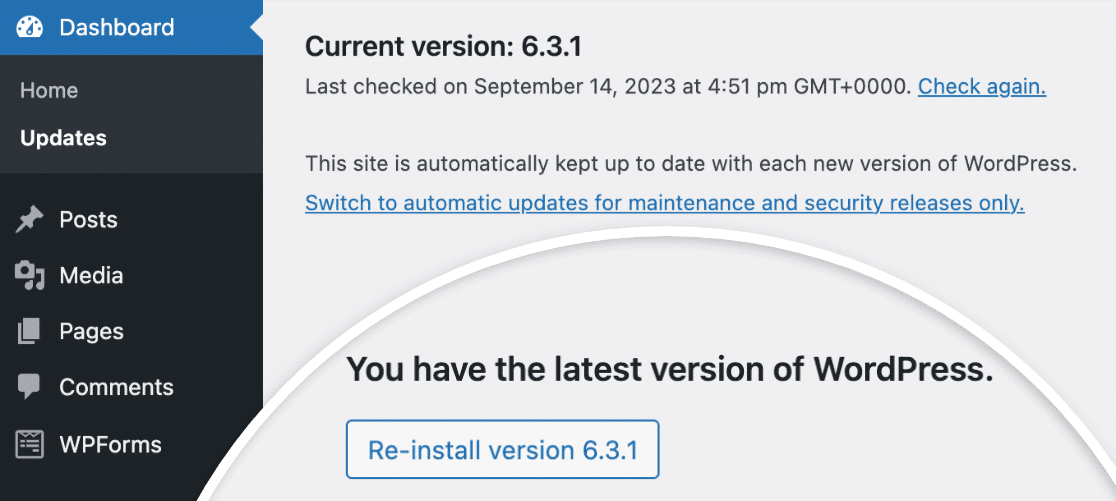 If not, we recommend keeping WordPress up-to-date. Maintaining an updated WordPress core is crucial not only for security but also for ensuring compatibility with various plugins such as MonsterInsights.
Learn more about the versions we support: Update WordPress: WordPress Versions Supported by MonsterInsights.
3. Is Your Hosting Service Up-to-Date?
At times, problems on your site may be due to issues with your hosting service.
Ensure your hosting environment meets the latest WordPress requirements (as of September 2023): PHP 7.4 or higher, MySQL 5.7 or higher (or MariaDB 10.4 or higher), HTTPS support, and Apache or Nginx.
View the full list of WordPress requirements by checking out their documentation.
To check your site's web server software and PHP/MySQL versions, go to Tools » Site Health and then click into the Info tab.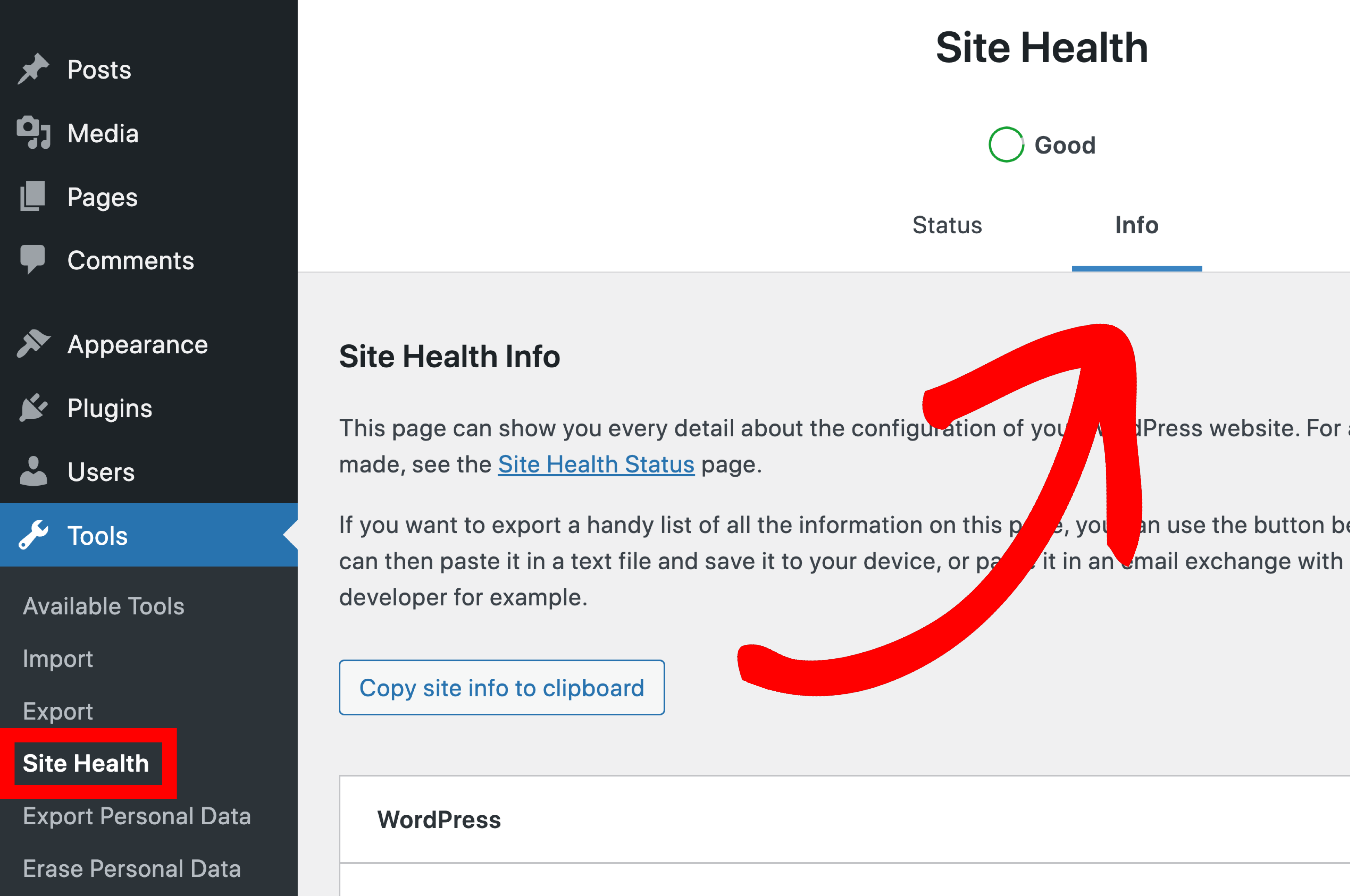 Scroll down to open the Server and Database section: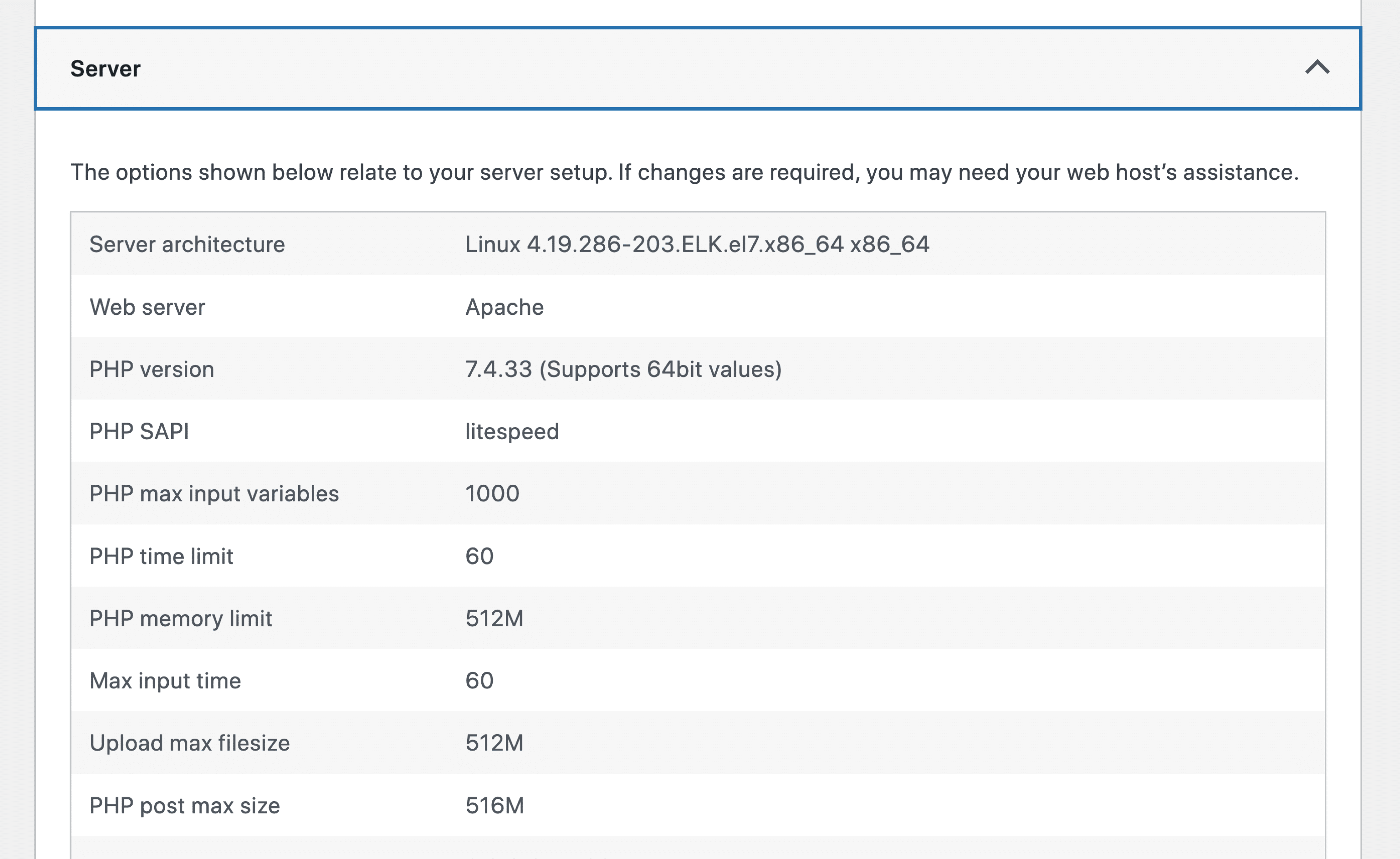 If your server doesn't meet the minimum requirements, contact your hosting provider to make the necessary adjustments.
4. Does Your Site Use Optimization or Caching?
For the most accurate tracking, we recommend excluding MonsterInsights scripts from being minified or deferred.
This can be done by adding the following, or something similar, into your caching or optimization plugin:
/google-analytics-for-wordpress/assets/js/*.js
/google-analytics-premium/assets/js/*.js
www.googletagmanager.com
If you're using a caching plugin, remember to clear its cache to ensure you're viewing the most up-to-date version of your site.
5. Could Another Plugin Be Causing a Conflict?
If you encounter issues with MonsterInsights functionality or unexpected errors, it could be due to a conflict with another plugin's code.
To identify the source of a plugin conflict, you can follow our guide on how to check for plugin conflicts. This step-by-step process may help you resolve the issue independently. Any information you gather during this process can be valuable when seeking assistance from our support team.
If you discover that a specific plugin is causing the conflict, we recommend contacting the support team or the author of that plugin for further assistance.
6. Do You Still Need Support After Steps 1-5?
If you've gone through the initial troubleshooting steps and still haven't resolved your issue, it's time to contact MonsterInsights Support.
To assist our support team in providing the best possible help, please follow these guidelines:
Be Specific: Clearly describe the problem you're experiencing and specify your desired functionality for MonsterInsights. If relevant, provide the URL(s) associated with the issue. Setting up logging can help collect important details like error messages, which can aid in understanding MonsterInsights activity on your site.
Be Concise: If you have multiple questions or a lengthy message, consider using bullet points or numbering to present your questions clearly and distinctly. This helps our support team address each concern effectively.
Submitting an Email Ticket
Log in to your MonsterInsights account and select the Support tab.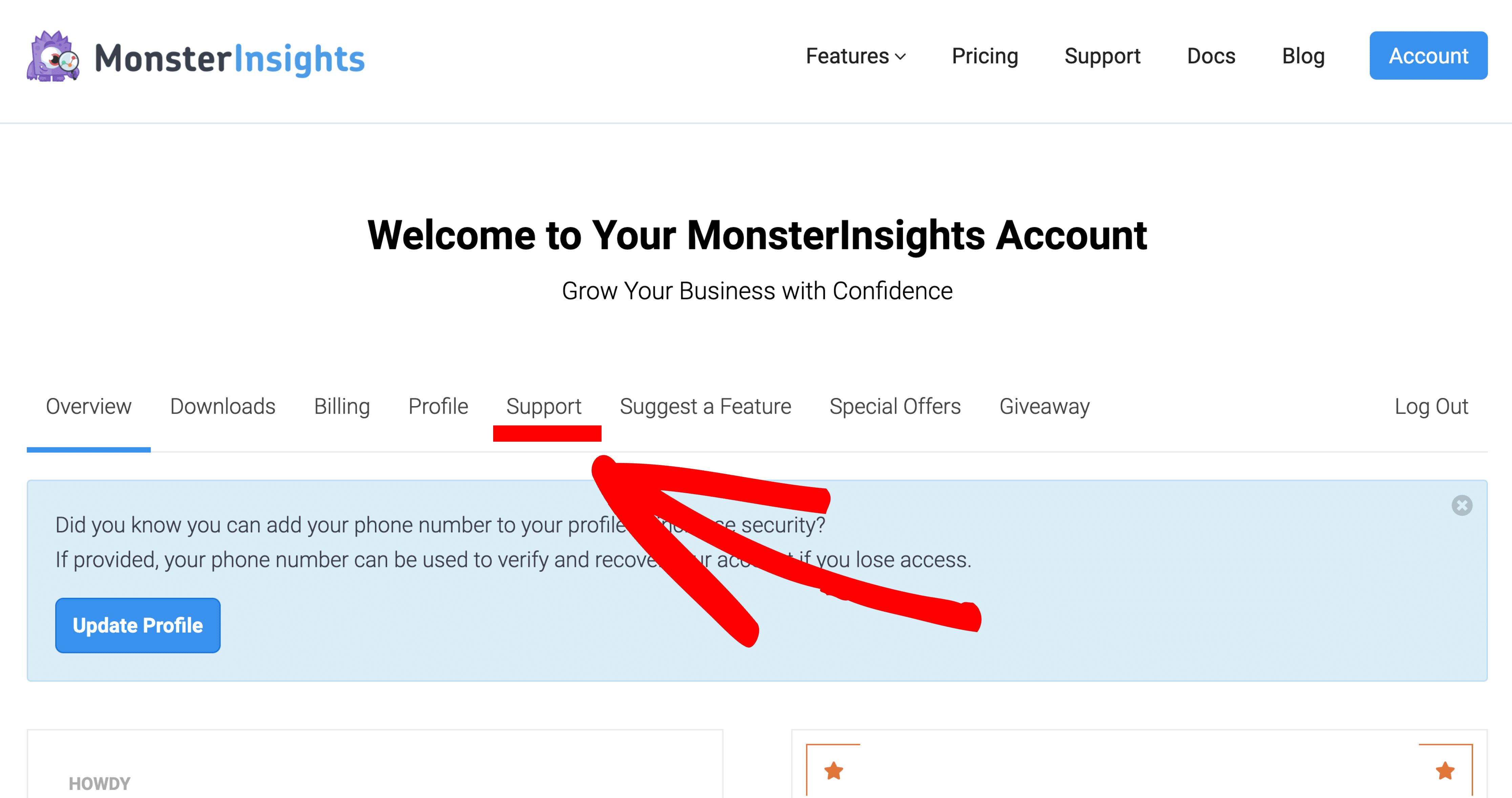 You'll be taken to a page where you can fill out a form:
Name*: This helps us address you personally.
Email*: This is the email address we'll reply to. Make sure to allow email from MonsterInsights to ensure you receive our response as well.
What can we help you with today?*: Your response helps us understand the nature of your question.
Please provide any extra details that may help*: In this section, you can provide a brief, specific description of the issue you're experiencing and how it can be replicated. Your concise input is greatly appreciated.
Asterisks (*) mark required fields.
Depending on what options are selected for the question What can we help you with today?, you may see these additional fields:
What issues are you having with MonsterInsights?: If you're running into a common issue, select an option to see if the provided answer helps resolve the problem. If the answer doesn't help, that's totally okay! This helps us rule it out as a cause.
Website Address / URL: If you're having an issue with authentication, knowing your website's URL helps us troubleshoot the issue faster.
MonsterInsights Version and Installed WordPress Version: This information will help expedite our troubleshooting, especially if we're trying to recreate a problem on our test sites.
WordPress Admin Username / Password: This can help us to troubleshoot your issue more quickly. Be sure to set the user role to Administrator so our support team can access MonsterInsights in the WordPress admin area.
After completing the form, please click the Submit button. You can expect to receive an email confirmation immediately, confirming that we've successfully received your ticket. Our dedicated support team member will respond to your inquiry promptly.
We sincerely appreciate your proactive approach in addressing these issues. Rest assured, our support team is fully committed to providing you with further assistance!