To help you enhance your sales strategy, the MonsterInsights eCommerce Funnel report is your quick snapshot of the sales process for your online store. Follow this guide to learn how to use your Funnel report.
Here's a quick overview of the steps you'll find in the graph of your Funnel report:
View Item – This is your initial touchpoint with potential customers, impacting top-of-funnel interest.
Add to Cart – A crucial step that indicates purchase intent.
Purchase – The ultimate goal of the user journey.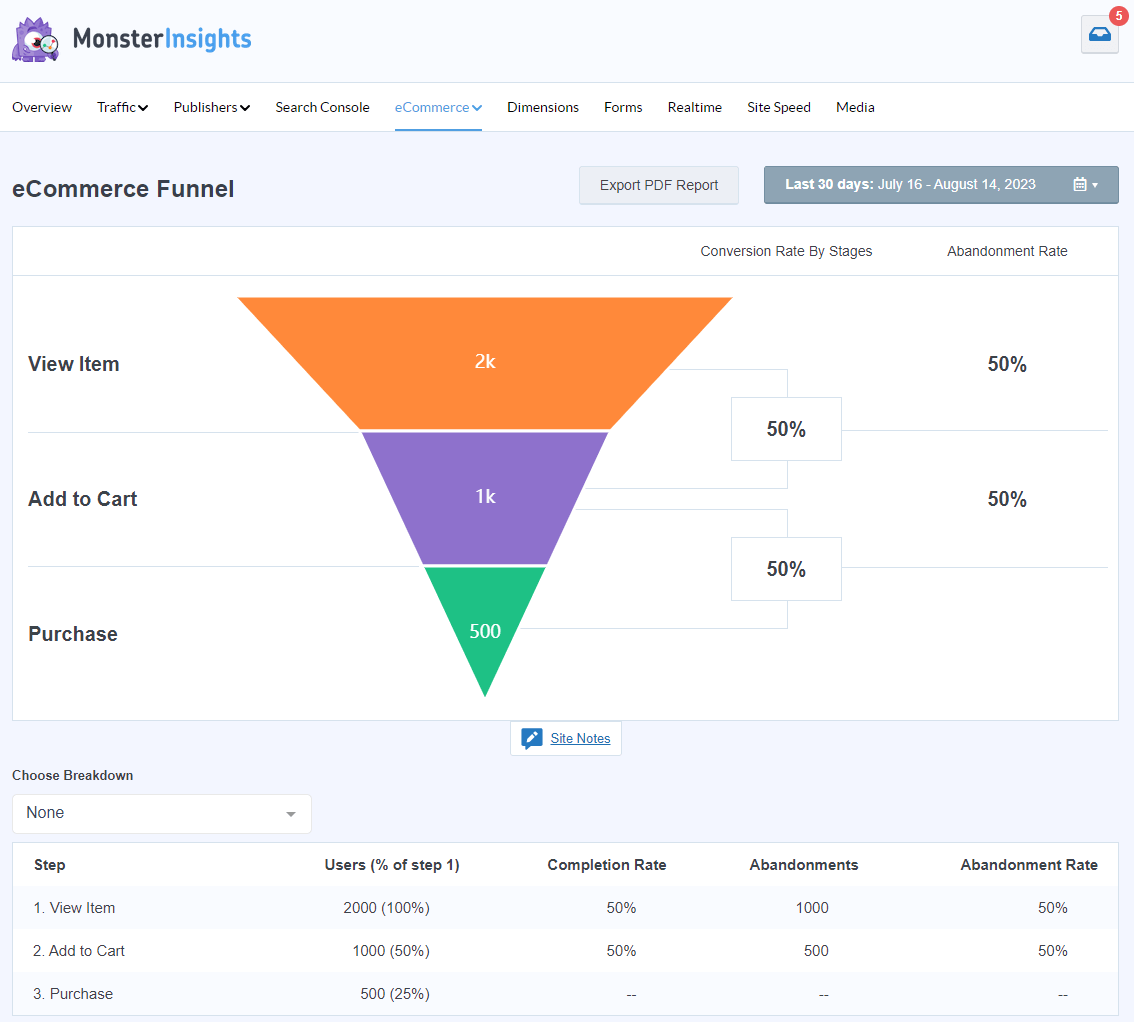 For each of these steps, you'll have a breakdown of the following:
Users (% of step 1) which is the percentage of users progressing through each stage. This metric tracks user engagement and spots potential drop-off points. A higher percentage at each stage signifies a healthier funnel.
Completion Rate which is the percentage of users moving to the next stage, reflecting how smoothly users transition through your funnel. Increasing the completion rate results in a more seamless user journey.
Abandonments to help you understand the number of users who exit the funnel without completing the desired action.
Abandonment Rates which is the percentage of abandoned users, highlighting friction points.
Each stage in your sales funnel plays a crucial role in the customer journey. To optimize your funnel and boost overall conversion rates:
Work toward a strong View Item count, which will have an impact on your overall conversion rate. This means enriching your product pages with engaging images and detailed descriptions.
Make cart management easy with clear call-to-actions to increase your Add to Carts.
Reduce your abandonment rates to help customers reach the ultimate goal of completing Purchase.
By taking these steps, you can make the most of your Funnel report and drive improved sales performance. Remember, each stage counts in the journey toward conversion and revenue generation
That's it! You've learned how to use the eCommerce Funnel report.