Want to know exactly where users are clicking on your site? You can with in-page analytics!
Using in-page analytics is a great way to gain some extra insight into where your visitors are clicking, and how they're navigating your site.
In this article, we'll take a look at two different ways to set up and use in-page analytics. Plus, we'll go over what you can do with that data to improve your website and user experience.
1. Page Analytics by Google Chrome Extension
Our first way to set up in-page analytics is with Google's Page Analytics extension. Although Google Analytics deprecated their Page Analytics extension and no longer updates it, it does still work and is a nice way to see where your users are clicking on your site.
However, before using the extension, we highly recommend implementing Enhanced Link Attribution.
What is Enhanced Link Attribution?
Enhanced link attribution is an extra bit of information you can add to the links on your site so that Google Analytics can determine which links were clicked.
So, if you have a link in your navigation to your Donate page and also a call to action in your page content that leads to the same Donate page, using enhanced link attribution will make it so you can see which of those two links were clicked more times when you use the Page Analytics extension.
If you use the Page Analytics extension without first setting up enhanced link attribution, you'll just see the number of clicks on either of the links (both links combined). You won't be able to see which one was used more.
How to Set Up Enhanced Link Attribution
The easiest way to set up enhanced link attribution is with MonsterInsights, the best Google Analytics plugin for WordPress. It allows you to easily connect your WordPress site with Google Analytics so you can view all the data that matters most right in your WordPress dashboard.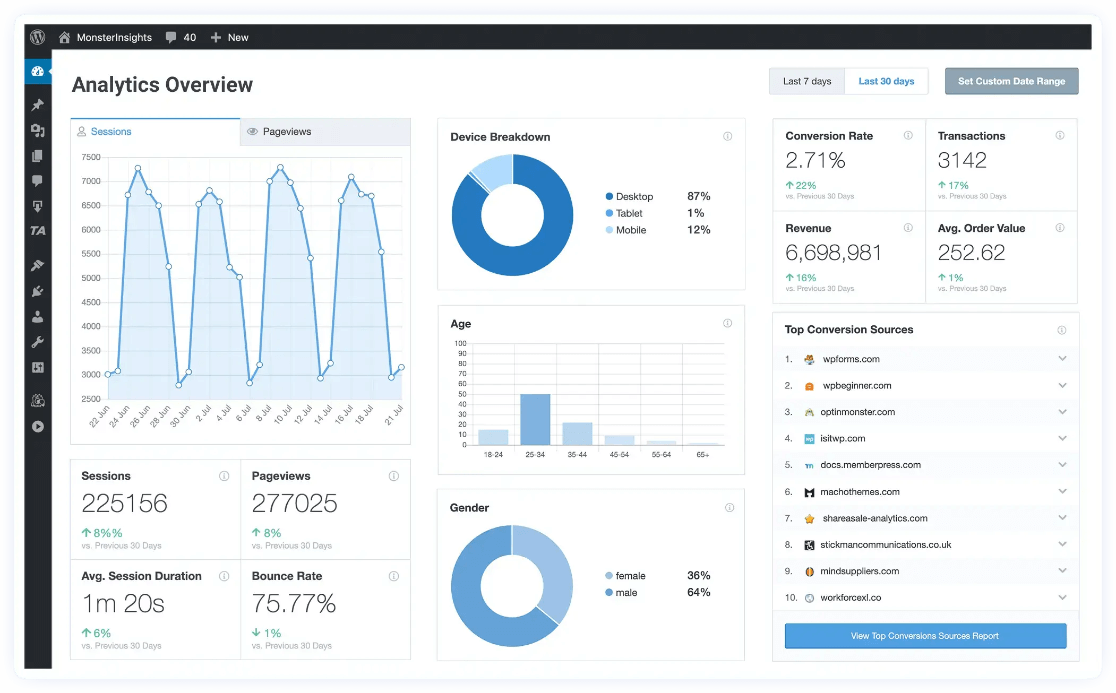 Plus, with the click of a button, you can set up sophisticated tracking features such as enhanced link attribution, event tracking, eCommerce tracking, form tracking, custom dimension tracking, outbound link tracking, and more.
With MonsterInsights, setting up enhanced link attribution takes a couple clicks. Without MonsterInsights, you'll need a developer to follow Google's instructions.
When you have MonsterInsights installed, all you have to do is head to Settings » Engagement and toggle the Link Attribution switch: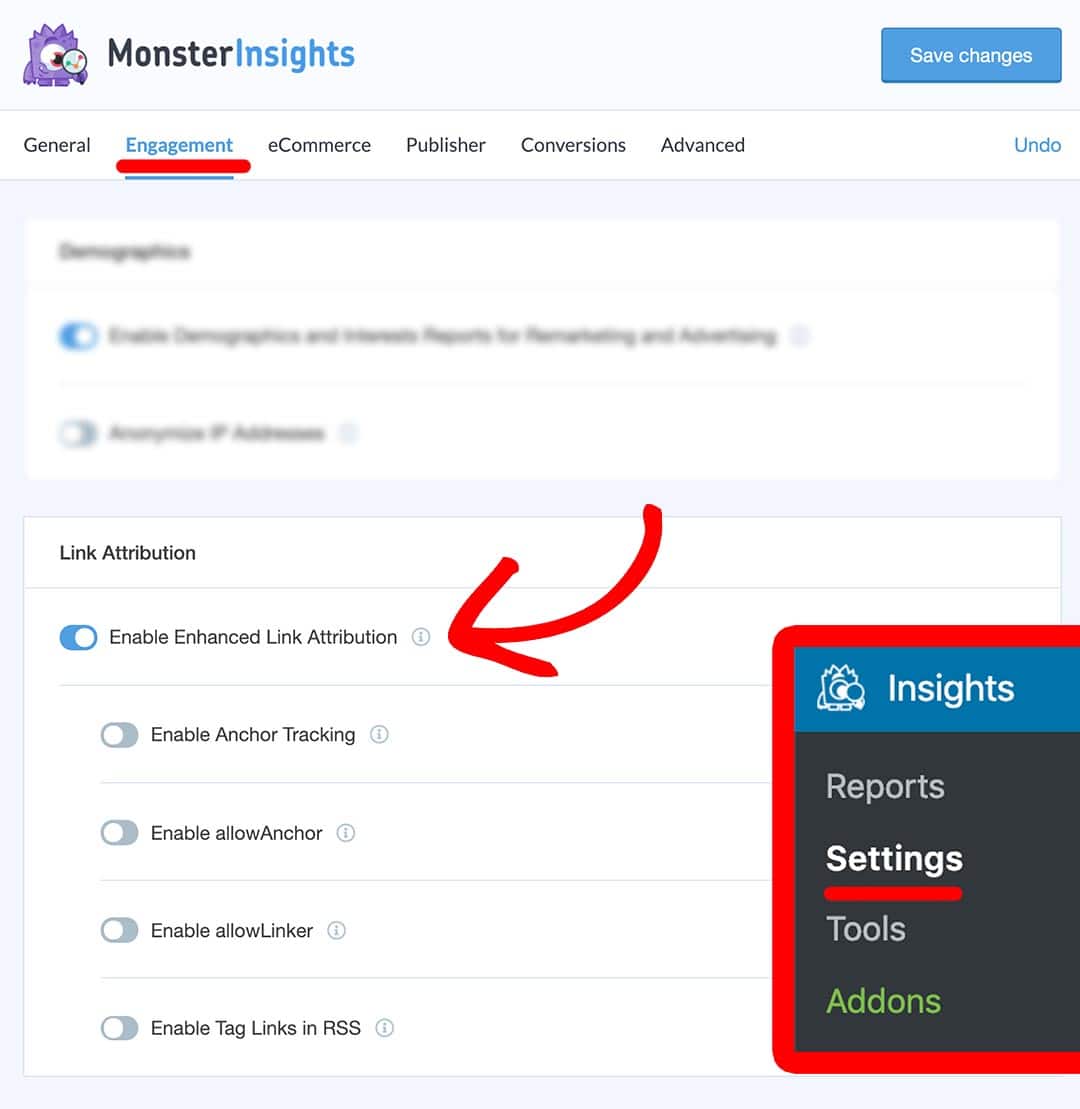 Finally, install and open the Page Analytics extension to see where users clicks on your site.

For a more in-depth tutorial on setting up in-page analytics, read The Beginners Guide to Enhanced Link Attribution in Google Analytics.
2. Heatmap Tools and Plugins
If you're using MonsterInsights, it makes sense to use enhanced link attribution. When it only takes a couple clicks to set up, it's a no-brainer! If your site isn't on WordPress or you don't have MonsterInsights, a separate heatmap tool is probably your best bet.
Some heatmap tools are free up until a certain number of heatmaps or recordings. If you want more data, most charge a fee.
Here's a brief look at a couple of our favorite heatmap plugins and tools.
Crazy Egg is one of the most popular heatmap tools on the 'net. Just install their code on your website to get heatmaps, scrollmaps, recordings, and more.
Crazy Egg offers a free 30 day trial, then costs $24 per month and up for a plan.
Hotjar is a heatmapping tool that can also create both heatmaps, scrollmaps and recordings of visits.
Beyond heatmaps, Hotjar also includes customer feedback and survey tools, so you can ask visitors for feedback right on your website.
This tool has a limited free version that you can use to try it out, then grab a plan for $39 per month and up.
For a couple more heatmap tools we recommend, check out 5 Best Website Heatmap Tools for WordPress.
How to Use Click Data for Website Improvements
So, you're using enhanced link attribution or a heatmap tool. Now, how do you use that data to make great decisions about improving your website?
Here are a few ideas:
Call to action not getting as many clicks as you thought? Try running an A/B test and changing its text, color, and/or location to see what might work better.
Are users not scrolling down far enough to find an important bit of content or your ads? Move it up a bit and see what happens.
Is there a particular link that users are just not clicking on at all? Maybe it's time to put something else in that spot or update the link in another way.
That's all!
If you liked this article, we think you'd like How to Track Link Clicks in Google Analytics (Step by Step).
Not using MonsterInsights yet? What are you waiting for?
And don't forget to follow us on Twitter, Facebook and YouTube for more helpful Google Analytics tips.