Even if you've just started your website, you've likely heard of Google Analytics, but what exactly is Google Analytics?
Google Analytics is a free tracking and statistics software that gives you vital insights on how visitors find your site, what they do when they get there, and other important information on the health of your business: such as eCommerce and lead conversions.
This overview of Google Analytics is designed to introduce you to the major areas of Google Analytics and help you get started viewing your site visitor stats quickly.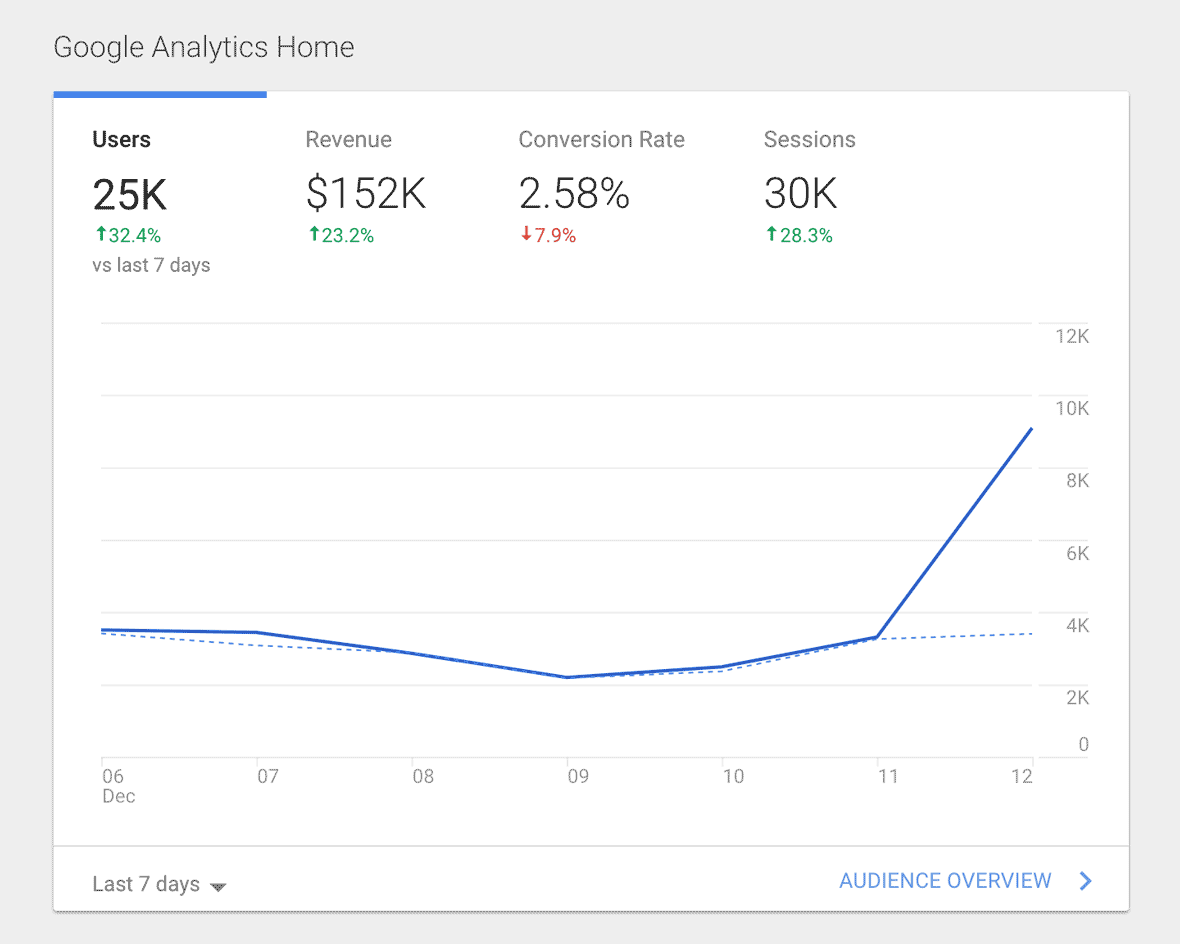 In this article, "What is Google Analytics?" we'll cover the following topics:
The Google Analytics ABC's.
The bread-and-butter (the ABC's) what Google Analytics measures are:
Acquisition: Where are your visitors coming from?
Behavior: What are they doing when they get to your site?
Conversions: The health of your business, such as sales and lead generation statistics.
A conversion is when a visitor converts into a lead or sale or otherwise performs a desired action in your marketing funnel.
Google Analytics provides this information to you through visual Reports. Reports are the building blocks of Google Analytics.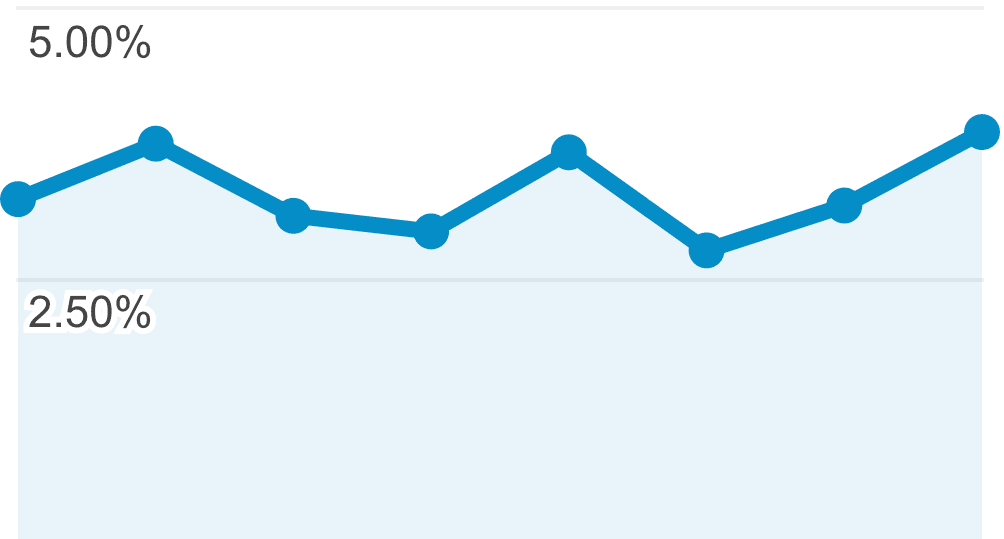 Google Analytics Reports Overview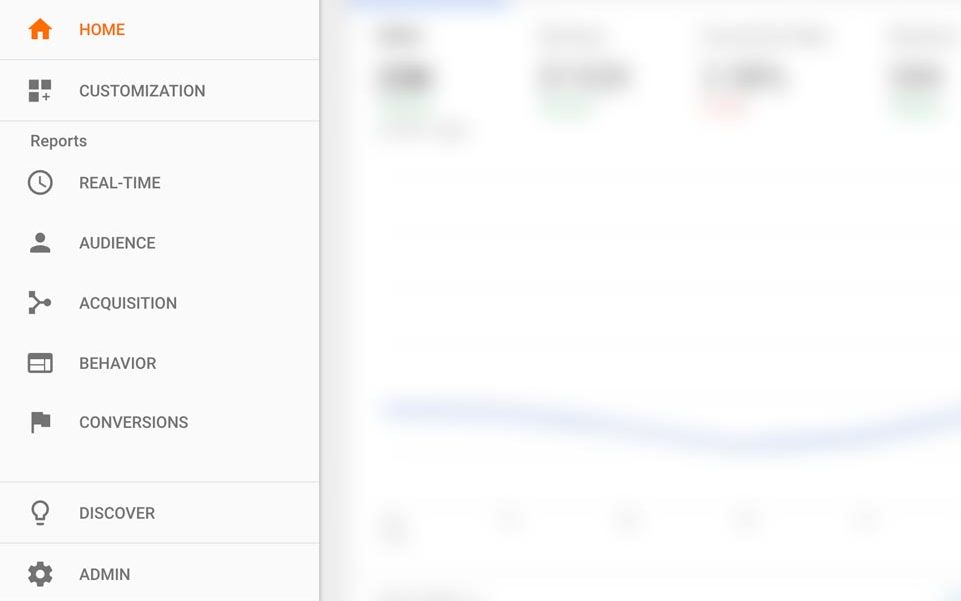 The primary sections of Google Analytics are:
Home
Customization
Real-time
Audience
Acquisition
Behavior
Conversions
Admin
We already covered the ABCs of Google Analytics: Acquisition, Behavior, and Conversions.
The additional sections are Home, Customization, Real-time, Audience, and Admin.
Home shows an overview of your stats at a glance.
Customization is where you can Create Custom reports for your specific needs of your business.
Real-time shows you the visitors on your site right now.
Audience tells you all about your audience. This is where you'll see everything from demographics info (if you've set it up) to your user info if you've enabled user tracking to the specific browsers and devices your users are using to look at your site.
Admin lets you adjust the settings of your property, who has access to see and edit the information, and more.
Introduction to The Acquisition Reports in Google Analytics
The Acquisition Reports in Google Analytics are all about where your visitors come from. Remember, Acquisition is the "A" in Google Analytics ABC's.
Typically these are Search (organic search), Adwords (Pay-Per-Click and paid search), Social Media, Referring sites, and Direct (which includes unknown).
Let's take a closer look at the Acquisition Reports. Here's the navigation menu for the Acquisition Reports: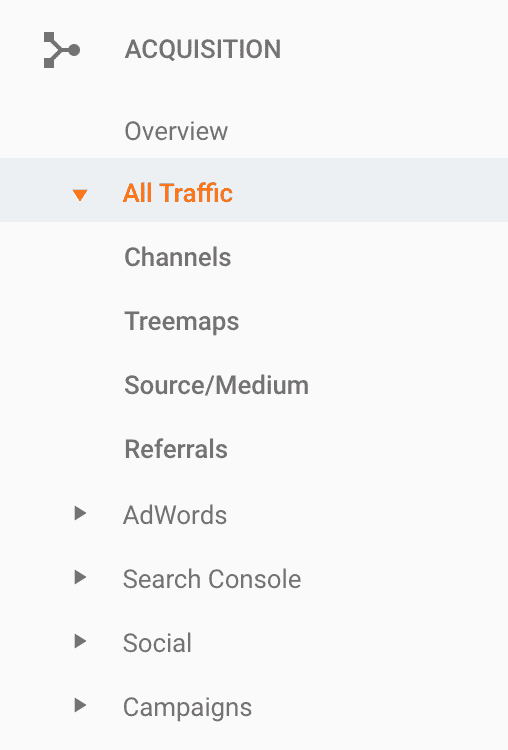 In addition to Overview, All Traffic Reports give additional general information about your referrals.
The Adwords and Campaigns reports give you more granular reports about your Google Adwords Campaigns if you are using them, and if you have linked your Adwords Account to Analytics.
The Search Console, if connected to Analytics, provides additional information regarding your Organic Searches from Google.
Here is the Search Query acquisition report under Acquisition » Search Console » Queries:
The Social Overview report under Acquisition » Social » Overview gives you additional information on social media referrals: YouTube, Facebook, Reddit, and more:

Here is the Referrals report in Acquisition » All Traffic: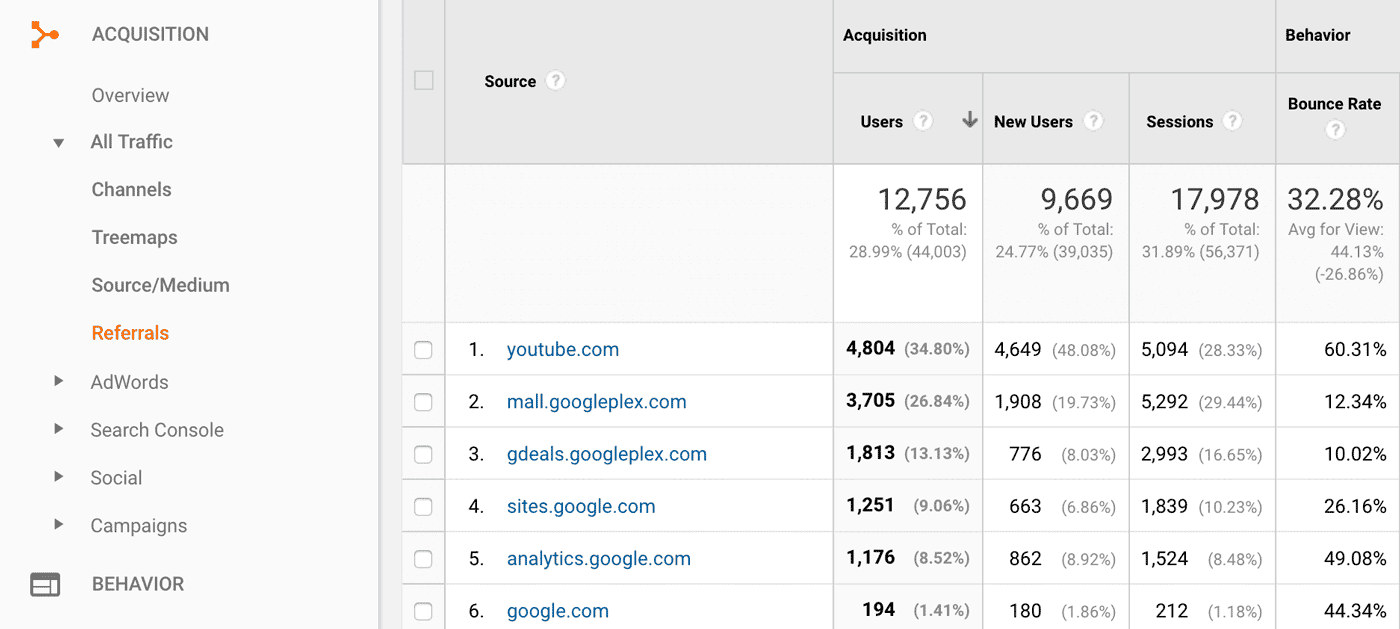 Introduction to the Google Analytics Behavior Reports
Behavior includes what your users do when they get to your site.
Here is the navigation menu for the Behavior reports section in Google Analytics: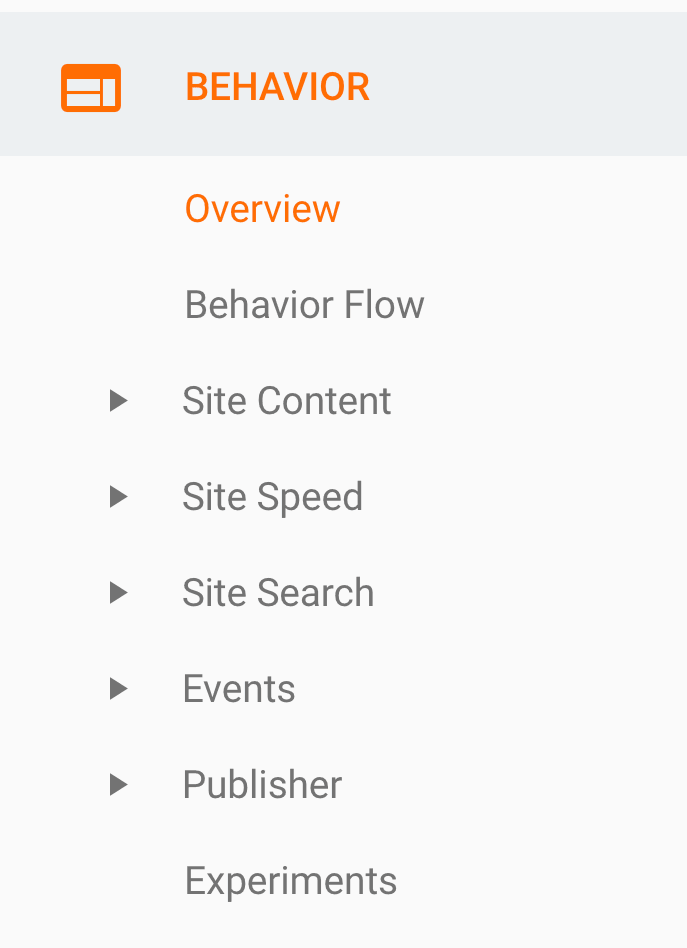 The Behavior Overview report under Behavior » Overview aims to give you a general overview of your visitors' behavior: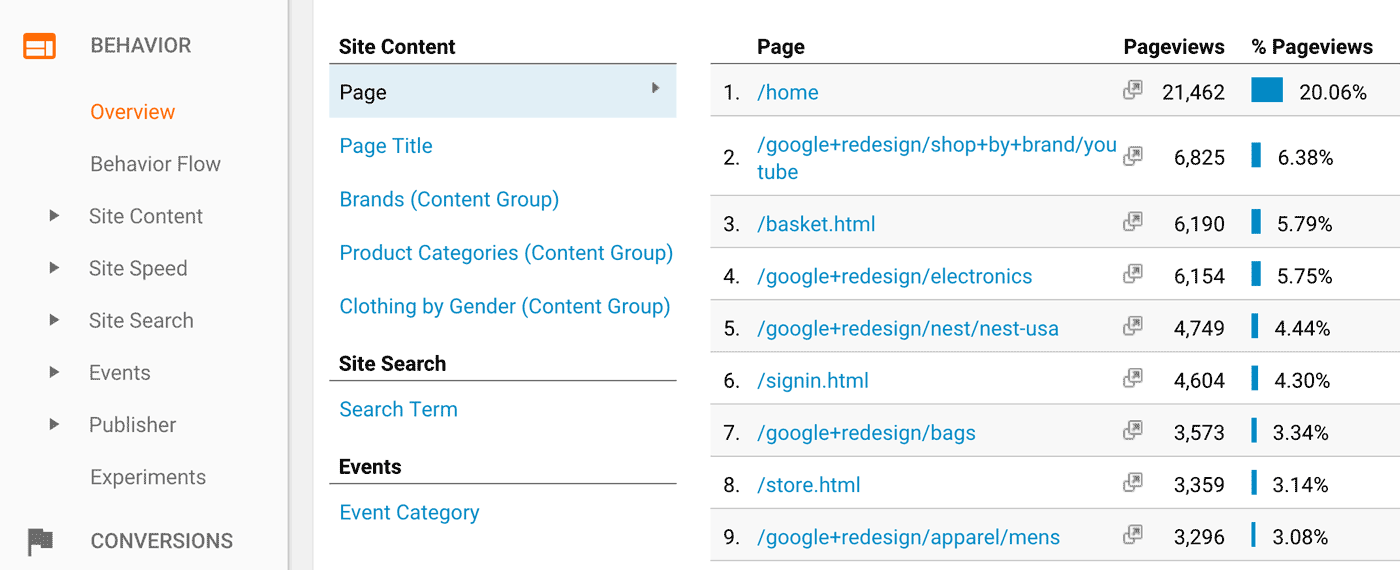 Here is the Behavior Flow report under Behavior » Flow: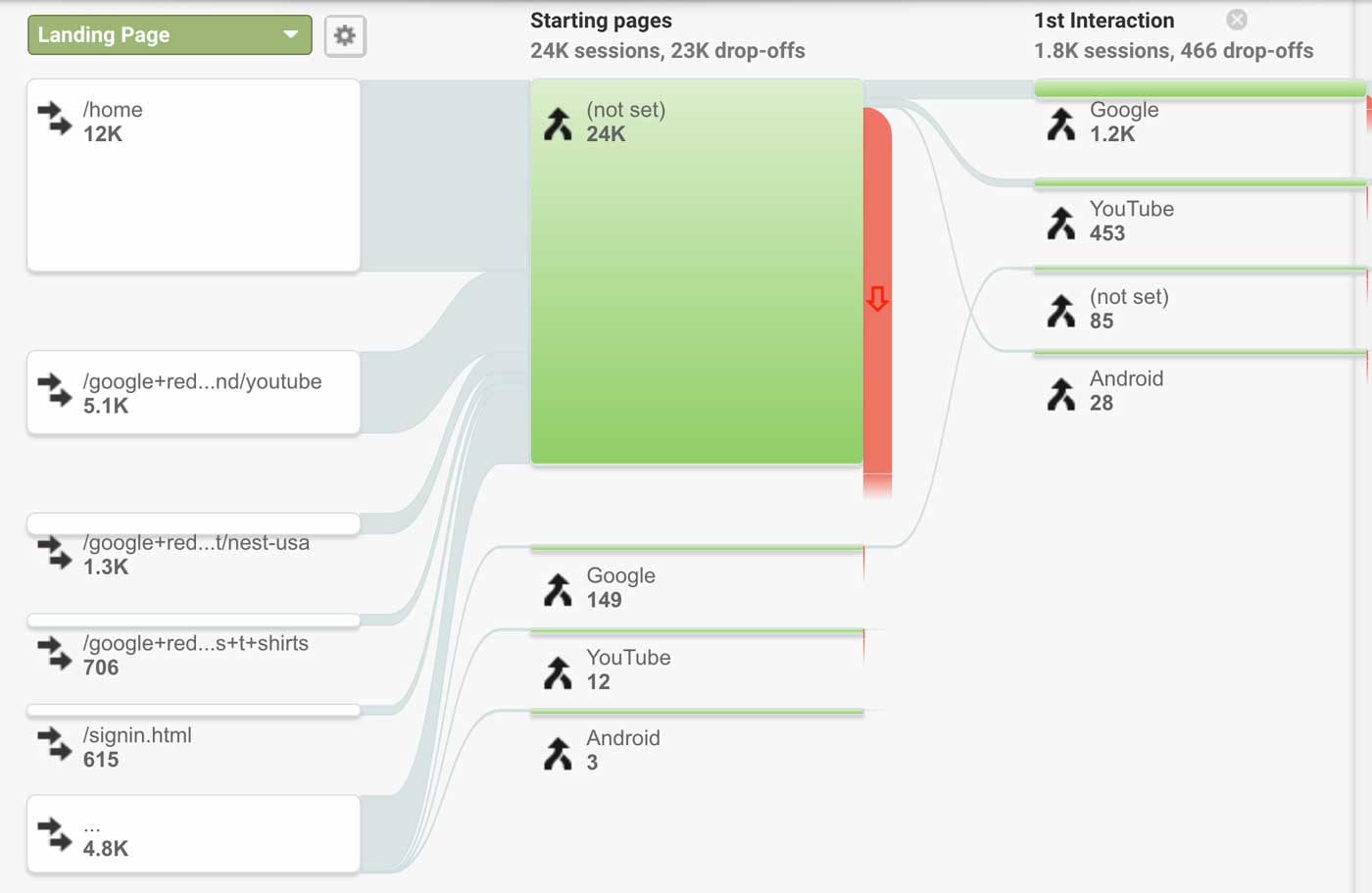 The Behavior Flow Report shows the most typical user flows that the majority of your users are taking, including site exits (drop-offs).
Site Content allows you to drill down deeper into the behavior on the individual pages.
Site Speed gives you valuable insights on how quickly your site is loading. A fast site is vital to a good user experience!
Site Search tells you what users are searching for on your site. See our instructions here for setting up site search.
The Events Overview report found at Behavior » Events » Overview section is where MonsterInsights tracks File Download Link clicks, Affiliate Link clicks, Outbound Link clicks, and Form conversions.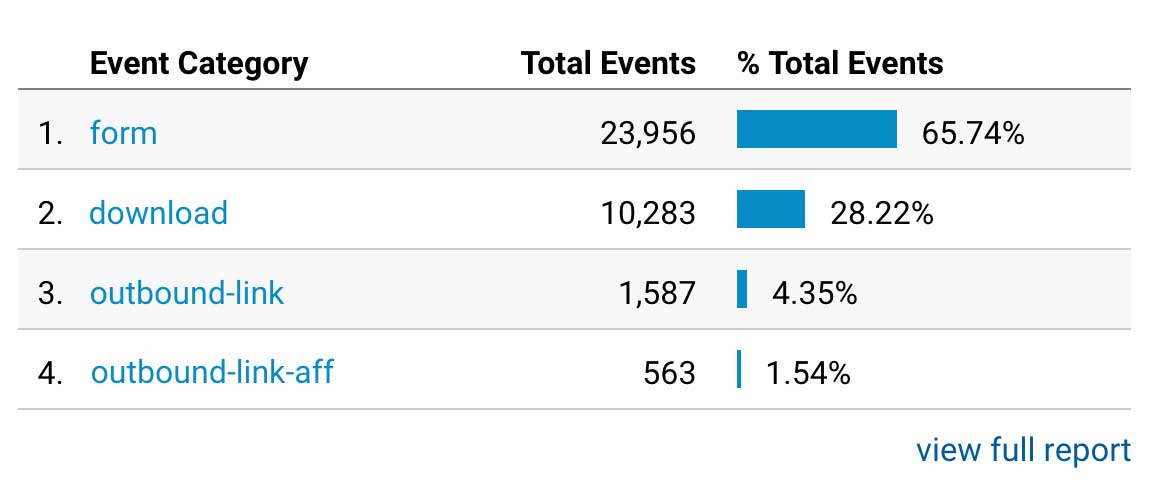 If you're using our Forms Tracking Addon and are tracking form events, you can see impressions compared to conversions. Please see our guide on Forms Tracking for more: How to Track Your WordPress Form Conversions in Google Analytics.
File Download with Google Analytics and MonsterInsights are also tracked as events. You can easily track your PDF and other file downloads on your website with MonsterInsights.
Introduction to The Google Analytics Conversions Tracking Reports
Do you have an online store using WooCommerce or Easy Digital Downloads for your sales? If you aren't tracking your results with Google Analytics you leaving money on the table. The catch is that getting Google Analytics set up with product, purchase tracking and all the rest on your eCommerce shop is difficult. For even a small-sized shop, it'd take a seasoned developer many hours to set up. That's why we developed the eCommerce Addon for Google Analytics.
For even a huge online WooCommerce or Easy Digital Downloads shop,  you'll be up and running in just a few clicks? Need Google Analytics set up with Enhanced eCommerce? Just a couple extra clicks and you'll be on track.
Here is the Conversions » Goals » Overview Report: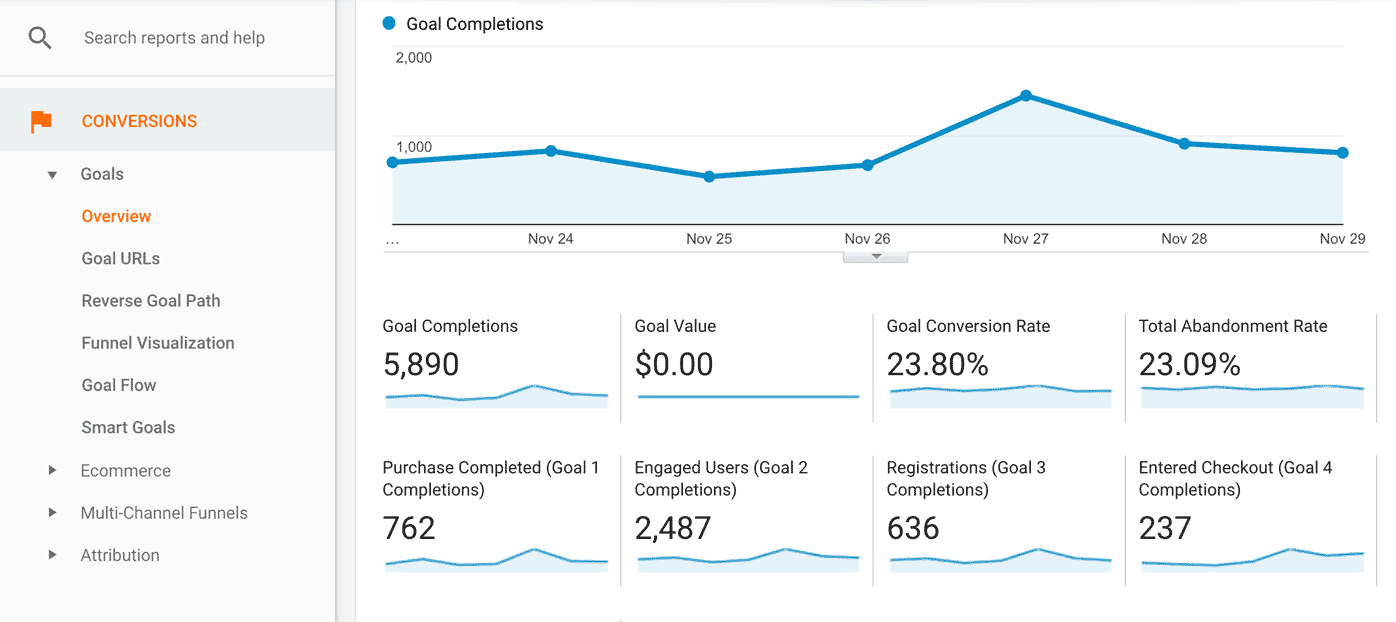 Ecommerce Reporting
MonsterInsights makes setting up Google Analytics' Advanced eCommerce reporting simple for site owners using WooCommerce and Easy Digital Downloads for their online store.
You can see some of what is possible in Google's free course that teaches you eCommerce Analytics.
Setting this up manually would take a developer dozens of hours for the typical eCommerce store, however, since we are implementing it programmatically it is exceptionally quick.
If you're using WooCommerce (or Easy Digital Downloads) the benefit of using our eCommerce Addon is that you will get more insights in the Conversions » eCommerce section of Google Analytics including:
Popular product
Average order value
Ecommerce conversion rate
Shopping Behavior
Checkout Behavior
Product Lists Performance
Sales Performance
Funnels
Here is the Conversions » Ecommerce » Overview Report in Google Analytics: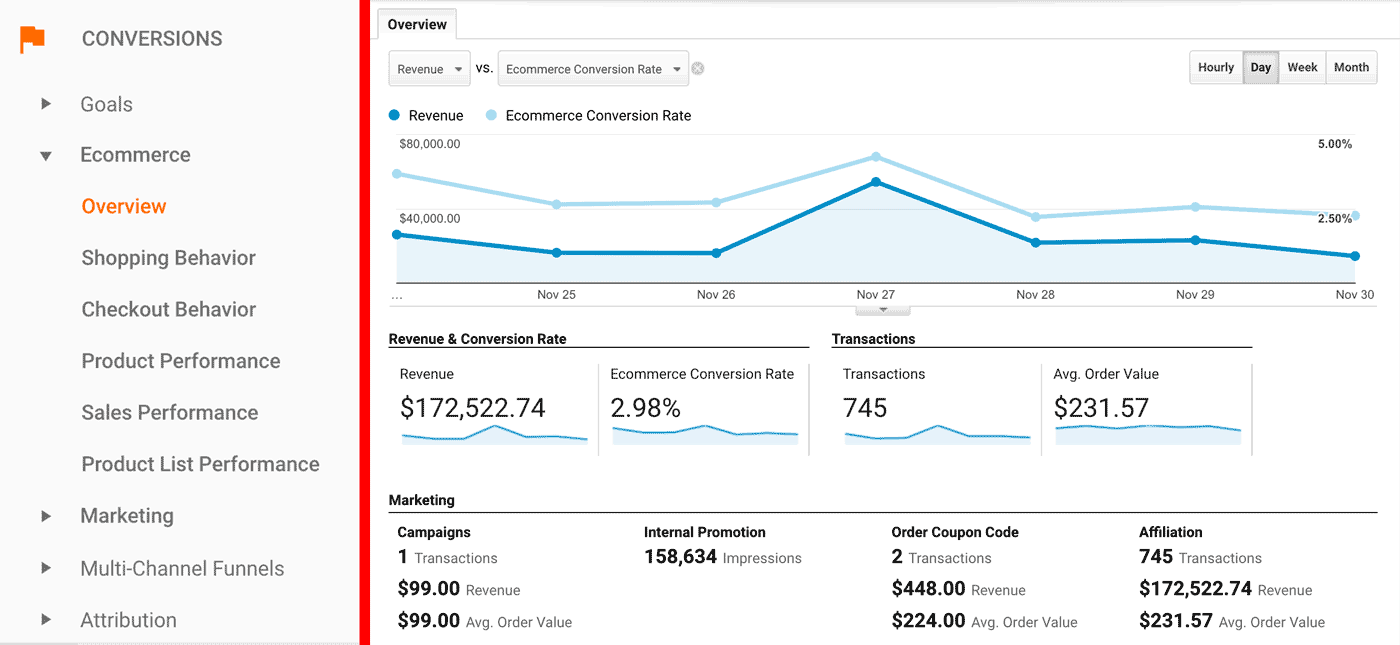 Here is the Conversions » Ecommerce » Product Performance Report in Google Analytics: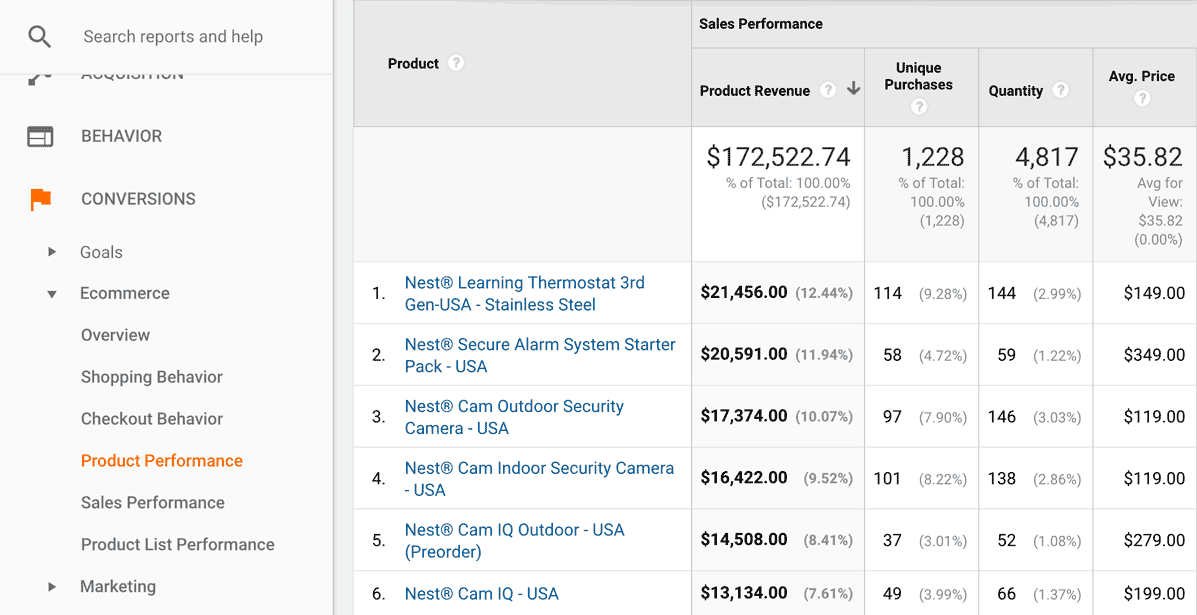 As you can see, this Google Analytics can tell you vital referral information contributing to your online shop's success.
These insights should give you more detailed, actionable info on the health of your eCommerce store than Adwords and Analytics alone. There's definitely a reason why Google built out the eCommerce section of its Analytics: the more they can help you make good decisions and build a thriving eCommerce store the more you're likely going to spend more money on Adwords.
There are more details in this blog post: How to Add Google Analytics Enhanced eCommerce for WooCommerce.
Now you know what Google Analytics does, why it's so vital to websites, and how MonsterInsights make it easy to get even it's most advanced features setup on your site.
Next, take a look at our guide to setting up Affiliate Link Tracking, or eCommerce.