Even if you've just started your website, you've likely heard of Google Analytics, but what exactly is Google Analytics?
Google Analytics is a free tracking and statistics software that gives you vital insights on how visitors find your site, what they do when they get there, and other important information on the health of your business: such as eCommerce and lead conversions.
This overview of Google Analytics is designed to introduce you to the major areas of Google Analytics and help you get started viewing your site visitor stats quickly.
There are two versions of Google Analytics:
This guide will cover features of both, starting with Universal Analytics.
Universal Analytics Overview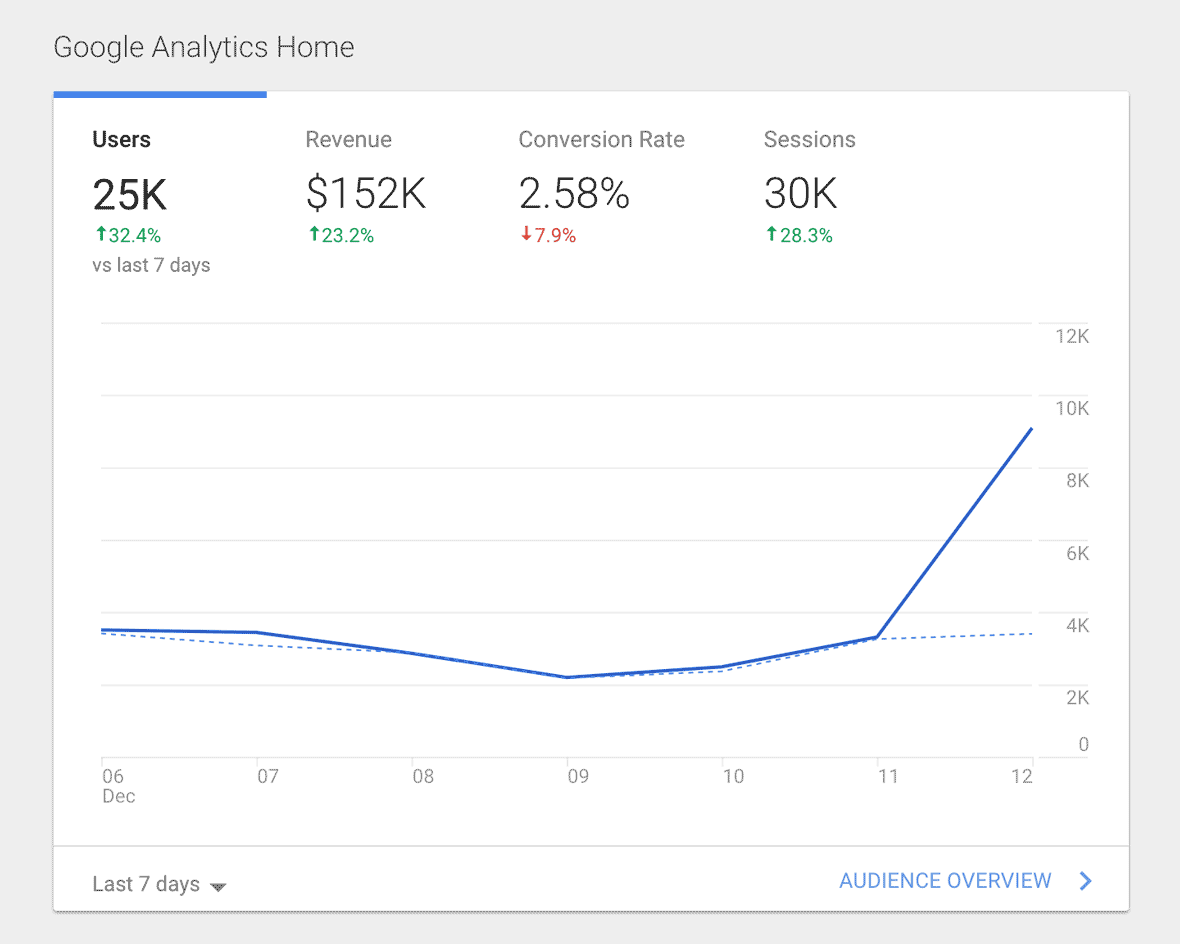 In this article, "What is Google Analytics?" we'll cover the following topics:
Universal Analytics ABC's.
The bread-and-butter (the ABC's) what Universal Analytics measures are:
Acquisition: Where are your visitors coming from?
Behavior: What are they doing when they get to your site?
Conversions: The health of your business, such as sales and lead generation statistics.
A conversion is when a visitor converts into a lead or sale or otherwise performs a desired action in your marketing funnel.
Google Analytics provides this information to you through visual Reports. Reports are the building blocks of Google Analytics.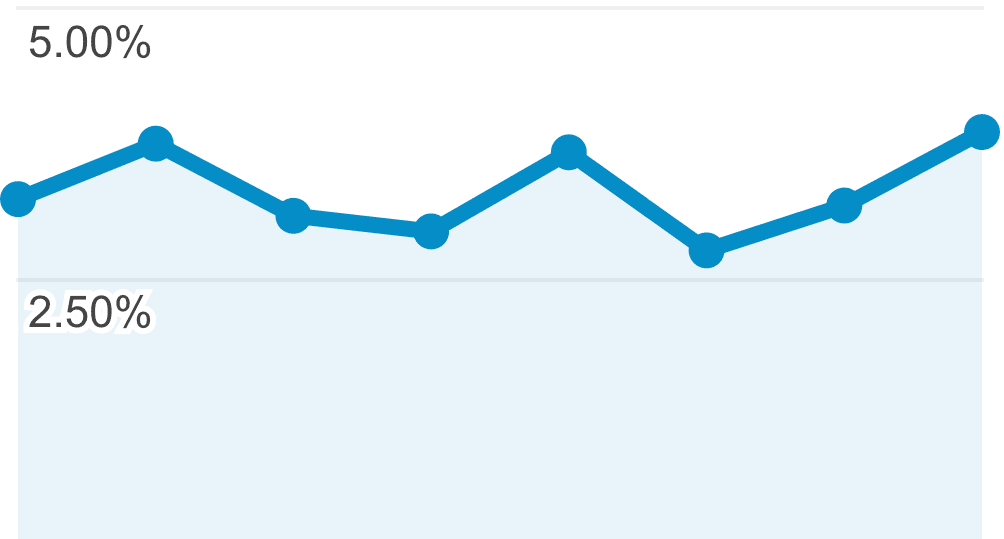 Universal Analytics Reports Overview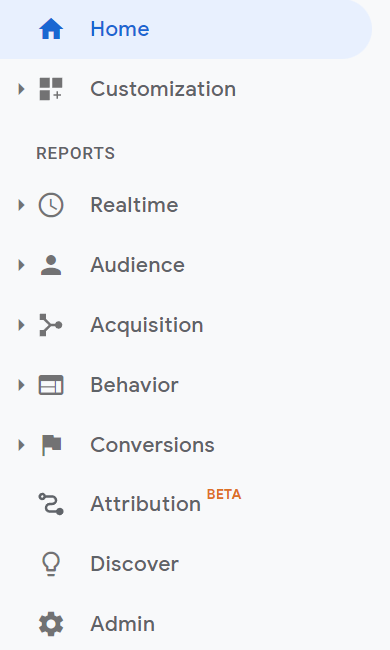 The primary sections of Universal Analytics are:
Home
Customization
Realtime
Audience
Acquisition
Behavior
Conversions
Admin
We already covered the ABCs of Google Analytics: Acquisition, Behavior, and Conversions.
The additional sections are Home, Customization, Realtime, Audience, and Admin.
Home shows an overview of your stats at a glance.
Customization is where you can Create Custom reports for the specific needs of your business.
Realtime shows you the visitors on your site right now.
Audience tells you all about your audience. This is where you'll see everything from demographics info (if you've set it up) to your user info if you've enabled user tracking to the specific browsers and devices your users are using to look at your site.
Admin lets you adjust the settings of your property, who has access to see and edit the information, and more.
Introduction to The Acquisition Reports in Universal Analytics
The Acquisition Reports in Universal Analytics are all about where your visitors come from. Remember, Acquisition is the "A" in Universal Analytics ABC's.
Typically these are Search (organic search), Google Ads (Pay-Per-Click and paid search), Social Media, Referring sites, and Direct (which includes unknown).
Let's take a closer look at the Acquisition Reports. Here's the navigation menu for the Acquisition Reports: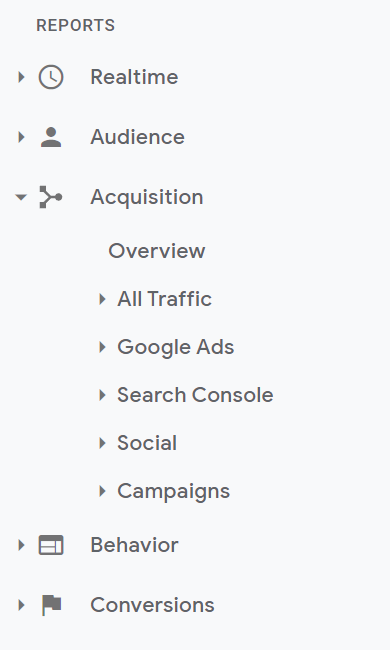 In addition to Overview, All Traffic Reports give additional general information about your referrals.
The Google Ads and Campaigns reports give you more granular reports about your Google Ads Campaigns if you are using them, and if you have linked your Google Ads Account to Analytics.
The Search Console, if connected to Analytics, provides additional information regarding your Organic Searches from Google.
Here is the Search Query acquisition report under Acquisition » Search Console » Queries: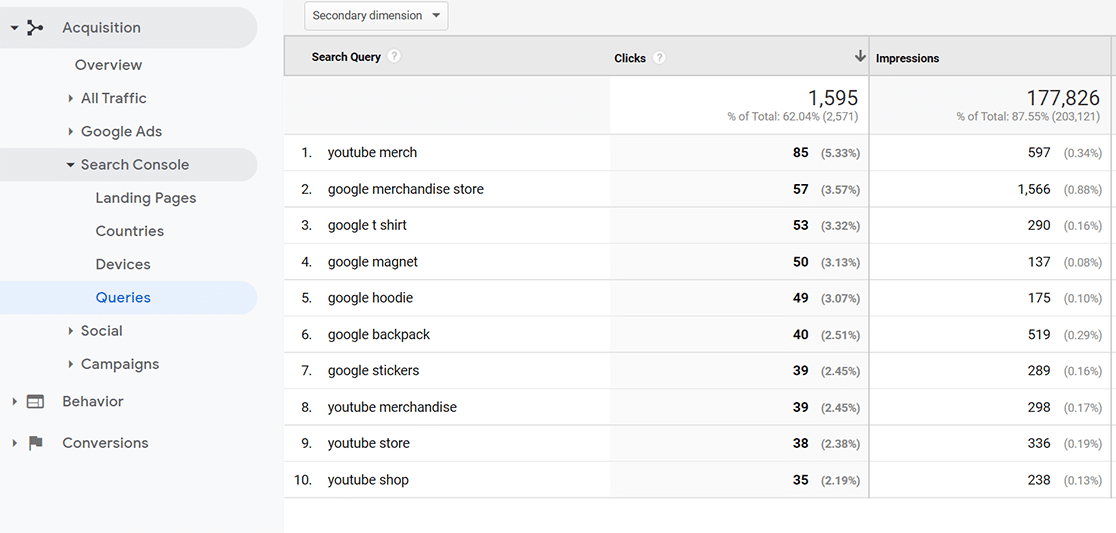 Here is the Referrals report in Acquisition » All Traffic: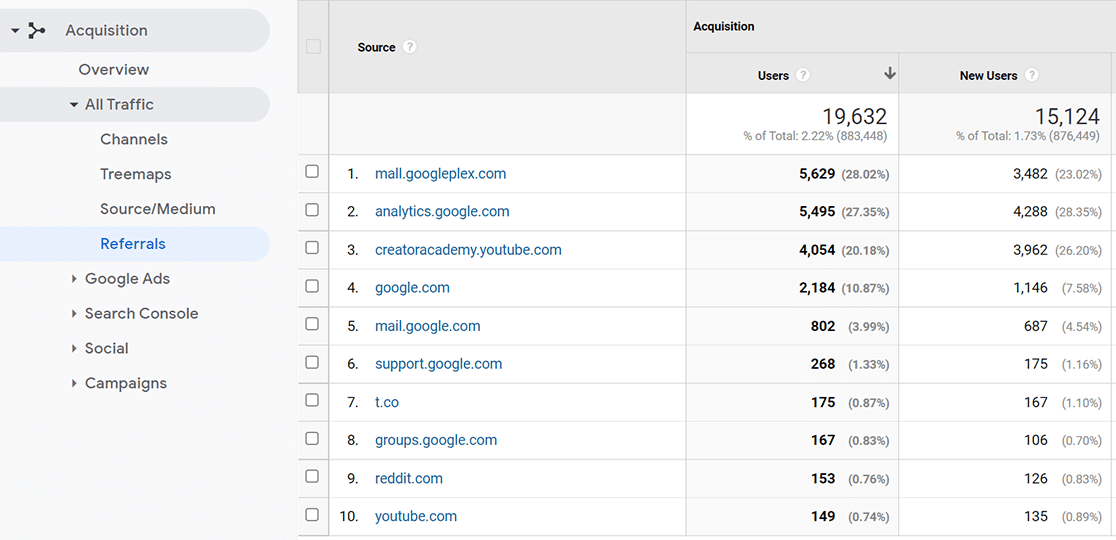 Introduction to Universal Analytics Behavior Reports
Behavior includes what your users do when they get to your site.
Here is the navigation menu for the Behavior reports section in Google Analytics: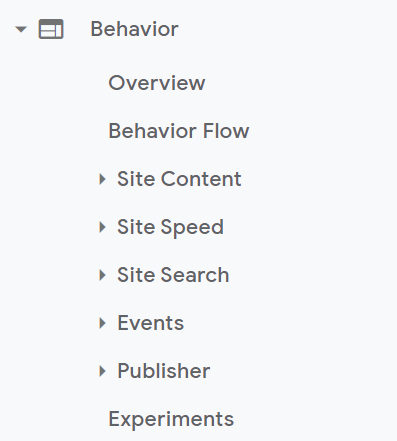 The Behavior Overview report under Behavior » Overview aims to give you a general overview of your visitors' behavior:

Here is the Behavior Flow report under Behavior » Flow:

The Behavior Flow Report shows the most typical user flows that the majority of your users are taking, including site exits (drop-offs).
Site Content allows you to drill down deeper into the behavior on the individual pages.
Site Speed gives you valuable insights on how quickly your site is loading. A fast site is vital to a good user experience!
Site Search tells you what users are searching for on your site. See our instructions here for setting up site search.
The Events Overview report found at Behavior » Events » Overview section is where MonsterInsights tracks File Download Link clicks, Affiliate Link clicks, Outbound Link clicks, and Form conversions.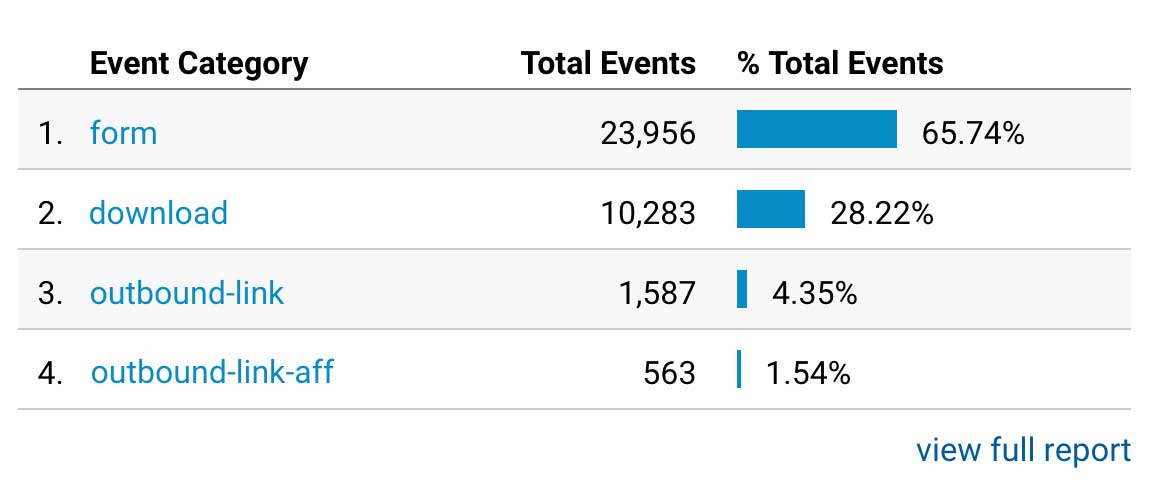 If you're using our Forms Tracking Addon and are tracking form events, you can see impressions compared to conversions. Please see our guide on Forms Tracking for more: How to Track Your WordPress Form Conversions in Google Analytics.
File Download with Google Analytics and MonsterInsights are also tracked as events. You can easily track your PDF and other file downloads on your website with MonsterInsights.
Introduction to Universal Analytics Conversions Tracking Reports
Do you have an online store using WooCommerce or Easy Digital Downloads for your sales? If you aren't tracking your results with Google Analytics you leaving money on the table. The catch is that getting Google Analytics set up with product, purchase tracking and all the rest on your eCommerce shop is difficult. For even a small-sized shop, it'd take a seasoned developer many hours to set up. That's why we developed the eCommerce Addon for Google Analytics.
For even a huge online WooCommerce or Easy Digital Downloads shop,  you'll be up and running in just a few clicks? Need Google Analytics set up with Enhanced eCommerce? Just a couple extra clicks and you'll be on track.
Here is the Conversions » Goals » Overview Report: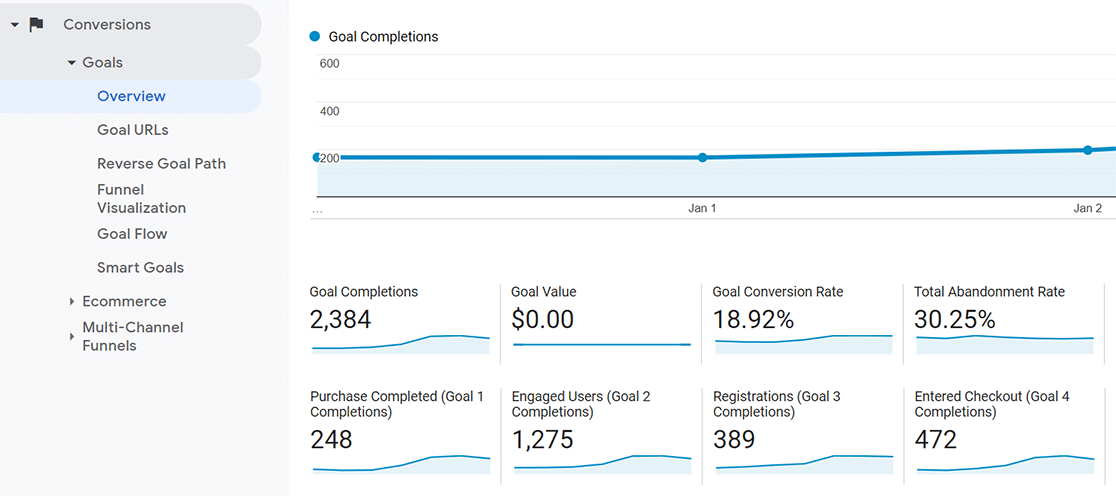 Ecommerce Reporting
MonsterInsights makes setting up Google Analytics' Advanced eCommerce reporting simple for site owners using WooCommerce and Easy Digital Downloads for their online store.
You can see some of what is possible in Google's free course that teaches you eCommerce Analytics.
Setting this up manually would take a developer dozens of hours for the typical eCommerce store, however, since we are implementing it programmatically it is exceptionally quick.
If you're using WooCommerce (or Easy Digital Downloads) the benefit of using our eCommerce Addon is that you will get more insights in the Conversions » eCommerce section of Google Analytics including:
Popular product
Average order value
Ecommerce conversion rate
Shopping Behavior
Checkout Behavior
Product Lists Performance
Sales Performance
Funnels
Here is the Conversions » Ecommerce » Overview Report in Google Analytics:

Here is the Conversions » Ecommerce » Product Performance Report in Google Analytics: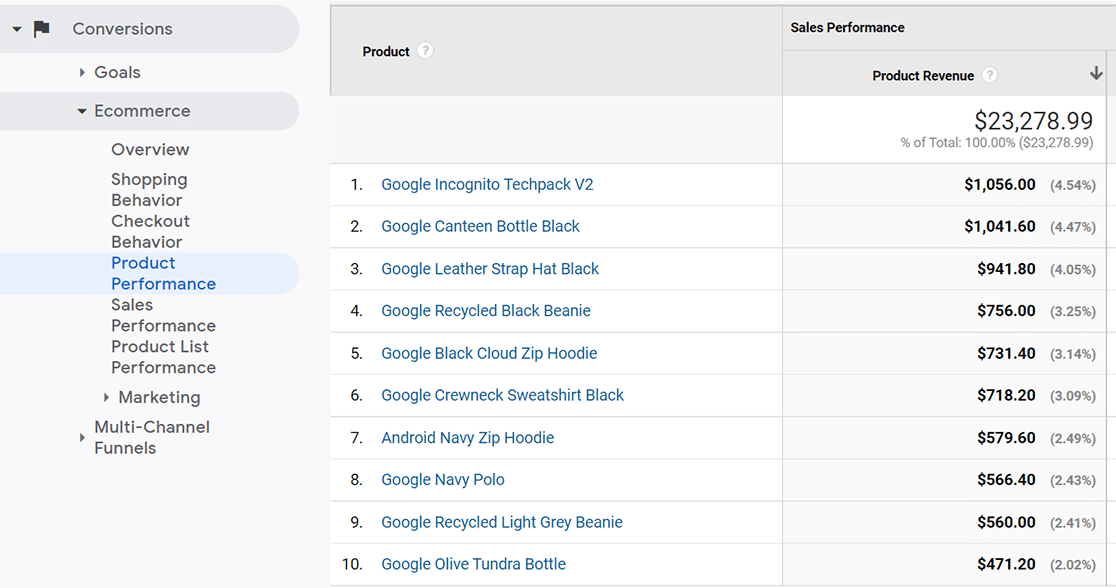 As you can see, this Google Analytics can tell you vital referral information contributing to your online shop's success.
These insights should give you more detailed, actionable info on the health of your eCommerce store than Google Ads and Analytics alone. There's definitely a reason why Google built out the eCommerce section of its Analytics: the more they can help you make good decisions and build a thriving eCommerce store the more you're likely going to spend more money on Ads.
There are more details in this blog post: How to Add Google Analytics Enhanced eCommerce for WooCommerce.
Google Analytics 4 Overview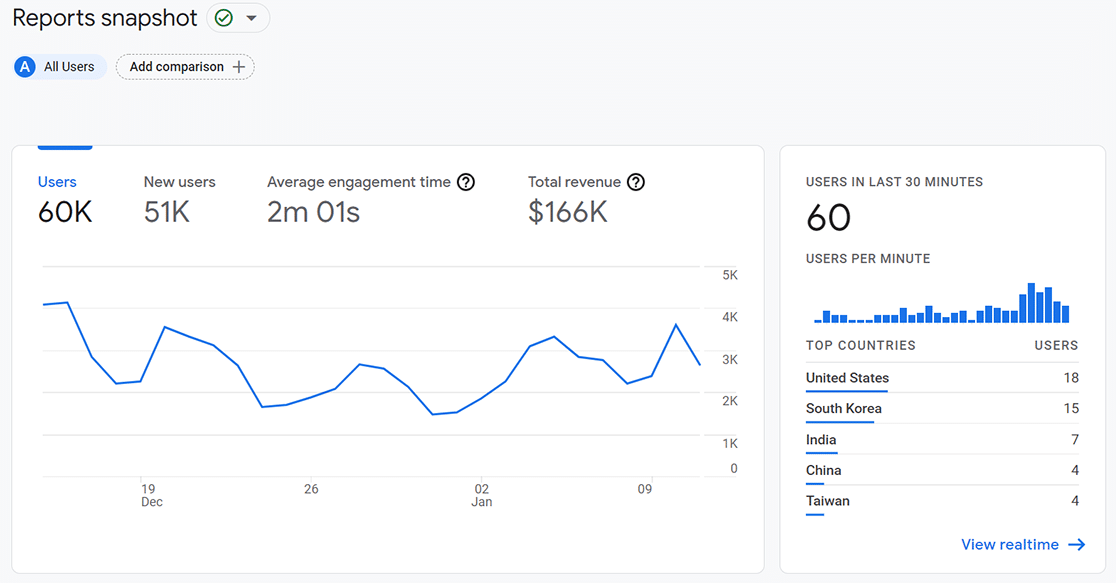 In this section for Google Analytics 4, we will be covering the following:
Introduction to Google Analytics 4 Reports
If you've previously used Universal Analytics, then the reports for GA4 are going to take a bit of getting used to. If this is your first time using Google Analytics then this should be a little easier to understand.
The reports section contains the following reports:
Reports snapshot
Realtime
Acquisition
Engagement
Monetization
Retention
Demographics
Tech
The Reports snapshot gives you an overall view of different reports. These reports are displayed on "cards" and can be clicked on for a more in-depth look at that data.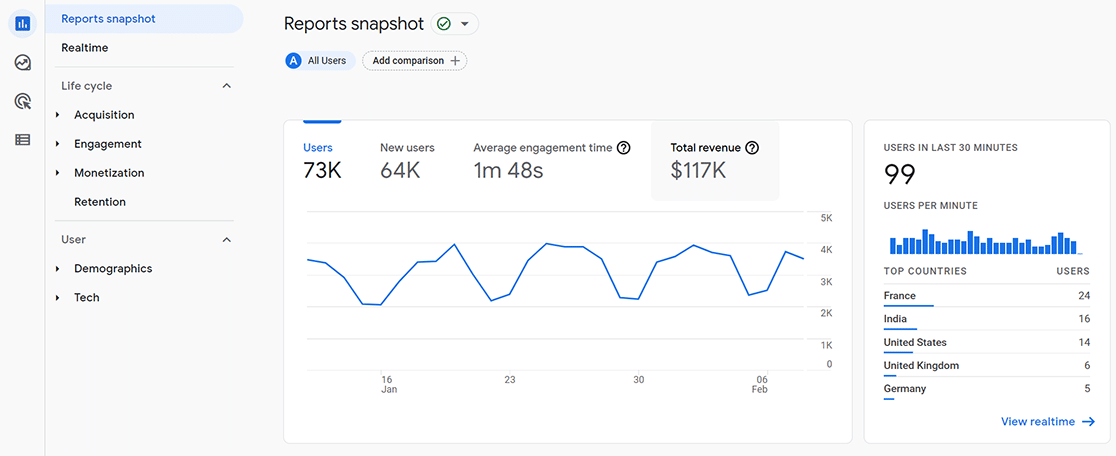 Realtime reports are just like it is in Universal Analytics, where you can see users interacting with your site in real-time. This report shows the activity of users within a 30-minute window and also has "cards" that can be clicked on for further data.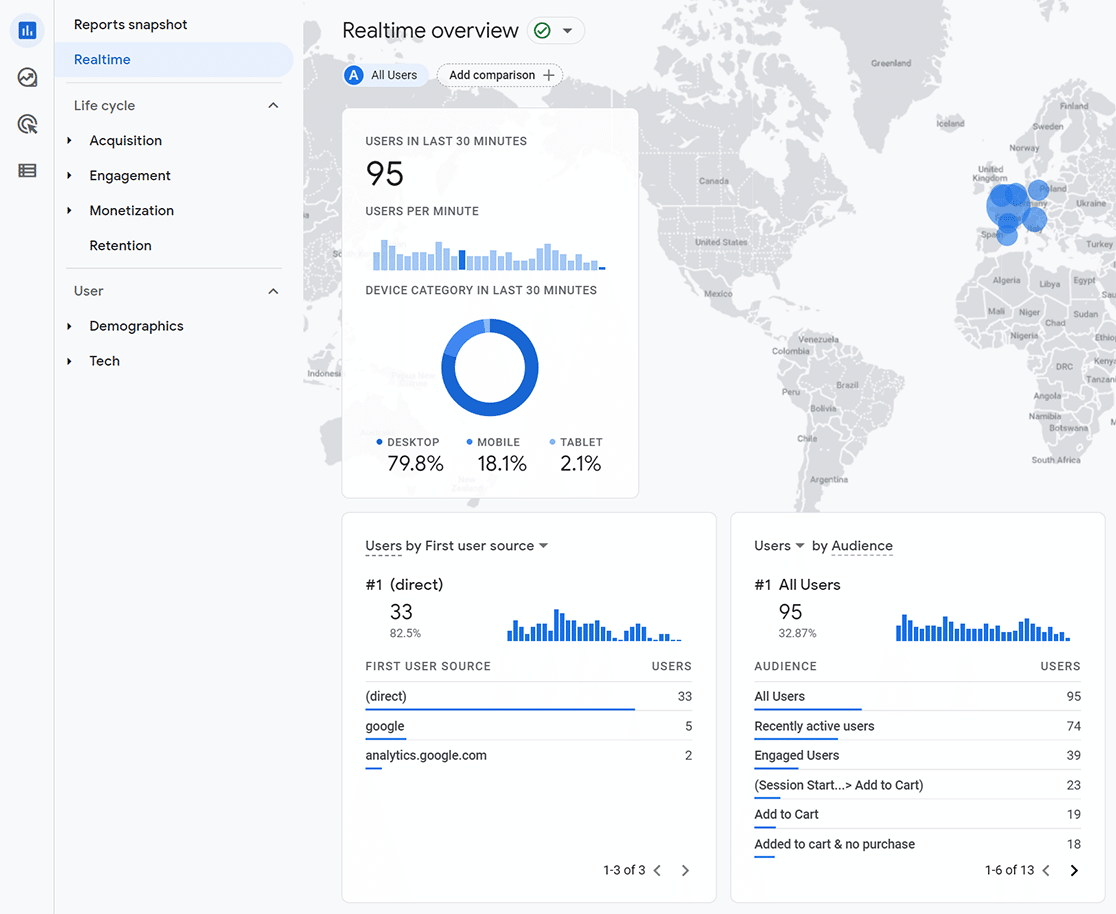 In the Acquisition report we will find three sub-reports:
Acquisition overview
User acquisition
Traffic acquisition
The Acquisition overview lets you view what source users used to get to your site. You can also find your Google Ads campaigns here as well.

In the User acquisition, you will find a more detailed report about the source of where your new users came from. This is not for returning visitors.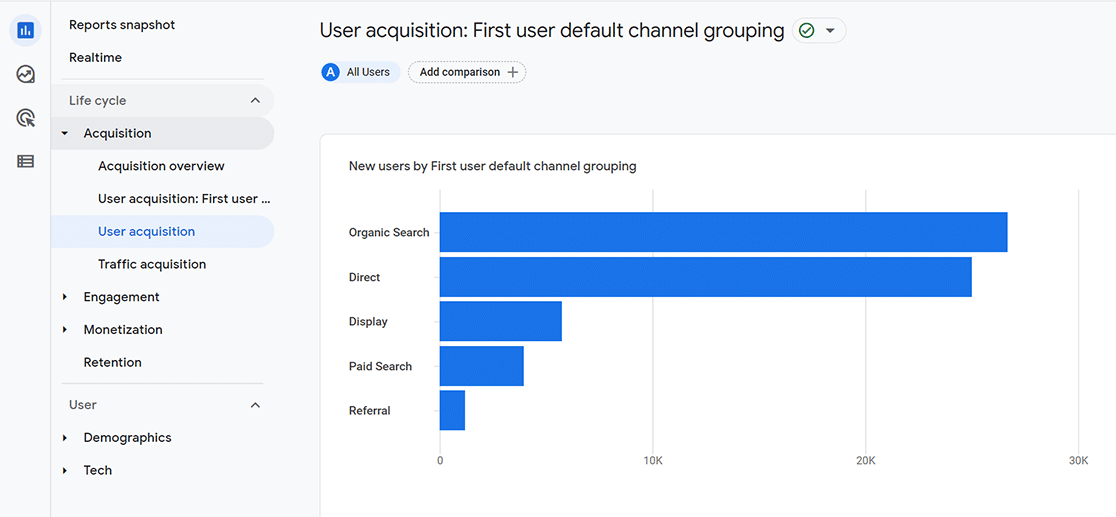 Lastly, Traffic acquisition shows the session source/medium data of users to your site.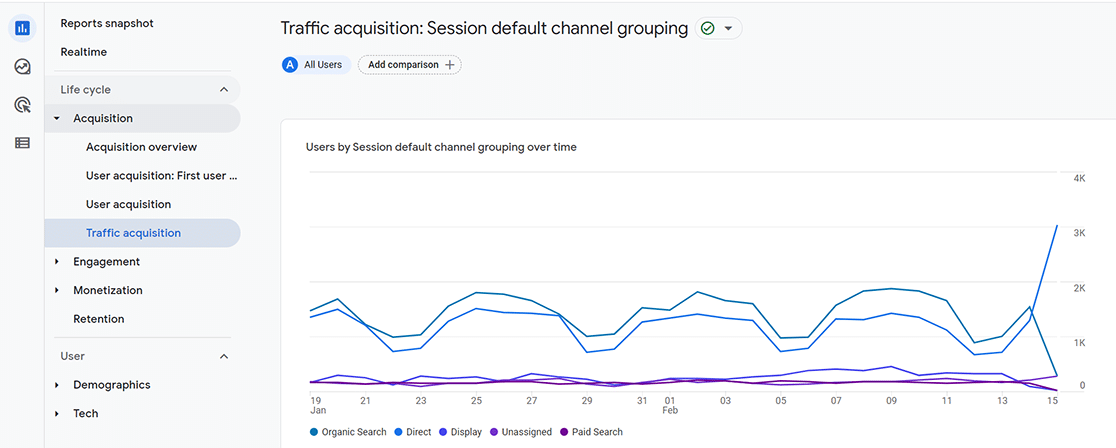 In the Engagement section you will find the following sub-reports:
Overview
Events
Conversions
Pages and screens
As with most of the reports, the Overview is a collection of data to be viewed at a glance. Here you will find data about "user stickiness". This is a ratio of daily vs monthly activity of users. This means if the report shows 100%, users are on your site daily.

The Events report shows a list of all your events. This will likely be the most viewed report now that everything in GA4 is tracked as an event. It can be a little confusing at first. For instance, if you want to check how many times a form has been viewed you need to click on form_impressions and then find the card Form ID to see the correct form. Viewing data this way isn't the best way to get in-depth reports. Using the Explore section is best for that. More on that later.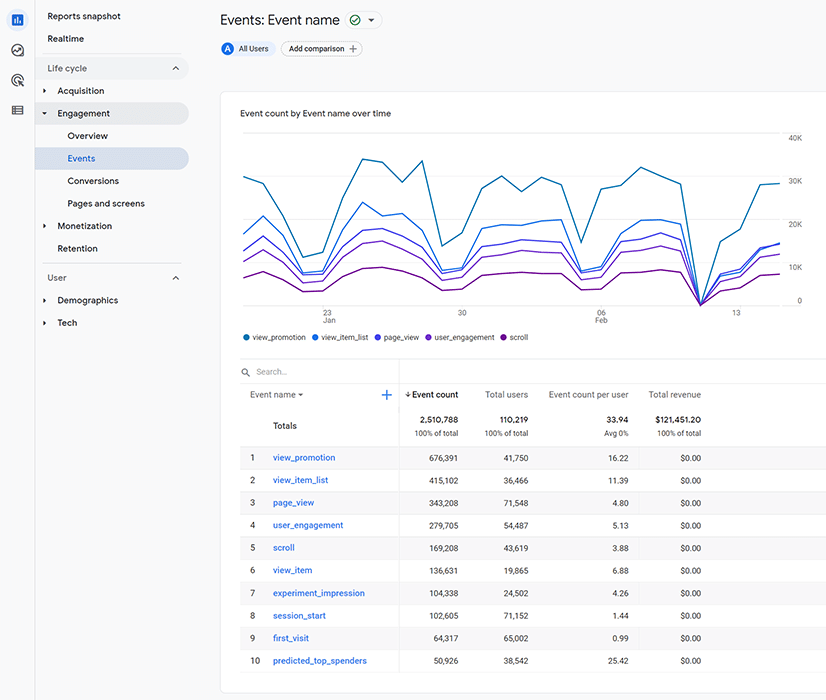 Conversions show not just eCommerce conversions but any metric that you set to be tracked as a conversion. This is the new way to track goal conversions in GA4.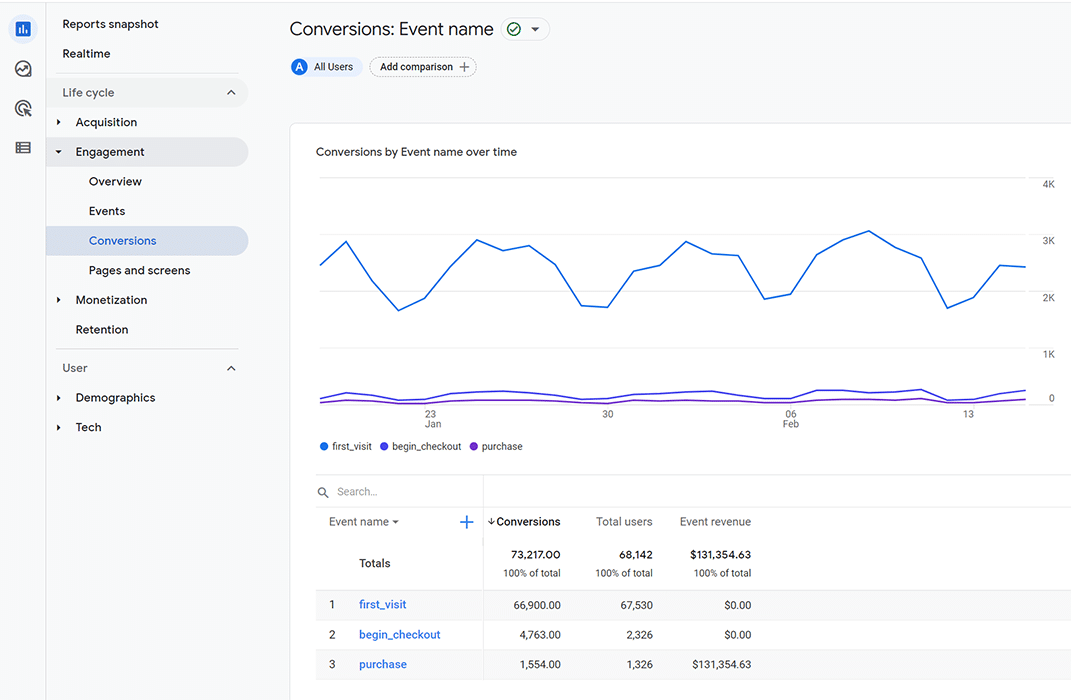 The last sub-category is Pages and screens. Here you will find all the data relating to your pages and posts. You will be able to see views, user count, average time on page, and even the conversions of that page.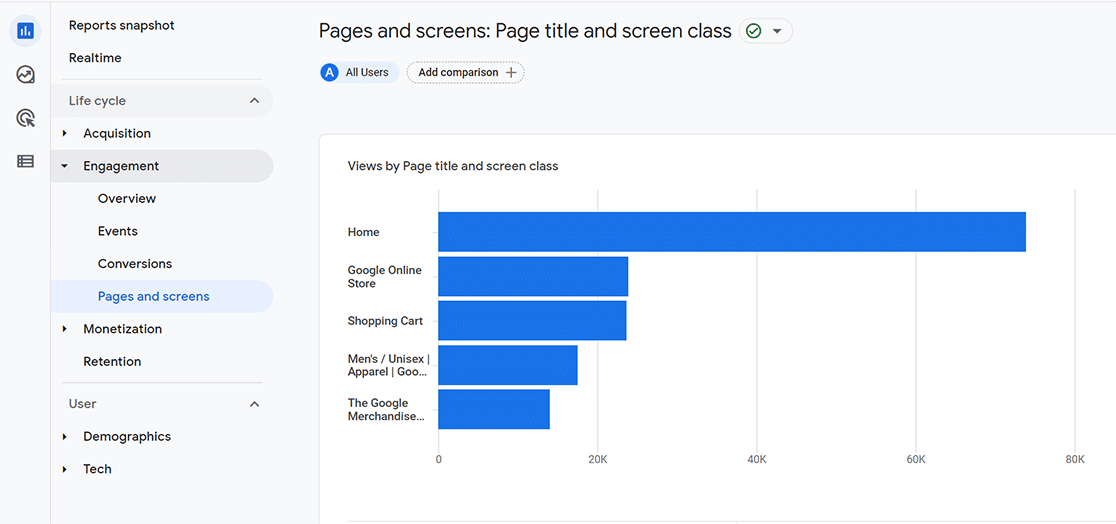 In the Monetization section of GA4 you will find these sub-reports:
Monetization overview
Ecommerce purchases
In-app purchases
Publisher ads
The Monetization overview report will show you cards that give you a brief view of your orders. You can see coupons used, products by ID, and item names.

Ecommerce purchases will give you a better breakdown of your products and how they're performing. This will show you views, add-to-carts, cart-to-view rate, ecommerce purchases, purchase-to-view rate, item purchase quantity, and item revenue. You can gain more insights into purchases by clicking on the blue + and adding another dimension to your report as well.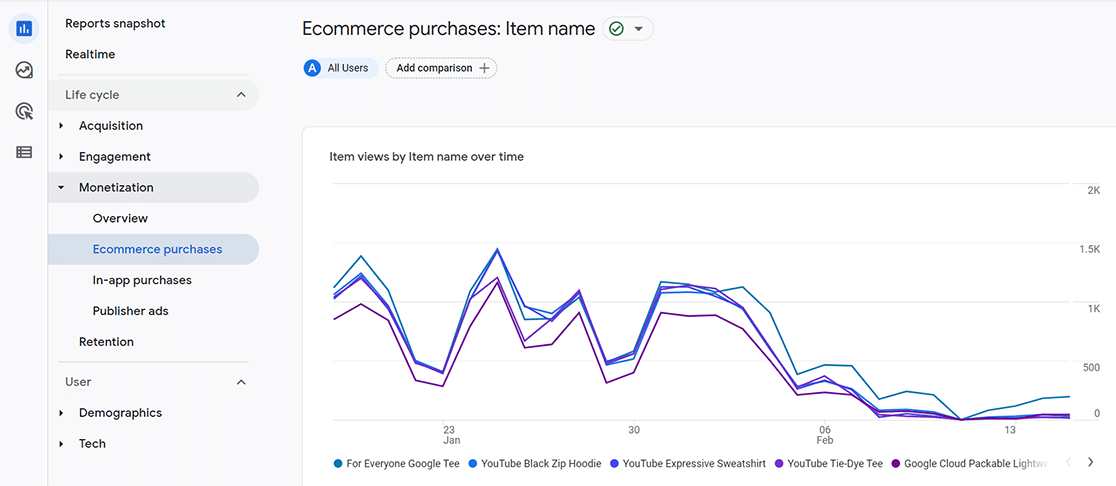 If your data stream is connected to a mobile app, then In-app purchases will generate an ecommerce report for that. Website datastreams will not have anything in this report.
The Publisher ads report will also only show data if you're using a mobile app. This will show ads data for mobile applications only.
With no sub-reports, we next have the Retention report. This report contains New vs Returning visitors as well as retention and engagement.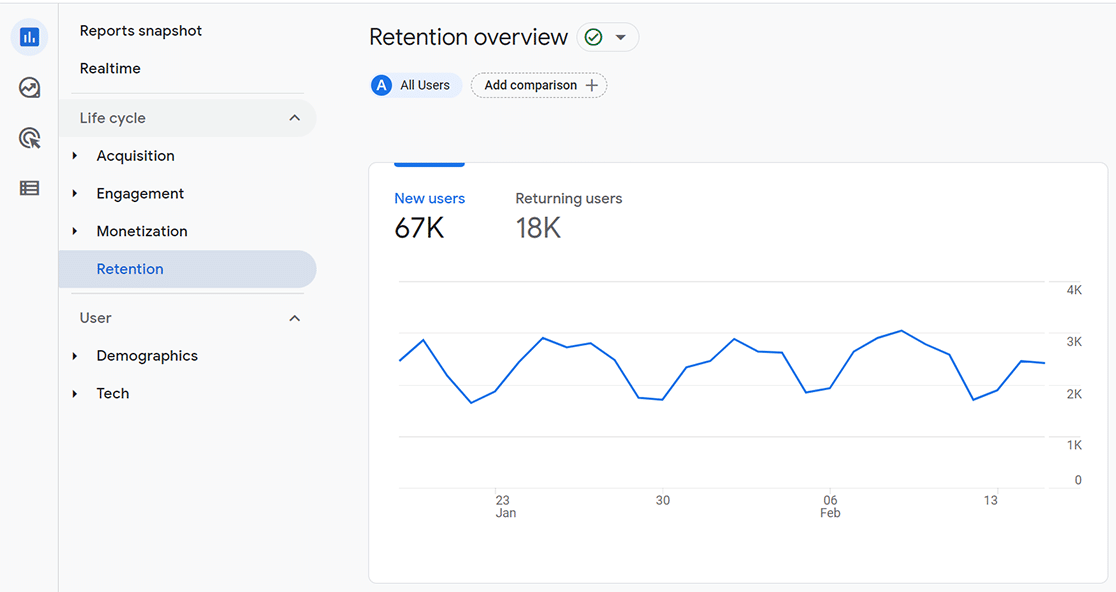 The Demographics reporting section has two sub-reports:
Demographic overview
Demographic details
In the Demographic overview, you can find users country, active users in the last 30 minutes, city, gender, interests, age, and language. You can expand on these by clicking the link in the bottom right of the card view.

The Demographic details report will give you just that. More details. Here you will find a larger breakdown of data by country. Like other reports, you can click the blue + and add another dimension.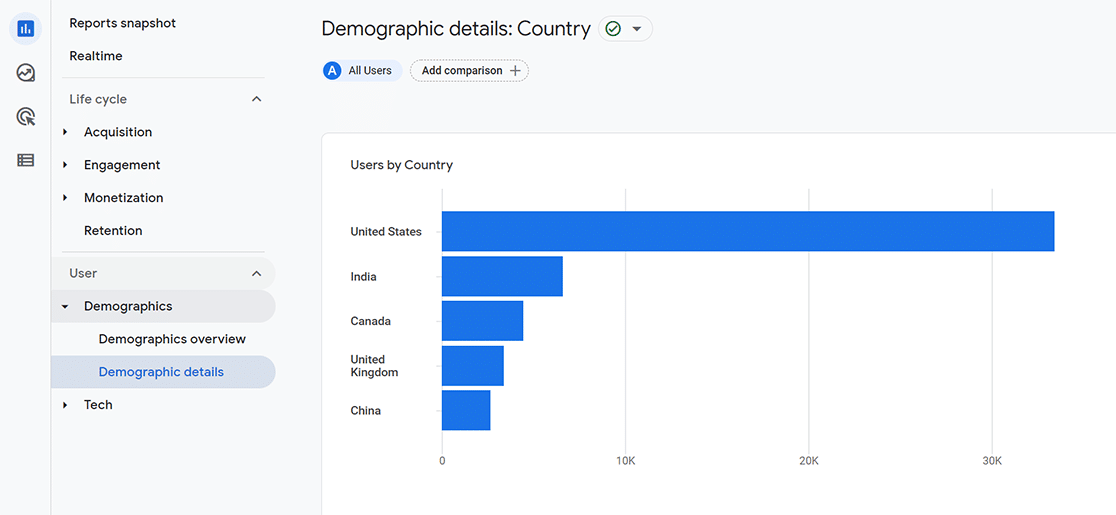 The Tech report section also has two sub-reports:
Tech overview
Tech details
With the Tech overview report, you can see what types of devices and browsers were used to interact with your website or mobile app. You can click on any link in the bottom right of the cards to see more details.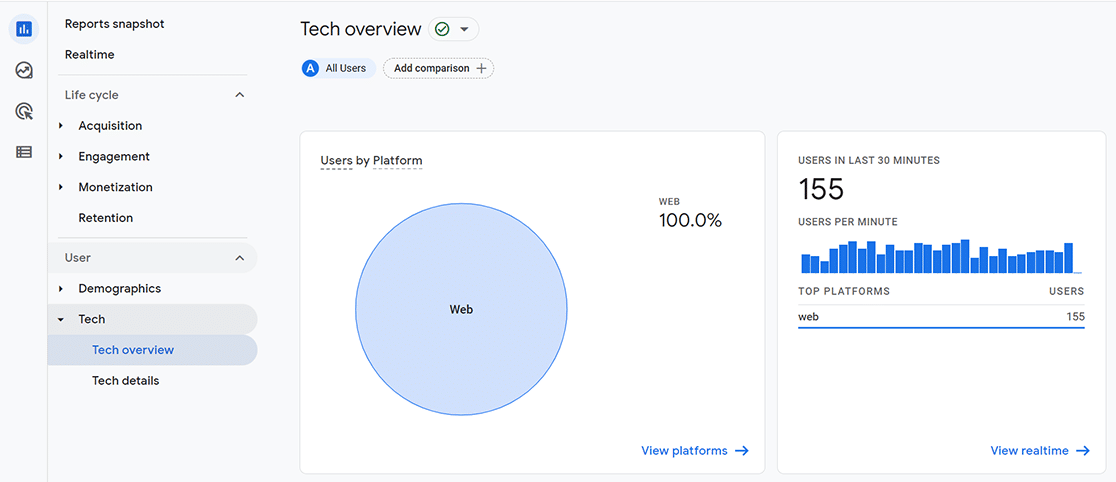 Tech details give you a better breakdown of the browsers used as well as allow you to add more dimensions with the blue + icon.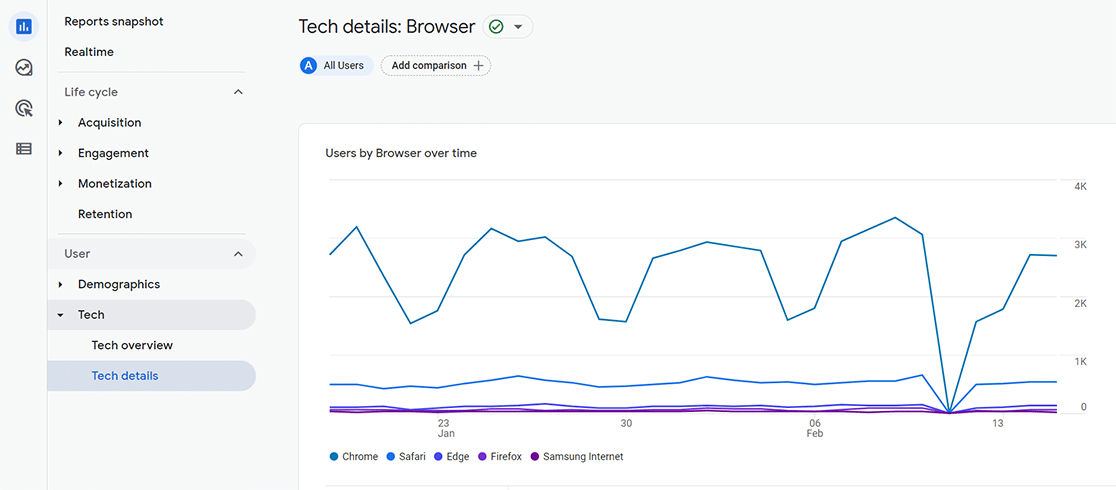 Introduction to Google Analytics 4 Explore
The Explore section of GA4 is meant to replace a lot of the reporting features that Universal Analytics offered. For instance, in UA you were able to see shopping behavior with a report generated under Ecommerce reporting. However, this report doesn't exist in GA4 and needs to be created using the Explore report.
This section of GA4 is where users really take control of their detailed reports. However, you will have to spend some time getting used to creating them. Once you do you will be able to create all kinds of detailed reports that can help you make the best decisions for your business.
There are four types of reports to choose from when creating a new one:
Blank
Free form
Funnel exploration
Path exploration
Each of these forms displays data in a different way visually. Inside each form, you can change this in the Tab Settings using the Technique dropdown menu. It's also important to note the Date Range will stay set to whatever dates you pick and will need to be updated when you view the report each time to the correct dates you wish to see data for.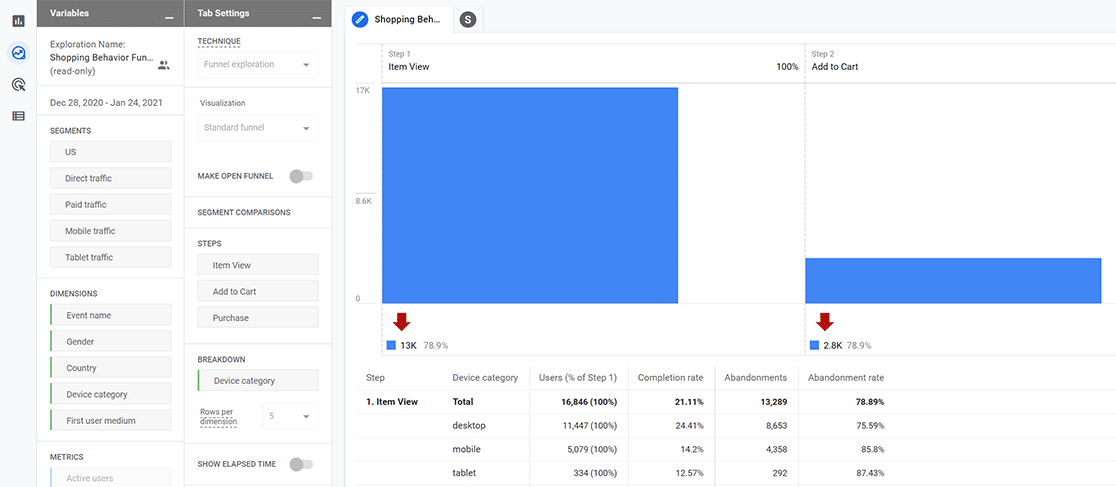 Introduction to Google Analytics 4 Advertising
This section of GA4 is where you will get all of your reports for your Google Ads account. The features here are more than they were in Universal Analytics and provide a more in-depth look at how your ads are performing. In this section you will find two sub-reports:
Model comparison
Conversion paths
Model comparison is a very interesting new feature that comes with GA4. Here you can view the differences between different attribution models. You can learn more about selecting your attribution models here.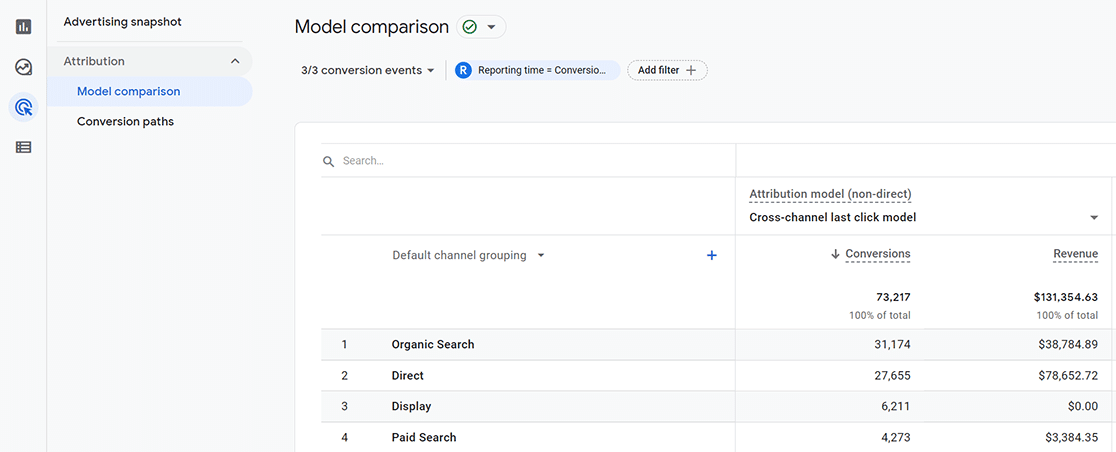 Conversion paths are a way to see how different attribution models contribute to each path.

Introduction to Google Analytics 4 Configure
This is one of the more interesting sections of the new GA4. Here you will be able to change settings for tracking and add custom tracking features. Some were available in UA properties and some are new.
Here are the sub-sections we will talk about:
Events
Conversions
Audiences
Custom definitions
DebugView
Everything in GA4 is tracked as an event now. In the Events section, you will find all the events that have been created for tracking. Creating and managing events can be rather complex and would take a whole article to explain. Luckily, you can check out Loves Data's article about events to get started.

The next section is Conversions. The name can be a little misleading as it doesn't just deal with eCommerce events. In GA4 you can set any of your events as conversions. This means in your event's menu, you can toggle an event to be tracked as a conversion. You can read more about that here.

Audiences allow you to separate your traffic into specific conditions. People who have made a purchase, those who haven't, or users who spent a certain amount of time on a page. You can then use these audiences in your custom reports in the explore section.

In UA properties you could create custom dimensions and metrics in the admin panel. Custom definitions are the GA4 section where you go to create those now. You can learn more about getting started with custom definitions here.

The last section is DebugView and serves the purpose of allowing you to test data in real-time without having to inflate your actual data. No data is recorded in your account outside of the DebugView. You can test data from the web or mobile. Depending on which you use, will depend on the tools you need to test with.
Now you know what Google Analytics does, why it's so vital to websites, and how MonsterInsights make it easy to get even its most advanced features set up on your site.
Next, take a look at our guide to setting up Affiliate Link Tracking, or eCommerce.