Have you been using MonsterInsights but, for the time being, you don't need it? We're sad to see you go, but we understand. This guide will show you how you can cancel your subscription with MonsterInsights and get a refund.
What Does "Cancel My Subscription" Mean?
MonsterInsights is a subscription based product with an annual license. When you cancel your subscription, you will be able to finish out your paid term, but your account will not auto-renew.
For example, let's say you have a Pro License and you purchased it on January 1, 2023. Come July 15, 2023, you decide you don't need MonsterInsights at the moment. If you cancel your subscription, then your auto-renewal will stop. But you will still be able to use MonsterInsights for the remainder of your yearly subscription.
Cancelling your account does not automatically issue a refund, but in this guide we'll show you how to request one.
Step 1: Cancel Your MonsterInsights Subscription
The first step is really easy. Log into your MonsterInsights account, and click the Billing tab. Then, click the Cancel Subscription link next to your subscription.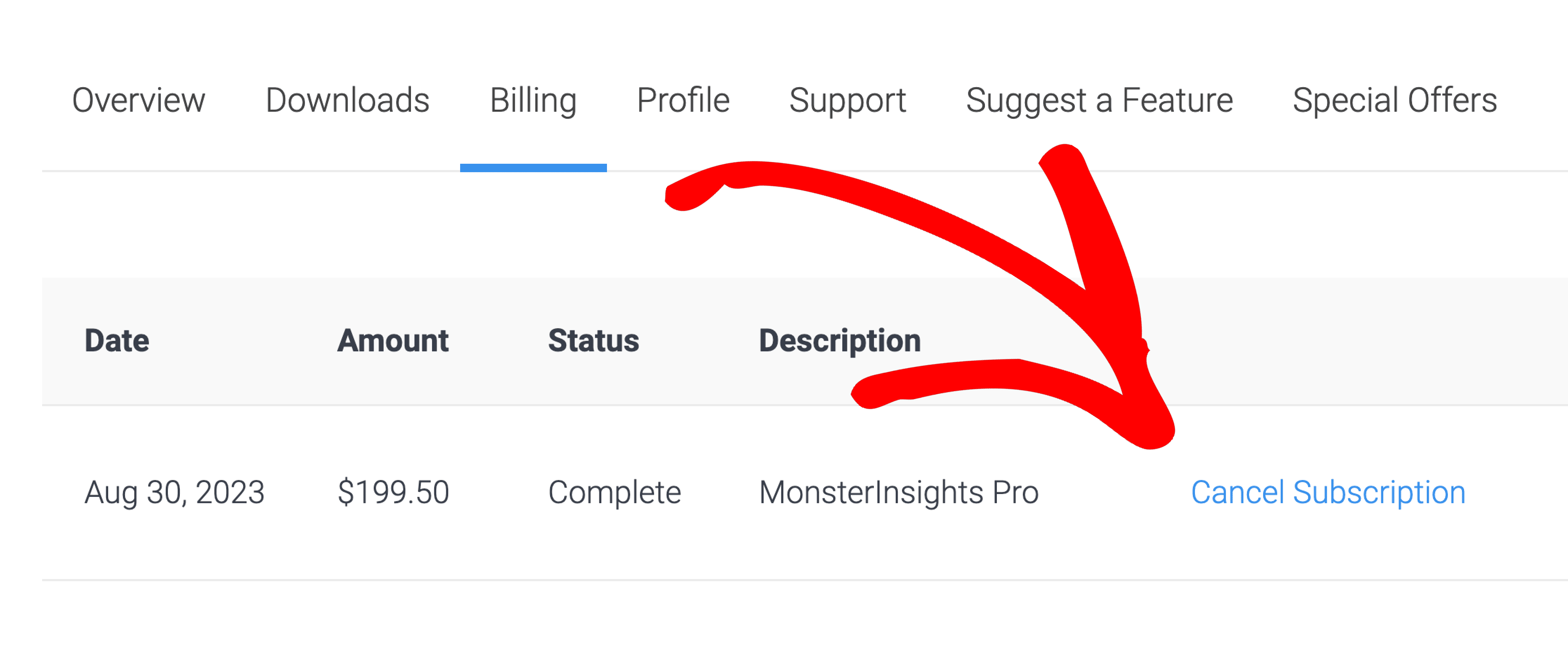 You'll be redirected to page where you can choose to get support or continue with cancellation.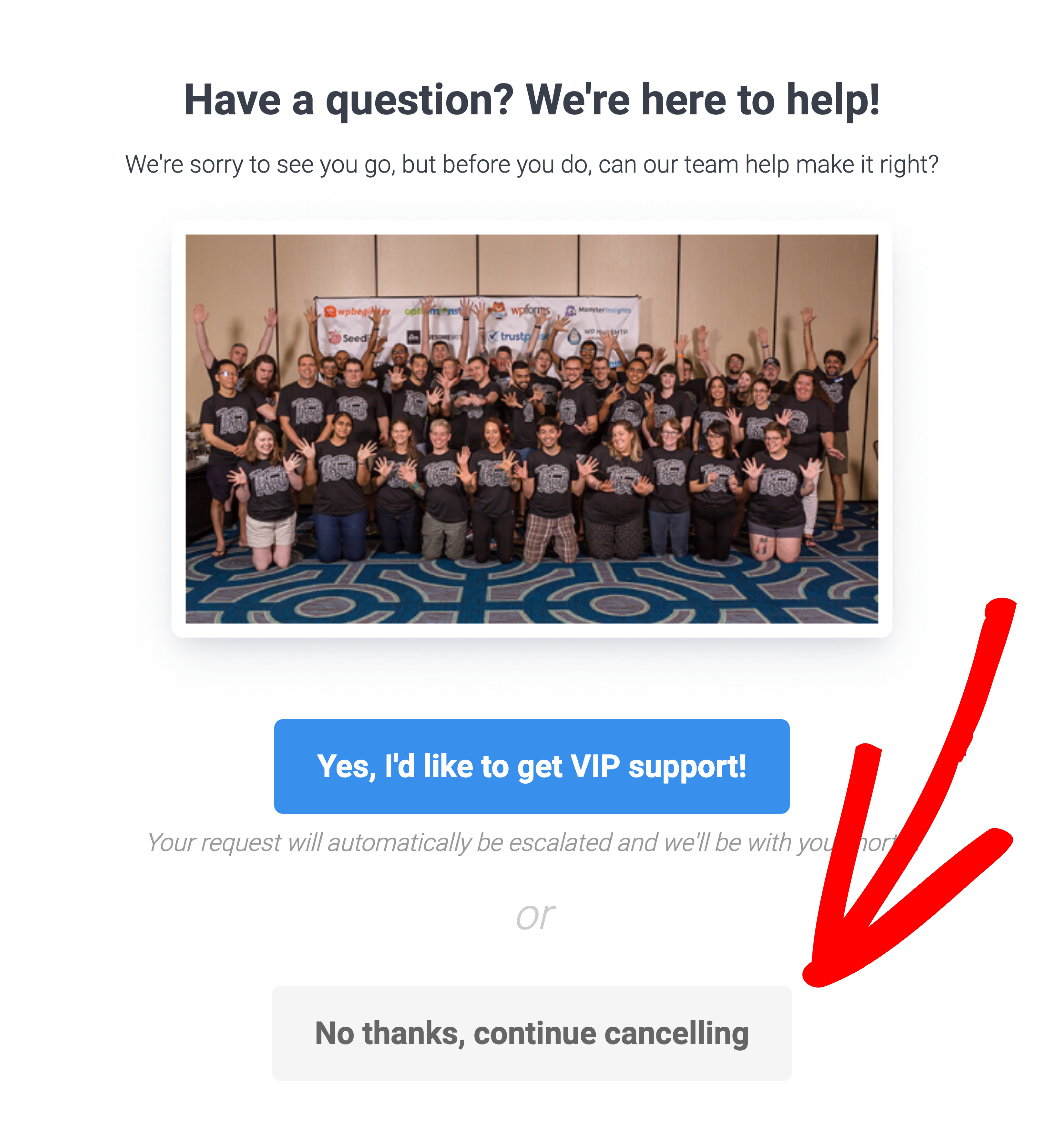 You can click on No thanks, continue cancelling to proceed.
On the next page, you can select your reason for cancelling: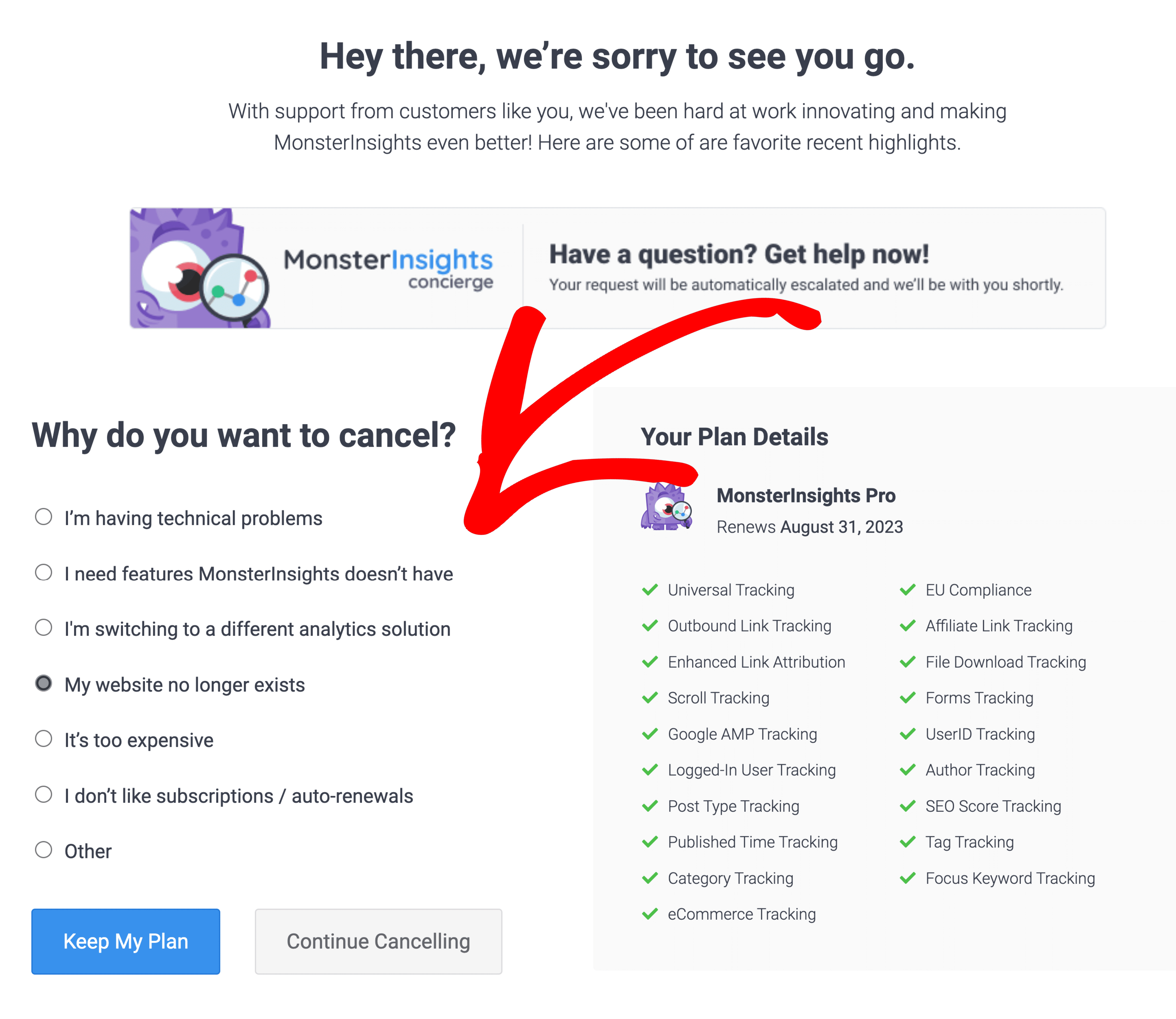 Then you'll be taken to a page to confirm your cancellation: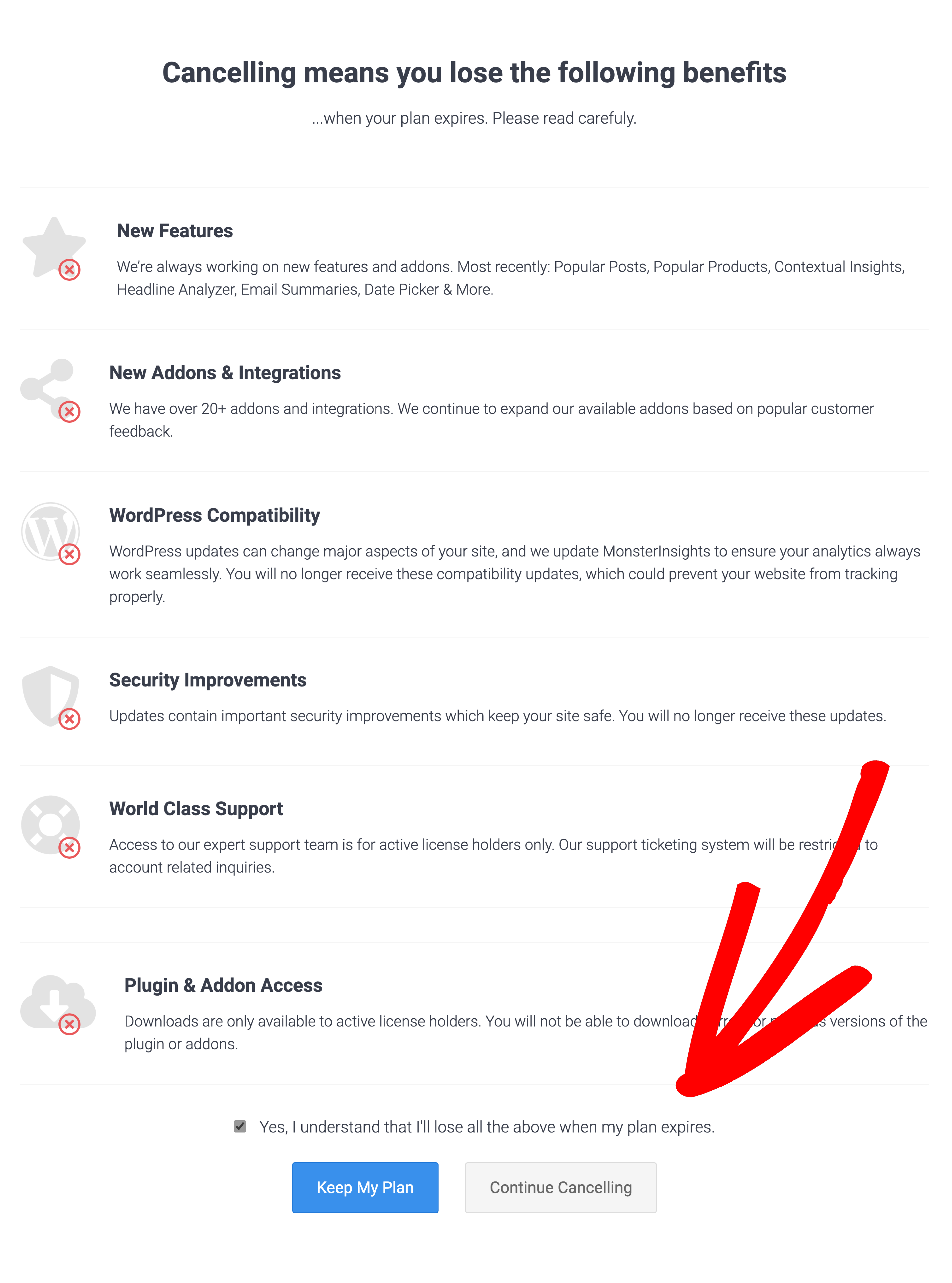 Once you toggle Yes, I understand that I'll lose all of the above when my plan expires, you can finish cancelling by clicking on the Continue Cancelling button.
You'll be redirected back to your account page, where your subscription will now show as cancelled: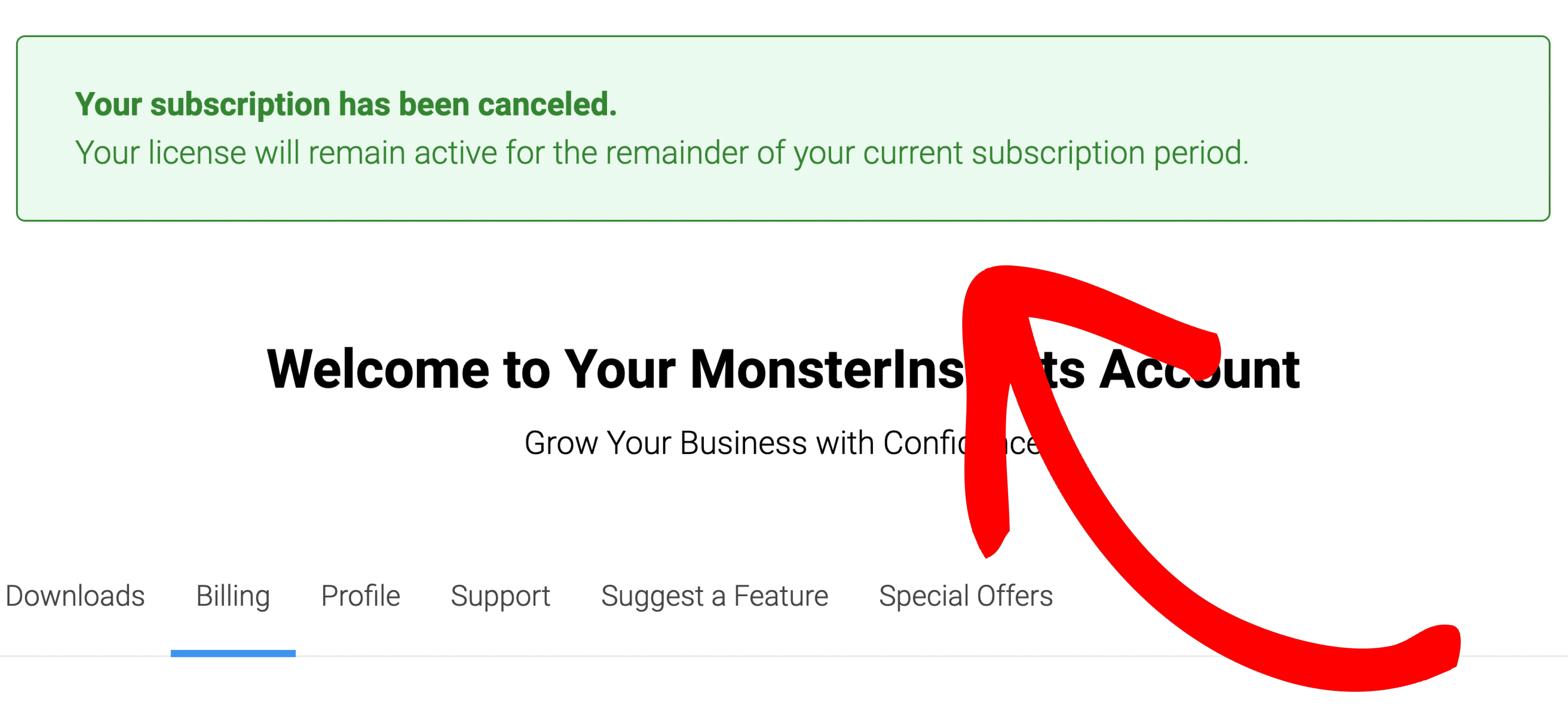 Step 2. Request a Refund
If you would like a refund, please go to the MonsterInsights Support page and fill out the support request form. In the Message box, describe the nature of your request and submit the form. You should hear back shortly regarding your request for a refund.
That's it! Your subscription is cancelled and your license will not be auto-renewed at the end of its current term.
---
FAQs
How do I re-subscribe if I cancel my subscription?
A: If you've disabled the automatic renewal for your subscription, to keep your subscription active, you'll need to manually renew before your subscription expires. You will receive renewal email reminders starting a month in advance. In the email, you'll find a link where you can complete a manual renewal with your preferred payment method. Once a subscription expires, it's not possible to reactivate the subscription. In this case, you'll need to make a new purchase by going to our Pricing Page.
I cancelled my subscription. Why haven't I received a refund yet?
A: Refunds are not automatically processed.  Please request a refund from your account support form.