How to Cancel Your MonsterInsights Account and Get a Refund
Have you been using MonsterInsights but for the time being, you don't need it? We're sad to see you go, but we understand. We've made it easy to cancel your account in just a few clicks. This guide will show you how you can cancel your subscription with MonsterInsights and get a refund.
What Does "Cancel My Subscription" Mean?
MonsterInsights is a subscription based product with an annual license. When you cancel your subscription, you will be able to finish out your paid term, but your account will not auto-renew.
For example, let's say you have a Pro License and your purchased it on January 1, 2017. Come July 15, 2017, you decide you don't need MonsterInsights at the moment. If you cancel your subscription, then your auto-renewal will stop. But you will still be able to use MonsterInsights for the remainder of your yearly subscription.
Cancelling your account does not automatically issue a refund, but in this guide we'll show you how to request one.
Step 1: Cancel Your MonsterInsights Subscription
The first step is really easy. Log into your account here at MonsterInsights, and click the My Account menu item at the top of the page.
Then, click the Cancel Subscription link under the Actions header in the right column.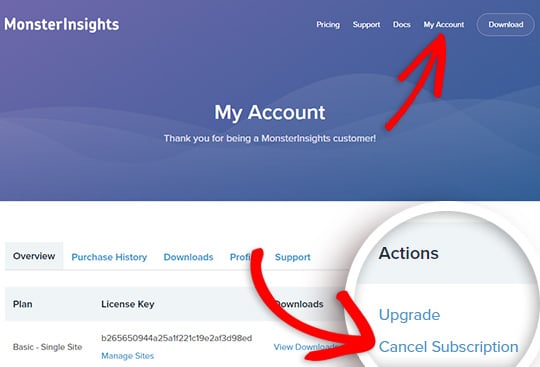 You will then see a confirm message that asks "Are you sure you want to cancel your subscription?". Click the OK button and your account will be cancelled.

Now you'll notice it no longer says "Renews automatically" underneath your expiration date, and there's no longer a cancellation link under Actions.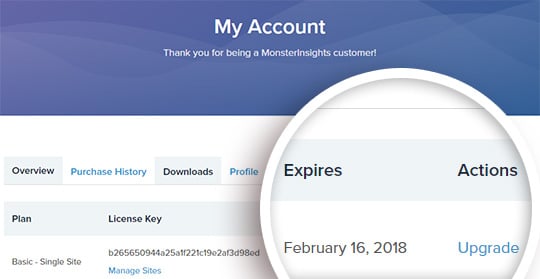 Step 2. Request a Refund
If you would like a refund, please go to the MonsterInsights Support page and fill out the support request form. In the Message box, describe the nature of your request and submit the form. You should hear back shortly regarding your request for a refund.
That's it! Your subscription is cancelled and your license will not be auto-renewed at the end of its current term.
---
FAQs
How do I re-subscribe if I cancel my subscription?
A: When you decide to come back to MonsterInsights, just log back into your account, pay for your subscription from within your account, and you'll again have access to support and updates!
I cancelled my subscription. Why haven't I received a refund yet?
A: Refunds are not automatically processed.  Please request a refund from your account support form.