Want to conduct A/B tests on your WordPress site? You can use Google Optimize to conduct experiments to see what works best on your site. With MonsterInsights, you can easily connect Google Optimize with Google Analytics.
Before we begin, you'll need to have the MonsterInsights Google Optimize addon installed, which is available to Pro level users. Once you've purchased or upgraded to a Pro license, you will need to install the Google Optimize addon.
Step 1: Create a New Google Optimize Account
First, create a new Google Optimize account by going to optimize.google.com. Then, click Get Started.
Now you'll have to enter an Account Name and a Container Name.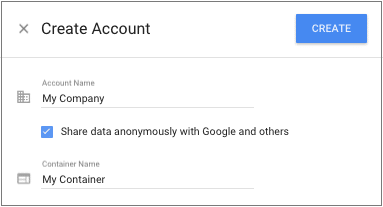 An account allows you to run experiments on one or more domains you own. You'll likely need only one account. The container is where all your experiments and configuration settings will live.
For naming, here are our suggestions:
Account Name: You may use your own name or your company name. (e.g. MonsterInsights)
Container Name: You may use the domain name of your site. (e.g. MonsterInsights.com)
Then, Agree to the Optimize Terms of Service and click Create.
Step 2: Create An Experiment
Click the Create Experiment button.
The sidebar will expand, and you'll need to:
Name your experiment.
Identify the website URL.
Choose your experiment type.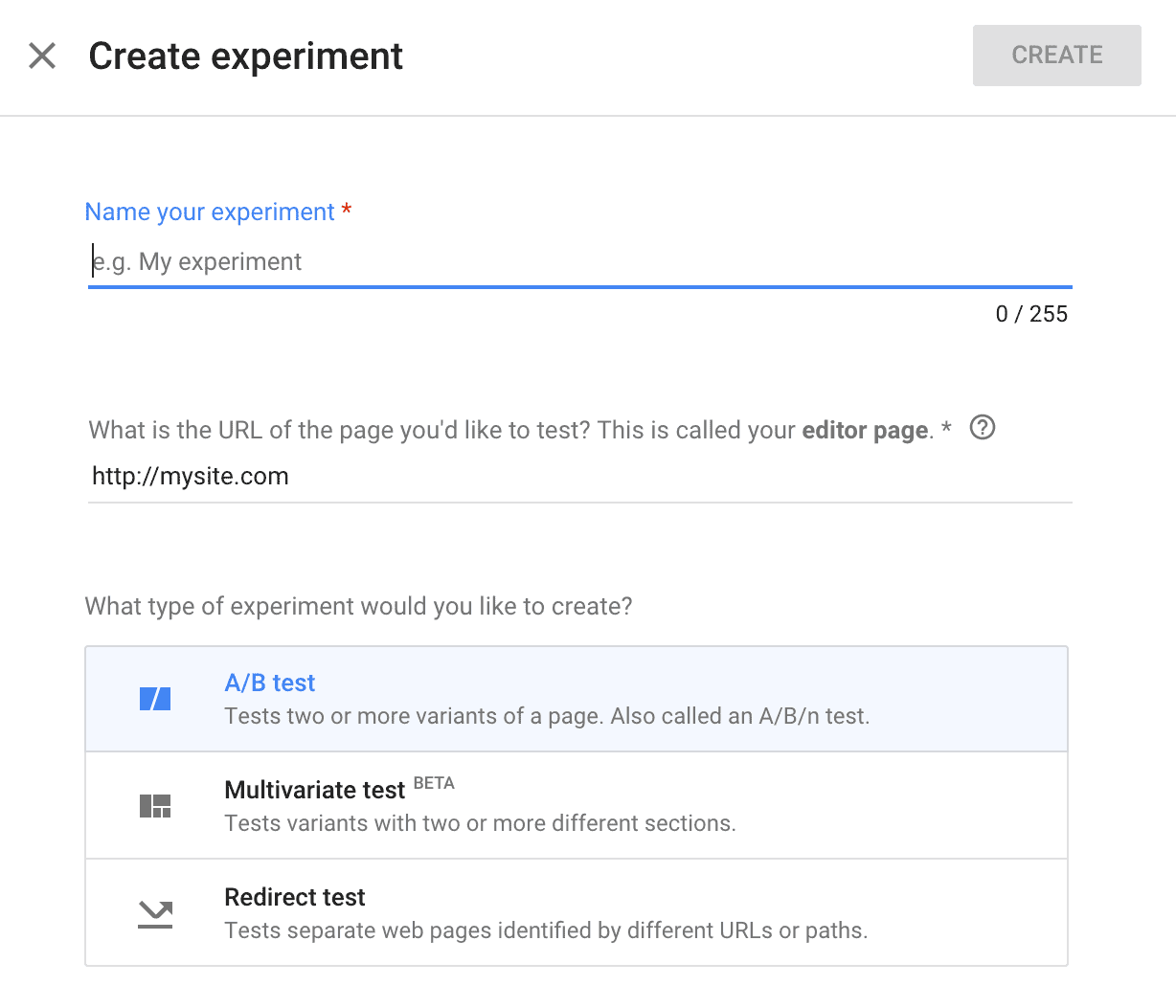 Step 3: Link Your Optimize Account to Google Analytics
To link your Optimize account to your Google Analytics account, go to the Accounts page in Google Optimize, and click on a container.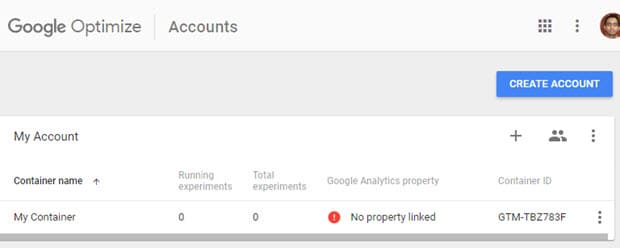 In the Container information panel on the right-hand side, click on Link Property.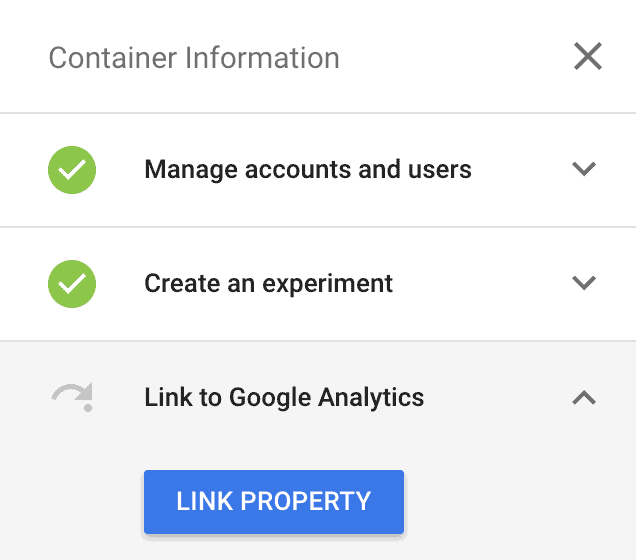 Link to Property - MonsterInsights" />
Now select the Google Analytics property that corresponds to the site on which you'll be running experiments.

Step 4: Add Optimizer to Your Website
Now return to the Optimize accounts page and copy your Optimize Container ID. This should be in the format GTM-XXXXXXX.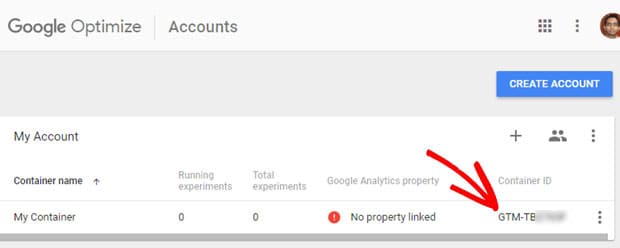 Then, log in to your WordPress dashboard, and navigate to Insights » Settings » Conversions.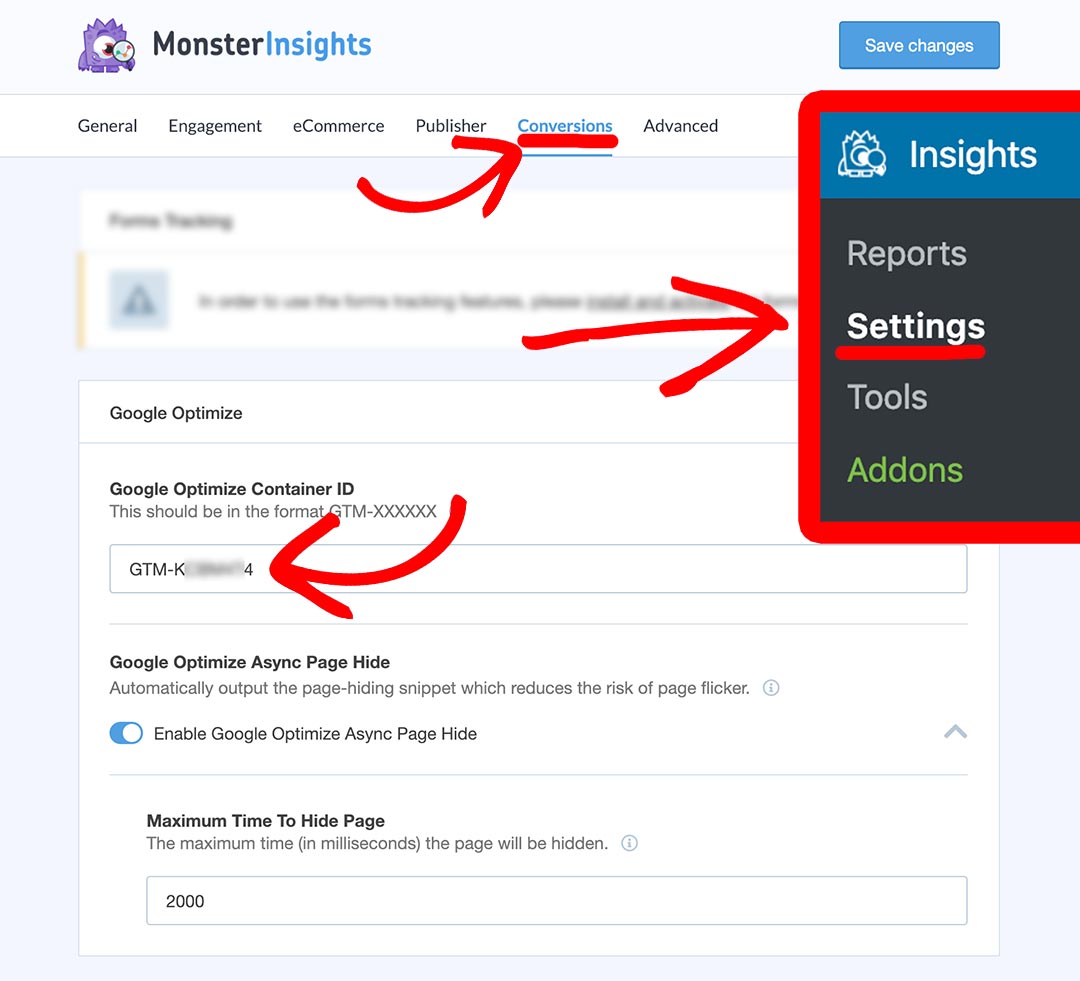 Input your container ID in the Google Optimize Container ID field.
You can also click the checkbox near Enable Google Optimize Async Page Hide Compatibility. It reduces the risk of page flickering (the original page appears briefly before loading the variation). It also ensures that users with slow connections have a better experience by only showing experiment variants when the Optimize container loads within the set timeout.
You can leave the remaining field unchanged.
Then, click Save Changes.
Step 5: Start An Experiment
The 'start experiment' button can be found at the top of an experiment page.
Once you've completed the previous steps, you can start your first experiment!
That's it!
You've successfully set up Google Optimize in WordPress.
If you enjoyed this article, you might also want to read how to stay within the free processing limit of Google Analytics.