Upgrade to a Complete MonsterInsights Experience
Thanks for being a loyal MonsterInsights Lite user. Upgrade to MonsterInsights Pro and unlock all the awesome features. Use the coupon code LITEUPGRADE to get 50% off your order.

Google Analytics Tracking
Set up proper website tracking across devices and campaigns with just a few clicks (without any code).

Google Analytics Dashboard
See your website analytics report right inside your WordPress dashboard with actionable insights.

Real-time Stats
Get real-time stats right inside WordPress to see who is online, what are they doing, and more.

Easy eCommerce Tracking
1-click Google Analytics eCommerce tracking for WooCommerce, Easy Digital Downloads, MemberPress, MemberMouse, GiveWP, LifterLMS, and Restrict Content Pro.

Page Level Analytics
Get detailed stats for each post and page, so you can see the most popular posts, pages, and sections of your site.

Affiliate Link Tracking
Our affiliate link tracking feature makes it easy for bloggers and publishers to accurately track their affiliate link clicks inside Google Analytics.

EU Compliance (GDPR Friendly)
Make Google Analytics compliant with GDPR and other privacy regulations automatically.

Custom Dimensions
Setup tracking for authors, categories, tags, searches, custom post types, users, and other events with 1-click.

Form Tracking
Instantly measure the performance of your WordPress forms to increase the value from each visitor.
Popular Posts
Promote your most precious posts using Gutenberg Blocks, Widgets or Shortcodes using your Google Analytics traffic data.
Email Summaries
Get weekly analytics summaries containing the most important metrics delivered to your (or your client's) email inboxes.
PDF Exports
One-click PDF report exports branded with your custom logo that you can forward to your team or your clients.
Video & Media Tracking
MonsterInsights automatically tracks YouTube, Vimeo, and HTML 5 video events, so you can see in the Media report how many plays your videos are getting, average watch time per video, and more.
Site Notes
Easily record and monitor how your marketing campaigns affect your website's performance. Categorize major activities like new posts or promotions, and see them inside your WordPress dashboard.
User Journeys
Easily see which pages each customer visited and how long they spent there before making a purchase in your store.
... and Seamless Tracking Integration with Your Favorite Plugins
MonsterInsights offers 1-click tracking integration with popular WordPress plugins and services
It just works. Really easy way to insert Google Analytics tracking code and keep it there when switching themes. No need to copy/paste code anywhere. This is the best way to handle Google Analytics in WordPress.

- Steven Gliebe - Founder of ChurchThemes

Analytics for PROs! This plugin brings it all, great features and helpful info to easily see what you are doing.

- Frank van der Sluijs

Simple, yet powerful. Amazing piece of plugin, does exactly what's expected and even more.

- Matt Jaworski
Top 5 Reasons Why Over 3 Million Users Love MonsterInsights
With over 3,000,000+ active installs, MonsterInsights is the most popular Google Analytics plugin for WordPress. Here's why smart business owners, marketers, and developers love MonsterInsights, and you will too!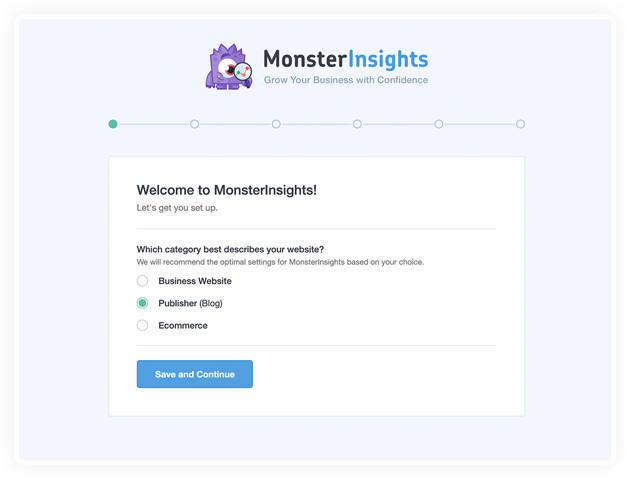 Setup Google Analytics on Your WordPress Site in Minutes (without writing any code).
Before MonsterInsights, you needed to hire a developer or know how to code to properly setup Google Analytics, add event tracking, configure eCommerce tracking, etc. This would take several days, if not weeks.
MonsterInsights makes it "effortless" to setup Google Analytics in WordPress, the RIGHT Way. Simply install the plugin and enable the features you want with just a few clicks, no coding needed!
Setup Website Analytics in 5 Minutes - Get MonsterInsights Now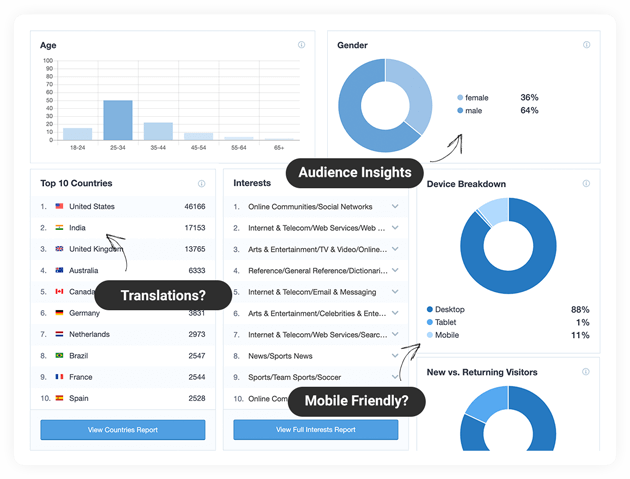 Get to Know Your Website Visitors in a Whole New Way
With MonsterInsights, you can see useful information about your visitors right inside your WordPress dashboard.
Our Audience Report shows you which country your visitors are from, what are they most interested in, which device are they using, their age, gender, and a whole lot more.
You can use these insights to improve your overall web strategy.
Unlock Your Website Audience Report - Get MonsterInsights Now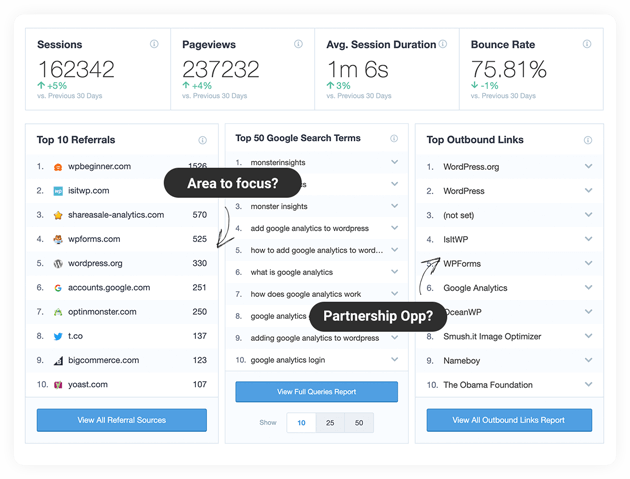 See Exactly How People Find & Use Your Website
Want to see what's working on your website and what's not?
MonsterInsights Behavior Report shows you exactly how people find your website, which keywords did they search for, who referred them, what did they click on your site, and more.
You can use these insights to uncover low-hanging fruits, new partnership opportunities, and the right areas to focus on!
Unlock Your Website Behavior Report - Get MonsterInsights Now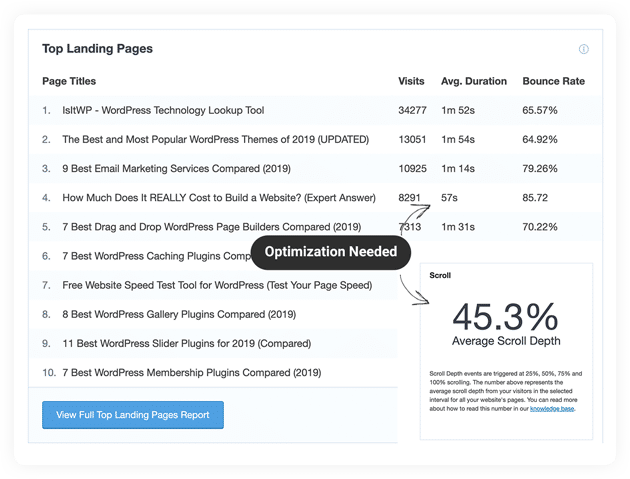 Focus on the Content that Matters
MonsterInsights help you eliminate the "guess work" when it comes to finding out what content your visitors are interested in.
Our content report shows you exactly which content gets the most visit, so you can analyze and optimize it for higher conversions.
Combine this with our search console report and custom dimensions, you can be on your way to SEO domination and higher rankings!
Unlock Your Website Content Report - Get MonsterInsights Now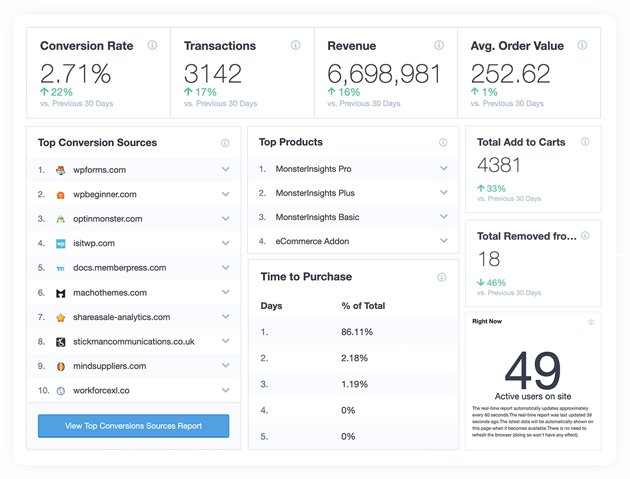 See All Your Important Store Metrics in One Place
Get answers to all your top eCommerce questions from a single report.
MonsterInsights shows you important eCommerce metrics like total revenue, conversion rate, average order value, top products, top referral sources, and more.
You can use these insights to increase your sales & revenue.
Get Better Insights. Take Action. Grow FASTER!
Join over 3 million website owners and start making data-driven decisions to grow your business.
How Can Your Business Benefit from MonsterInsights?
It's Easy to Double Your Traffic and Sales When You Know Exactly How People Find and Use Your Website. MonsterInsights shows you the Stats that Matter! Here is how MonsterInsights can boost your business growth: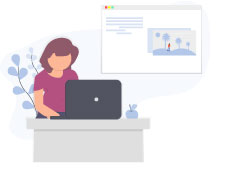 Publishers (Bloggers)
... love us because we show them the insights to increase blog traffic and grow affiliate ad revenues.
Increase Blog Traffic
Grow Affiliate & Ad Revenue
Get More Email Subscribers
Write Better Content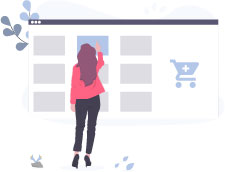 Store Owners (Ecommerce)
... love us because we show them the insights to help double sales and improve conversions.
Reduce Cart Abandonment
Improve Conversion Rate
Identify New Referral Partners
Double Overall Sales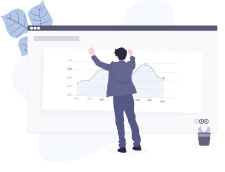 Business Websites
... love us because we help them identify untapped opportunities and needle-movers.
See Stats that Matter
Unlock Easy-Win Opportunities
Get More Email Subscribers
Write Better Content
Agencies (Developers)
... love us because we help them properly setup Google Analytics on client sites in less than 5 minutes.
Save Time with Analytics Setup
Reduce Mistakes and Errors
Easy for Clients to See Reports
Raise Hourly Rate Efficiency
Trusted by over 3 Million+ WordPress sites - big and small
Google Analytics helped us optimize our art marketplace, resulting in 400% year-over-year revenue growth for our art business.
Mariam Naficy, Founder & CEO, Minted
126% Higher Profits
Companies using analytics have 126% profit improvement over competitors.
-- McKinsey
50% More Revenue
Organizations actively using data have 50% higher revenue growth than those who aren't.
-- Dell Global Technology Index
Analytics for PROs! This plugin brings it all, great features and helpful info to easily see what you are doing.
Frank Van Der Sluijs, Small Business Owner
13:1 Average ROI
Investments in analytic solutions returned $13.01 for every dollar spent on average.
-- Nucleus Research
5X More Use
Top-performing organizations use analytics 5x more than bottom performers.
-- MIT Sloan Management Review